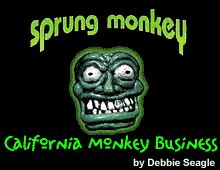 .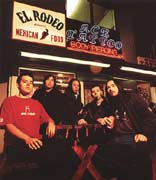 Summer Sun, surf boards and beautiful blonde babes. That's the monkey business most people think of when they think of California. Who could work with all that distraction going on anyway? What if your work is play and your play is monkey business? Meet the seasoned melody makers of the alt/power punk band Sprung Monkey. These San Diego, California natives have been giving the California experience a whole new fresh face that has made them a popular local presence, while their songs on MTV and hit films have opened the eyes of national and international alt rock lovers alike.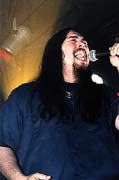 Their most recent effort, "Get A Taste," is a collection of upbeat, hard hitting alternative tunes that weave a rejuvenating rhythm through a positive, good ol fashion shred! It was produced by Jim Wirt (Incubus) and is off to an impressive start with the single "What's That You Say?" and the melodic and lyrically potent "Unexpected." When I attended the CD release party in their home town of San Diego, the guitar action and unique rhythm patterns were so intense, the lights went out! Well, actually, it was one of those darn Southern California rolling blackouts, but without question, this is summer party material! Take them in your beach bag if you are going roller blading, put them on the deck if you are having a few dozen of your closest friends over for burgers and brews, just make them your secret ingredient for your summer plans this year.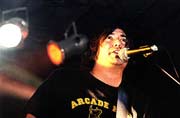 This southern California favorite starting selling (Debut album "Swirl") CDs out of their trunks in San Diego almost 10 years ago, but they first came to the attention of the national crowd when their hit "Get 'Em Out of Here," made the top ten Alternative list and became an alternative anthem in the film "Ten Things I Hate About You." They also appeared in the very first episode of "Buffy The Vampire Slayer" and contributed music to the films "Dude Where's My Car?" and "Varsity Blues." You will also hear them stowing away at the ESPN X-Games, the Freeride Moto-X Championships and X-Surf. What I want to know is when do these dudes stop to change their baggies?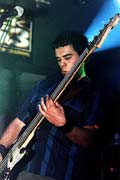 Sprung Monkey has earned a reputation as a band who's music is for good times and extreme sports. Fast and harmonious, unpredictable and hook laden, they are a favorite of surf/skate/snow board video director Taylor Steel, who used the band's music in all four of his films. Needless to say, this has put them on the big kahuna's pedestal with surfer's the world over, including a huge following of rabid surfers in Australia! Their involvement in the surfing community also led to their participation in "Mom:" Music for Our Mother Ocean, who's compilation albums benefit this environment oriented surf rider foundation.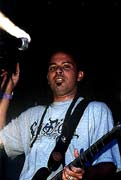 If you haven't had the opportunity to catch Sprung Monkey live, they may be coming to a town near you this summer. They are known for their relentless road schedules and have toured in the past with the likes of The Offspring, Blink 182, Sublime, Sugar Ray, Tool and Pennywise, among others. This summer you will find them with the Kottonmouth Kings in the central and eastern United States. If you want to get away from it all and just feel good, this is the music for you. Its not dark. There is no primal wailing and lamenting. You won't need therapy when the concert is over. You will just be exhausted from jumping up and down and getting stupid with your friends. As a matter of fact, the last song on the new CD "Get A Taste" is a tongue-in-cheek number called "Friends," which the band recorded surrounded by their friends in a spontaneous party. That vibe carries through to the song, as it does throughout the whole CD.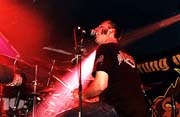 Hard work has paid off in spades for these not-so-tame house party pets. Sprung Monkey is coming to your town with your ticket to the California surf scene. Will you catch the wave?

More Sprung Monkey

Visit the Official Sprung Monkey Web Site
---

Listen To/Purchase Sprung Monkey Music
---

Check on Sprung Monkey Tour Dates
Debbie Seagle is the Special Features editor for the iconoFAN Network.
Live Photos by Debbie Seagle Copyright 2001 Groove Quest Productions / Iconoclast Entertainment Group. Logo and album art Copyright Sprung Monkey. All Rights Reserved by Copyright holders.