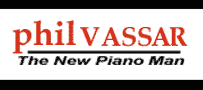 By Linda Spielman

.
Pittsburgh, Pennsylvania, has always been known for its steel mills, diverse ethnic communities, and prides itself on its love of Rock N Roll. For a town like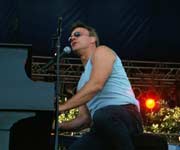 Pittsburgh to embrace country music, it was extremely gracious to one of country music's newest, talented artists, Phil Vassar. His performance at the Dollar Bank Jamboree was a highlight to the town's vast assortment of touring acts this summer.

Although Vassar has only released his freshman album, his lyrics & melodies have been heard around the world through the voices of such names as Tim McGraw, Jo Dee Messina, Alan Jackson & Collin Raye. The pairing of those voices & Vassar's lyrics have nabbed him slots in the coveted #1 on the Billboard Charts. They have also awarded him such honors as 1999's "ASCAP Songwriter of the Year", as well as honoring him for his composition in conjunction with 1999's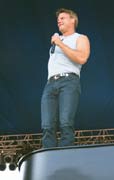 "ASCAP Song of the Year" for "Bye Bye" by Jo Dee Messina. His songwriting talents have been recognized by other industry heavyweights as "Billboard", "Music Row Magazine", "Gavin" and " R & R".
Not too bad of a resume for a guy from Lynchburg, Virginia. Vassar grew up in your typical All-American Family; raised with traditional values, he was a star athlete in high school and was exposed to a wide range of musical influences. A former high school quarterback, Vassar embarked on a business degree in college with some influence from his father, but got derailed when he started taking classes in music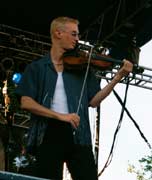 theory, history & business. As Vassar recalls, "College was a good time, but eventually I was ready to get started with my music. I was ready to get on with my life."
Arriving in Nashville in 1987 to make his mark, Vassar did what all-aspiring musicians do, struggled to get his big break. From bartending, to owning his own restaurant, Vassar was constantly writing songs along the way. In the late 90s Nashville took notice in a big way. With his songs being recorded by some of the most popular names in country music, it was only a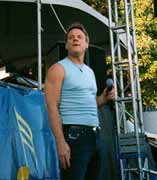 matter of time that the man behind the words would be in front of the spotlight performing his own material. After signing his label deal with Arista, Vassar's career has been nothing but icing on an already tasty cake.
Most of today's cowboys arrive in a town slinging their six strings on their back, riding their modern day horse (the tour bus), or at least the stereotype has it. Don't expect that from a Phil Vassar show. Vassar's weapons of choice…his piano (which he is found dancing on top of during the show), a great band, his ever abounding energy, his obvious love for being in front of a crowd, and yes his tour bus. His lyrics are what has drawn the crowd to the show by exposing life's everyday ups & downs, heartaches & struggles, and the enjoyment of the simple things. There are others involved behind those lyrics than just Vassar. "I do write alone sometimes, but the songs on this album were written with my friends. We might hang out & have lunch and sit all day and not write a word, or we may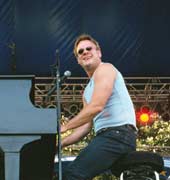 write a hit single. But the song is a by-product of that time together," as Vassar explains. All 11 tracks on his self-titled debut album were co-written by Vassar, and found his hardest decision was which of the many songs to include in the final product.
Phil Vassar's free concert in which he opened for Wynonna a midst of 15,000 plus fans was nothing less than energized times ten. He included all his songs, which he had written for other artists, his #1 hit "Just Another Day In Paradise", the poignant "Rose Bouquet", plus many other of the album's tracks. "Six Pack Summer" seemed like the anthem of the evening because the show took place on one of the city's nicest days of the summer thus far. It was a perfect East Coast summer day and the song just seemed a perfect addition to the mix. One can't help but want to put the CD in their car, turn up the volume, roll down the windows and enjoy the summer. To wind down the end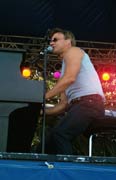 of his set, Vassar covered Billy Joel's "Piano Man", doing it much justice.
Phil Vassar's music and energized shows have made him a very busy man this year. His summer concert schedule has him juggling dates with Jo Dee Messina, Kenny Chesney, Chely Wright, with quickie shows like the Pittsburgh show with Wynonna. Chances are he is coming to your town soon, so be sure to catch him live if you can!
.
More Phil Vassar
Visit the Official Phil Vassar Web Site
---
Listen To/Purchase Phil Vassar Music
---
Check on Phil Vassar Tour Dates
Linda Spielman is the iconoFAN Network contributing writer/photographer.
Live Photos by Linda Spielman Copyright 2001 Linda Spielman / Iconoclast Entertainment Group. All Rights Reserved by Copyright holders.