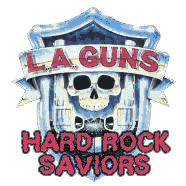 .by Scott Vile
The history of L.A. Guns has been a sordid one indeed. They've been through the break-ups, the reformations, the numerous band member changes, the multiple lead singers, the public feuds, and everything else that makes "Behind The Music" so entertaining to watch. They've struggled through the "hair-metal" backlash of the '90s, lurking through indie labels trying to keep their head above water. The band and the fans have been through it all, and one thing that was blatantly obvious was that L.A. Guns would never really be L.A. Guns again unless lead guitarist Tracii Guns and singer Phil Lewis would one day put their bitterness behind them.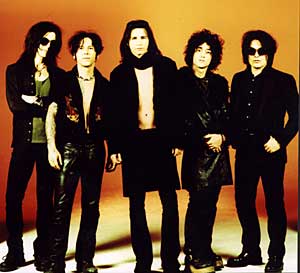 Surprisingly, this day has come. Thank VH-1's "Where Are They Now?," thank Cleopatra Records for throwing money at them for a 'latest and greatest' style album, thank the fans who demanded it…the point is that somehow the band has reemerged intact on Spitfire Records with its original lineup.
L.A. Guns were kings of the Sunset Strip in the late 80s as their loud, sleazy debut went gold and their follow-up went platinum. They released two solid albums after that but by the time 1994's Vicious Circle came out, radio and the listening public had changed. Tracii continued releasing albums under the L.A. Guns name, although with a much heavier sound. Phil pursued a solo career, mainly acoustic and somber in nature. Their separate projects illustrate quite well why the Vicious Circle album was so diverse and also how the members couldn't see eye-to-eye musically any longer. The band needed a break from each other.
That break would turn out to be a seven-year wait for fans. Fortunately, the original L.A. Guns have returned with a new label, a new thirst, and the same philosophy of making great rock n' roll. L.A. Guns have managed to craft a comeback album that stays true to their spirit; a style of songwriting that makes their previous albums still hold up today. Their comeback release, "Man In The Moon," is an album that would be cool in the '70s, '80s, and today.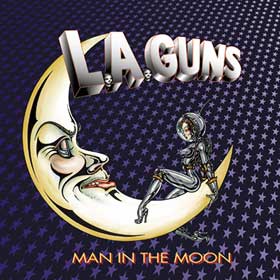 As drummer Steve Riley offers, "We take a lot of influence from American rock from the '60s and the early '70s and there's a lot of British influence as well. We love straight ahead rock 'n' roll; Aerosmith, Rolling Stones, the New York Dolls, and other types of bands like Led Zeppelin and the Beatles. So our sound has always been quite versatile within an album as well."
The band is gearing up for a statewide club tour to showcase their new album in the smallest rooms they can find. Soon after, expect them to hit the road on a co-headlining tour with Faster Pussycat, with either Gilby Clarke or The BulletBoys as openers.


L.A. Guns
Phil Lewis – Vocals
Tracii Guns – Guitars
Steve Riley – Drums
Mick Cripps – Keyboards
Muddy – Bass
More L.A. Guns
Visit the official site for tons of great L.A. Guns material
Check out Spitfire Records for more on the band and other great hard rock and metal bands
Listen to samples and purchase L.A. Guns CD's online - including the new one Man in the Moon!
Scott Vile is a contributing writer to the iconoFAN Network.
Photos, logo and album art Copyright Spitfire Records/L.A. Guns. All Rights Reserved by Copyright holders.