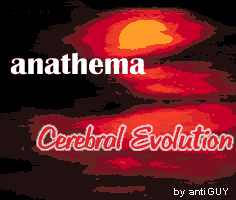 .
Hailing from the city that spawned the Beatles automatically gives a band a lot to live up to. Fortunately for Anathema they are more than up to the task. Like their Liverpool forefathers Anathema began with a mission to create music that sets them apart from their contemporaries. Looking over Anathema's twelve-year history one can see that they did indeed overcome that difficult challenge and have emerged as one of Britain's premier rock bands.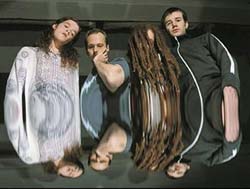 To this point mainstream success has eluded the group. Sure they have received their share of critical praise and have amassed a nice grassroots following but the quality with this band is deserving of banner headlines and marques worldwide, not to mention the word "multi-platinum" used to describe their record sales. Many of those who have been fortunate enough to hear Anathema will agree that this group is one of the most criminally underrated bands to emerge over that past decade.
Like the Beatles, Anathema's music has evolved over the years. Each new release taking the band's music to a new level. They began their life as a band under the moniker Pagan Angel and as the name suggest their music fell firmly into the death metal camp. The original make-up of the band included brothers Vincent and Danny Cavanagh on guitar, bass player Duncan Patterson, drummer John Douglas and vocalist Darren White. Many have described the early Anathema sound as "doom" metal because of it's heavy goth and death metal overtones accompanied by Darren White's death metal growl.
Once the lineup was complete the band set out to win over fans with awe inspiring live shows featuring epic doom metal songs that often clocked in at over ten minutes each. Like most bands Anathema first experience in the studio resulted in demos designed to land them a record deal. In the early 90's they came up with two demos 1990's "An Iliad of Woes" and 1991's "All Faith Is Lost" but it was the independent release of a single "They Die" that caught the attention of Peaceville Records.
Armed with a deal from Peaceville Records Anathema entered the studio and produced their first commercial EP, "The Crestfallen", in 1992. Shortly afterwards the band began work on their first full-length album- 1993's "Serenades".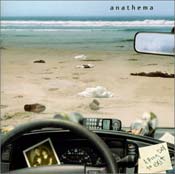 It was after the release of "Serenades" that the band began to evolve musically taking incremental steps away from the traditional "gloom metal" into a direction all their own as was evidenced by their 1995 release "Pentecost III" featuring epic musical explorations with songs like "Kingdom" and the monumental "Memento Mori" a track that clocked in at 12 minutes and 17 seconds.
It was while recording their next album "The Silent Enigma" that the band faced it first personnel problem. In what would prove a fateful development for the group that would forever change their musical direction. Vocalist Darren White decided to leave the band to start his own group the Blood Divine. Having lost their voice, Anathema was faced with the dilemma of recording a new album without a singer. It was decided that Vincent Cavanagh would step in to fill White's shoes. Vincent's more melodic vocal style helped further the band's departure from a strict adherence to the death metal sound, instead their music took on a more contemplative, progressive and atmospheric feel as fans discovered with the release of "The Silent Enigma". The Anathema sound was indeed evolving into something truly unique on the underground scene. That evolution take a great leap forward with the release of "Eternity" in 1996. By this time the band's epic song writing had crystallized and had taken on a more ethereal tone with gothic undertones coupled with an almost Pink Floyd sounding instrumental explorations.
The next few years saw more personnel shakeups for the band with drummer John Douglas leaving the group in 1997, being replaced by Shaun Steels only to return to the band in 1999. Bass player Duncan Patterson left the group after the release of 1998's "Alternative 4" and was replaced by Dave Pybus. In 1999 the band switched labels and released the critically acclaimed "Judgement" through Music For Nations. The album once again showed the group taking another great leap forward musically. Before entering the studio in early 2001 Anathema added a fulltime keyboard player to their lineup; Cradle of Filth's Les Smith who had worked with the group in the studio as far back as the "Eternity" sessions in 1996. The impact of the addition of Smith is evident on the group's latest studio album "A Fine Day to Exit" as his songwriting and engineering contribution helped further the group's musical evolution.
Soon after the group completed the recording of "A Fine Day to Exit" bass player Dave Pybus announced his departure. The band brought in George Roberts to assume bass duties while they search for a permanent replacement.
Personnel problems aside, each year and each new album has shown the group making great strides musically. The Anathema of 2001 is about as far removed from the Anathema of 1990 as The Beatles of 1964 differed from the Beatles of 1969. Few bands will take the inherent risk of alienating their core fan base by changing musical directions but Anathema has taken the road less traveled and succeeded in winning over the hearts and ears of fans and critics alike.
While it may seem cliché' to offer up all of these Beatles comparisons especially for a band from Liverpool, there does exist a common thread between the evolution of Anathema and the Fab Four. If 1999's "Judgement" was Anathema's "Revolver" than 2001's "A Fine Day to Exit" is the group's "Sgt. Pepper". What's with the mytholody surrounding "Sgt Pepper"? Most bands dream of recording their own "Sgt. Pepper"; an album that becomes a living testament to their musical ability that also stretches the known boundaries of music. With "A Fine Day to Exit" not only does Anathema find their "Sgt. Pepper" but they also produce their "Ok Computer" and "The Wall". There is no mincing words here, in my humble opinion Anathema have produced a modern masterpiece.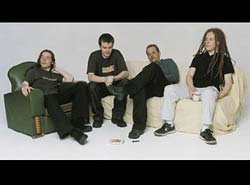 The band and producer Nick Griffiths (Pink Floyd, Roger Waters) can be proud of reaching new music heights. The sound on this eclectic album rings of classic Anathema meets Radiohead and Pink Floyd, with some Asia thrown in. The reader really has to hear this CD to believe it because words cannot even start to do it justice. This release solidifies Anathema position as one of music's best-kept secrets; "A Fine Day to Exit" is easily one of the best albums of the year, if not the decade.
Anathema can face the future with their heads held high, they have persevered over a decade by ever expanding their musical boundaries in a music climate content with mediocrity. With each new release they have proven to the world that they can continue to top their previous work and evolve musically. Their current status as underdogs is unfortunate for the band; they so richly deserve mainstream success and the spoils that go with it. But the biggest loser here is the music buying public in general as they are being robbed of some of the finest rock music ever produced. It is this writer's hope that the future will provide one of those rare instances in the music business where success actually equals the quality of the music, if any band should be hanging platinum album awards on their walls and selling out arenas and stadiums it should be Anathema. Then again adherents to popular culture seem content with the inane humor of "Friends" and the insipid fluff of pedophile pop divas and boybands so Anathema's music just may be too good for the masses. That is too bad because they may never know what they have been missing.
.
More Anathema
Visit the Official Anathema Web Site
---
Listen To/Purchase Anathema Music

Photos and artwork courtesy Anathema and Music For Nations/ Koch Records Copyright 2001 All Rights Reserved by Copyright holders.