Nonpoint
An interview with Andy Goldman
By Debbie Seagle


Here I am in the land of Oz music fans – only this isn't the Emerald City, and I'm not Dorothy. I'm in sunny Southern California, soaking up as much of the Ozzfest color as I can for my homies in the cyber world. This year's line up has brought together an eclectic collection of metal, in all different sizes, shapes and colors. And why shouldn't the line up be reflective of the world we live in? Well, in many ways, it is. Take this band Nonpoint for instance. They are a heavy band, yet strangely melodic and soulful. Their debut CD on MCA – "Statement" – is a head banger, yet has a detectable flavor to it that sets it apart from the latest crop of new metal. It's an undercurrent, a suggestion of sensuality that may have come from the Latin influences of these band members, one of which started out in Puerto Rico.
Today I caught their set and got swept away on that undercurrent. The band is tight, the material is good and they just could be going places. One thing's for certain. They are going across the United States – with Ozzy. Lets talk to guitarist Andy Goldman about the band's music and being in the land of Oz . . .
(Debbie Seagle for) Rocknworld: How did you come to find yourself on the Ozzfest tour? It's a pretty lucrative gig!
Andy: Yes, its like THE summer tour to be on. We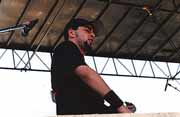 found out I think, earlier on like in January or February. We found out we were a real good candidate to be on it, and then the way things work with the agents and management, they just put it together then. We were doing pretty good. Our song "What a Day" was doing real good on the radio and our record sales were bumped up a little bit from that, so we were doing better than some of the other bands we were in questions with.
RNW: In that genre?
Andy: Yeah, its awesome. It's the best thing to be out here.
RNW: Any interesting Ozzfest stories? Any funny things happening to you on the trail yet?
Andy: Oh, there's a lot of tour bagging. Its hard to describe. You can't really use the bathroom on your bus . . .
RNW: Yeah, I know.
Andy: You can't drop any salads in there. So I have the bag trick that I like a lot. It's a lot cleaner than going to a porta-pottie. I can be on my own bus in private. Just go in a bag in the bathroom, you know? Set it up over the toilet, it's a big process, but anyway.
RNW: I think that's ingenious!
Andy: So you finish up with the bag and the thing now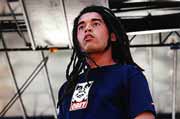 is to find a trailer of one of the bands that are real close to you and stock pile throughout the day. (hysterical laughing from Debbie) I think we got Drowning Pool the other day, Taproot the day before. You know, its just funny. You walk by and they don't know. Every time you walk by you see that little bit of white bag blowing in the wind. (More laughter) That's been a reoccurring thing – daily, pretty much.
RNW: I've been hearing about a lot of that kind of stuff going on with other tours this summer like the Poison tour. Its been hysterical. For those out in the internet world who don't know Nonpoint, tell them something about the personalities in the band.
Andy: Each one of us uniquely?
RNW: Yeah, why not? Who's the joker, who's the one who's the slave master.
Andy: Elias (vocals) is like the dictator of the group.
RNW: There's always one.
Andy: He likes to be that way. He's like the most vocal, the loudest probably. Pretty much everybody just goes, alright. Just let him speak. He'll back down a little. He's like, kinda the ring leader (he likes to act as). I find myself as more of the serious, down to earth decision maker. Like when it comes to – well, I write set lists and I say we'll do this here and we'll do that there. Things like that are kind of my range. Ken is our village idiot, our bass player.
RNW: So "K.B." is "Ken?"
Andy: Well, he's Ken to us.
RNW: I was going to make up all kinds of really weird combinations for K.B. until he told me what his name was.
Andy: Yeah, like "Kurt's Big Mack," I think we had. A couple of different ones. But I've known Ken, me and Ken have been friends for like, eight years now, so he's always Ken to me, but K.B. to the rest of you folks.
RNW: Oh, alrighty, we'll continue to call him K.B. to keep the mystique going.
Andy: Now Rob (drums), I don't know. Rob has like an on and off switch in his head.
RNW: Is he the hyper one? That would have been my observation.
Andy: No, Rob disappears. The second we get anywhere, he's gone. Off the bus, going to find something. Walking around the club, go see what's going on. Rob's the one who talks to the fans the most. He's always the one out at the shows.