Lit
w/ The Color Red

Friday August 9, 2002 –House of Blues – Anaheim, Ca.
by Keavin Wiggins

Who says you can't go home again? Ok, it's true once a band hits the majors, they very rarely return to their roots and return to play for the fans who gave them their first taste of fame, at least on a local level. Fortunately, for Orange County rock fans two native sons returned home to rock the house and make a few of us who used to watch these bands in the clubs feel a bit nostalgic for days gone by.
I'm talking of course about Lit and their protégé's The Color Red. For those who have been Rocknworld readers since the beginning you will remember that Lit was our very first Artist of the Month, this was way back before RCA came calling, when the band were the stars of the Orange County music scene and sold out shows when ever they played. A lot has changed since then, both for Rocknworld and Lit. Lit changed up their music from the raw metal vib they had back in the day, to a more radio friendly alternative rock. We've gone from a few thousand readers to millions, so yeah a lot can happen in a few short years. But I am happy to report that Lit still knows how to bring a house down live. It's impossible for me not to compare the band's old shows to their new ones. I used to catch them as often as I could when they were playing the local OC venues before they were catapulted into the national and international spotlight with their RCA debut, "A Place in the Sun". If anything Lit now brings even more power to their live performances, which is ironic since the music isn't quite as heavy as it was in their indie days.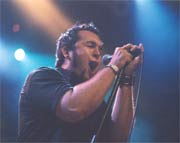 We'll get to the Lit show in a minute but first I have to tell you about The Color Red, a band that hails from Orange County's eastern neighbor Riverside. My early exposure to this band wasn't nearly as extensive as my exposure to Lit but I did happen to see them when they were just another band battling it out on the local scene in hopes of landing a major record deal. Even back then they did seem to stand a notch above the competition. Their high energy shows coupled with their heavy melodic music made an impression on me the first time I saw them and I knew it was only a matter of time before a major label came along and snatched them up. Fortunately, for The Color Red, it was their fellow musical brothers in arms, Lit, who came along to give them their shot at major label glory. For those who are not aware, Lit started their own label imprint through RCA called "Dirty Martini Records" (these cats are really into the whole Rat Pack vibe). The first band released through the label, "Handsome Devil" got a lot of attention when their album hit the stores late last year. And for good reason, I know some people didn't give these guys an honest chance but their CD really did rock. Their mix of punk, alternative, rockabilly and pop was actually refreshing and quite a bit better in quality than their competition. (Think Elvis Costello meets The Clash meets The Living End).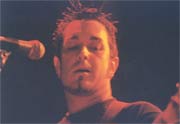 When I heard that Lit had also signed The Color Red to their label, I knew that these guys weren't messing around and they were also staying true to their roots, helping out some of the other bands back home that they felt deserved attention. With the exception of Wonderlove, perhaps the best band on the Orange County scene at the moment, The Color Red were a perfect choice for Lit to take under their wing. Earlier this month, the long awaited Dirty Martini debut "Clear" from The Color Red hit stores and yes it rocks!
Ok, now that the formalities are taken care of let's get to the show at hand! I actually didn't know that I was going to be going to this show until a few days before when the publicist at RCA asked me if I was interested in coming down to The House of Blues to check it out. Was I interested? If the Pope Catholic?
Lit's return to Orange County came with the expected excitement from locals. When the band quickly sold out their first scheduled show at the House of Blues another show was added, when they sold out that show, the band was asked to play the next night with metal legends Judas Priest. I caught the show on the second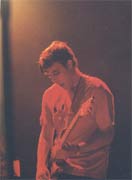 night. Once I found out I was going, I remembered a buddy of mine, yet another OC musician Spooky Jones had once told me he had never seen Lit, so naturally I called ol' Spooky up and asked him to go along for the ride. (keep your eyes out for Spooky, his old school funk n roll and Stevie Ray Vaughn looks are sure to capture the attention of some A&R cat some time soon).
We got to the House of Blues about ten minutes before The Color Red took the stage. Those familiar with The Color Red know that they fit somewhere between the worlds of Modern Rock and nu-metal. They aren't quite as heavy as most nu-metal bands but they rock a lot heavier then most modern rock bands. That power translates into a mind bending, fist pounding intensity live. There is no other way to say it, these guys just go off live and grab the audience up in a whirl of energy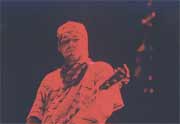 and leave the fans soaking wet in sweat, dazed and listless by the time they leave the stage. It's the kind of energy you would expect from a thrash band but The Color Red take the stage with one thing in mind and that is to rock the pants (or what's underneath them) off the audience. The packed crowd at the House of Blues weren't disappointed this night. They rocked through most of the songs on their Dirty Martini debut, "Clear" and crowd ate up every minute of it. It was really impressive because they managed to pack more energy into their set with the short 45 minutes they had to play than most bands can achieve with in 2 hours.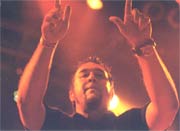 The Color Red doesn't go for theatrics, they just plain out rock the house. Frontman, Jon Zamora had no trouble as ringmaster of the three-ring rock n roll circus that was taking place on stage. It had been over a year since I had seen them live and in that time they have grown by leaps and bounds as a band. Their rhythm section was flawless and the guitars were simply over the top. After seeing this show it actually gave me a much deeper respect for their new CD. Not that I wasn't impressed before but I seem to appreciate the CD far more after hearing the songs translated live.
It's hard to imagine any band wanting to follow The Color Red's performance; most bands would shy away from the experience because it seems nearly impossible to match the energy and intensity that The Color Red brings to the stage. Lit didn't shy away at all, they knew they had what it takes to blow away the audience and I'm sure they gave their performance a lot more since they were playing before their hometown crowd.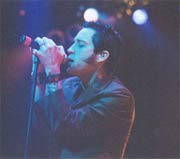 The house lights went down and the crowd roared in anticipation. A huge Lit logo made of lights illuminated from behind the drum riser and Lit burst onto the stage like a bat out of hell. Even though my main concentration was on snapping some photos of the group, I was also able to take in the whole scene on stage and memories of the old days when Lit would take hold of a club audience and rock their you know what off flooded back. From a photographer's point of view, Lit is a difficult band to photograph. Jeremy Popoff doesn't like to stay put for the 2 second's it take to focus and shot a photograph and this night was no exception, you could just feel the energy coming off of him as he tore across the stage, wailing away at his six string, playing his heart out for all of the familiar faces in the crowd. His brother A.J. hasn't lost his touch live either. Sure Lit's newer music required AJ to sing instead of the full throttle yell he used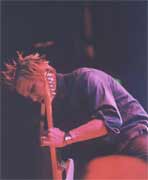 to deliver but he packs the same amount of energy into the group's major label material as he did back in their metal days. Bassist Kevin Baldes looked like he was having the time of his life, although he tried to keep a serious rocker face, I caught a few glimpses of him grinning from ear to ear. I made me wonder what he must have been thinking, perhaps… "Yeah, people we're back home and we're better than ever!"
The House of Blues was packed wall to wall in a sea of people, the crowd roared along with every note pounding their fist in the air, daring the band to rock them even harder and when they burst into their hit single "Zip-lock" from their platinum debut, "A Place in the Sun" the scene turned into pure pandemonium. Standing in the little corner by the side of the stage I had staked out for myself, it was a little like watching those old films of Hilter mesmerizing masses of people. The audience pounded their first in the air in unison in almost a tribute like fashion to the rock show that was taking place on stage and there was more then a few hands extending in devil horns, demanding that Lit bring the rock! And they did!

Click here for the conclusion and photo galleries

Keavin Wiggins is the founder and managing editor of Rocknworld.com and the iconoFAN network.
Photos by Keavin Wiggins
Copyright 2002 - iconoclast entertainment group
all rights reserved.