The Cult
With Stabbing Westward, Monster Magnet and Bird 3
Tu. June 19, 2001 - SDSU Open Air Theatre
Review by antiGUY

Chapter I: In the Beginning....
It was a perfect day to throw an outdoor concert. The mild southern California summer had just began and the temperatures hadn't yet climbed above the 80's, the sky was crystal clear and better yet whoever put this lineup together know what the hell they were doing. Being a virgin to the live Cult experience, it was with great anticipation that I hoped into my Mustang, put down the top and headed out for the hundred-mile drive south to the University of California, San Diego. I didn't mind the drive, I had the Cult's latest CD "Beyond Good and Evil" to keep me company. I did get some strange looks from other commuters, I guess they found a long hair guy in a convertible rockin' out humorous. What ever…They don't know what they are missing.
Chapter II: The Flight of Bird3
I got to the venue just in time to catch Bird3 take the stage. This was an added bonus since I've been listening to their debut CD constantly for the past couple of months. Lead vocalist/guitarist Bird really lives a charmed life. This guy moved to L.A. from Chicago, within six months he had teamed up with bassist Greg Coates and drummer Michael Miley and landed a record deal. Their good fortune doesn't stop there, not only did they land an artist of the month slot at antiMUSIC, their CD wasn't even in stores a week before they got hooked up with two major tours!(count that as three as they have just been added to the Warped tour as this article goes to press -ed) It isn't just a Midas touch; it has to do with the music. These guys are seriously great where it counts; the music. Bird is a gifted songwriter and he couldn't have picked a better team to help bring his music to the masses. Ok, they sound great on CD but can they deliver live? I give you a big resounding, hell yeah!
During most shows the people who actually get there early enough to catch the opening band usually choose to go get a beer or check out the opposite sex instead of watching the band. As soon as Bird was into the first chorus of their opening number "Research Man", people started filtering down to their seats to see what the guy wearing angel wings on stage was up to. At the end of the song the crowd cheered and Bird smiling from ear to ear as he thanked the crowd for coming early. They gave high-energy performances of several songs from their debut including "Aircrisp", "Glow" and their current single "Mess". The crowd ate up every second. Then suddenly during the encore, "Girl Next Door", Bird missed a vocal queue, threw up his arms in frustration, walked to side of the stage, grabbed a cigarette from a roadie then jumped down into the pit and started messing with the security guard. Then he put his guitar over the orchestra pit railing and gave the crowd an impromptu two or three-minute guitar solo before he climbed back on stage and completed the song. I don't know if that whole thing was staged, if not, then he played off his screw up like a master. One thing is for sure; Bird3 earned some new fans in San Diego that night.
Chapter III: Stabbing Westward.. Not So Far Away from perfect.
By the time Bird3 left the stage it was approaching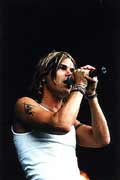 dusk, the California sky had turned an array of pinks and oranges providing a perfect backdrop to an outdoor concert. Stabbing Westward took the stage with an electrifying rendition of "Save Yourself". Having never seen this band live before I didn't know what to expect; they easy proved to be masters of the stage. Lead vocalist Christopher Hall seemed like a reincarnation of Jim Morrison as he pranced about the stage, encouraging the crowd to revel in the music. Derrek Hawkins provided the six-string magic to the songs while bassist Jim Sellers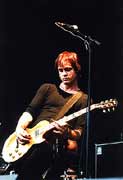 joined with drummer Andrew Kubiszewski in crafting the moving rhythms Stabbing Westward is known for. When playing live Stabbing Westward go far beyond simply delivering the studio tracks, the songs are played with a much deeper intensity and harder rock edge than we have come to expect from their CD's. A perfect example is keyboardist/guitarist Walter Flakus who provides much of the underpinning to the band's studio sound with his programming and keyboards. I was surprised to see Walter spent most of the show wailing at a guitar and entirely ignoring the keyboards. During the songs when we would normally expect Walter's keyboards or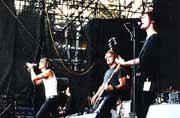 sampling we were treated to some intense guitar playing. Where you might think that this would take away from the songs, it actually took them to a whole new level and that is exactly the reason people shell out their hard earned dollars to see a band play live, otherwise they would be no better off then simply sitting at home and listening to the CD's.
After treating the crowd to "Save Yourself" from their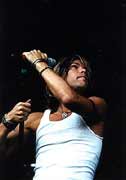 1998 release "Darkest Days", the band launched into "High"; the first song of the night from their new self-titled CD. The new CD not only solidifies Stabbing Westward's rock n roll credentials, it also proved the idiots (a.k.a. rock critics) wrong in the notion of writing these guys off as a Nine Inch Nails knock off. While there are some similarities to the NIN sound, overall Stabbing Westward's songs go way beyond the styling of Trent Reznor. You just have to take the time give them an honest listen.
There was no mistaking who was ruling the stage that night as Christopher Hall led his music brigade through a few more new tracks like "The Only Thing" and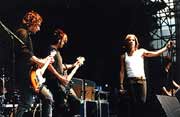 "Happy". Christopher showed us his humorous side by strapping on an acoustic guitar and breaking into a few bars of John Denver's "Country Roads". He also took time to joke with a concert goer who kept yelling, while holding up a t-shirt with a pot leaf on it; "Smoke it if you got it." Christopher joked, "Get high now, go get some pizza and be back in time for the Cult". It wasn't all fun and games, Stabbing Westward was there to rock and they proved that by captivating the crowd with their new single "So Far Away".
Old time fans got a special treat as the band closed their set with an ultra heavy rendition of "Shame" from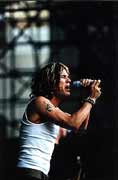 their 1996 album, "Wither Blister Burn & Peel". By the time they left the stage the sun had fully set and they had set the stage for an intense night of music. My only complaint, the set was too short, I know I wouldn't have been heart broken if Stabbing Westward swapped spots with Monster Magnet in order to play more songs.

Click here to Continue
---

Photos by Debbie Seagle. Copyright 2001 Groove Quest Productions. May not be used without permission all rights reserved.

---