| | |
| --- | --- |
| | by Debbie Seagle |

"If we don't take a stand, one of these days records are going to be $20." --Tom Petty, 1981, on album price increases.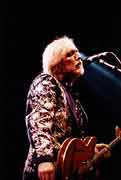 Choosing Tom Petty as a "Legend" is a no brainer to anyone who has had the pleasure of witnessing even a portion of his long and successful career. The bottom line with this gifted musician is that Tom Petty has always been, and will always be about the music and maintaining the integrity of rock and roll.
For someone who has had as stellar a career as he, studded with various awards, honors and platinum records, He prefers to keep his feet right on the ground with the rest of us. Always the rebel, he has fought for his rights and our rights too - as fans, music consumers and human beings. He tells the American story as "every man" and the songs he has written will be pressed in the pages of rock and roll history for us to share with future generations. The music of Tom Petty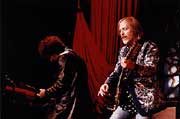 & The Heartbreakers allowed us to grow up with him and let us know that we weren't alone in the trials and emotions of coming into your own. Not sugar coated, this heartland rock tells it like it is, warts and all. But by making himself known as one of us, he cemented his place as the model of cool rock & roll throughout three decades. He is the music world's rebel WITH a cause, or make that many causes.

In The Beginning . . .
In 1970 Tom Petty formed a band with Tom Leadon, calling themselves "Mudcrutch." They later recruit Randall Marsh on drums, and Mike Campbell as a second guitar. After jamming to get down their sound they begin to organize the Mudcrutch Farm Festivals in in Florida (Tom's home state) in 1971 & 1972. By 1973 they are recording demos and shopping for a later.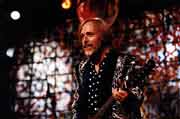 In 1974 the band is scouting in Los Angeles for a label, demo in hand. Mudcrutch signs up with Danny Cordell's Shelter Records in Tulsa, OK and relocates to Los Angeles, They start working on an album, which is never released and the band breaks up . . .
In 1975 Tom Petty engineers a new beginning by forming a backup band called the Heartbreakers. The original lineup includes Mike Campbell on guitar, Benmont Tench on keyboards, Ron Blair on bass, Stan Lynch on drums and Jeff Jourard on guitar. The following year, Jeff leaves the band to join his brother's band, The Motels. The Heartbreakers put out their debut self titled album and experience sales of only 6,500 copies in three months. Not daunted by this, Tom lands them opening slots for artists like Bob Seger and The Runaways, which began the process of exposing America to their unforgettable sound.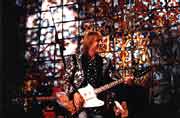 The years that follow found Tom and his Heartbreakers realizing an ever growing fan base through constant touring, television appearances and collaborations. But the first round of trouble was on the horizon for Tom and he let the world see his tenacity for the first of many times. In 1979 his record company is bought (or swallowed, depending on who you hear telling the story) by MCA. Tom refused to simply transfer to another record company without his consent. MCA claimed that he owed them $575,000 in recoupable expenses, which would only be forgiven if he remained one of MCA's acts and recorded six more albums for them! In a symbolic "kiss my ass" gesture, he turned right around and filed Chapter 11 Bankruptcy and the only way the whole matter was finally solved was when MCA agreed to establish a new MCA controlled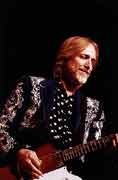 label, Backstreet Records, devoted wholly to Tom Petty & The Heartbreakers. That year the band embarked on a tour under the banner "Why MCA/The Lawsuit Tour."
At the same time he was in litigation with MCA Records, Petty fought with his publishing company as he believed artists should own their own song writing copyrights. Petty held fast to his principles for a long nine months and this added to his need to file for bankruptcy. This struggle with his publishing company earned much attention, and it helped other artists in their own battles to hold onto their copyrights. So if you are a musician, or would like to be one some day, you can thank pioneers like Tom Petty for paving the way for you to own what you create.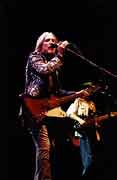 So we know he cares about himself and his band, but what about us - the fans? Fear not, oh weary music connoisseurs. You are not alone. MCA, seeing the success of "Damn The Torpedoes," and the buzz the band was creating in the music industry, decided to inflate the price of their next release, "Hard Promises" from $8.98 to $9.98. In 1981, when this was all going down, $8.89 was a lot of money to buy an album. Tom wouldn't stand for it. He was outraged and withheld the tapes from MCA. After much lawyer speak and abstinence from Tom, MCA finally backed down and released the album at $8.98, leaving an extra dollar in the pockets of his fans.
Life was not all trials and legal wrangling for the band that turned out such classic hits as Breakdown, Free Falling, Don't Do Me Like That and Refugee. Who among us has a summer memory of your first crush and hearing the song "Here Comes My Girl?" Or salved your wounds from an ugly breakup while being bolstered by the words to "Don't Come Around Here No More?"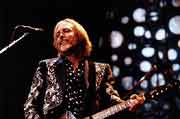 In the late 80s we saw Petty stretch his wings a bit and experiment with solo projects and a stint with the Traveling Wilburys, a collaboration of George Harrison, Jeff Lynne, Bob Dylan and Roy Orbison. The group put out two CDs, Volume 1 and Volume 3, which were critically acclaimed because of their superstar qualities.
Even with these outlets of creativity, Petty has stayed true to the Heartbreakers for all these many years in an unstable business, where bands come and go. Still he is steady on course, making music his way, and we all got lucky he has let us into his world.

What Are They Up To Now?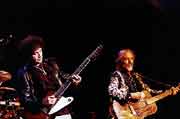 Tom Petty & The Heartbreakers are currently on tour for the summer. Tom has been quoted as saying that they are working on a new CD, but is taking time off to tour, "because I just feel like playing. The group is so good, its a crime not to take them out." According to Petty, they are playing mostly smaller arenas, so they can get that intimate feel with their audiences and the set lists, in addition to hits and rarities, will consist of "songs we haven't played in 10-15 years. Popular songs we laid down . . . I'm going to play whatever I feel like and whatever makes the best show." Judging from the sold out crowds across the nation, I would say his instincts have been on the money with his no frills form of bringing it to the people. If you want to see how and why rock lives, you can get no better example than seeing Tom Petty & The Heartbreakers for yourself.

Genre: Rock
Current Line-up:
Tom Petty - Guitars, Vocals
Mike Campbell - Guitar
Benmont Tench - Keyboards
Howie Epstein - Bass

Joining them on Tour:
Scott Thurston - Guitars, Harmonica
Steve Ferrone - Drums
Influences:
The Byrds, Check Berry, Del Shannon, Bob Dylan, The Kingsmen, The Outsiders.

Career Album Discography:

WITH THE TRAVELING WILBURYS:
1988 Traveling Wilburys, Vol. 1 - Wilbury
1990 Traveling Wilburys, Vol. 3 - Wilbury


Get more information on the band


Purchase Tom Petty & The Heartbreakers Merch.
Photos by Debbie Seagle Copyright 2001 Groove Quest Productions - All Rights Reserved - Debbie Seagle is the Special Features Editor for the iconoFAN Network.