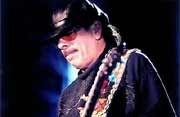 Never has the term "Legend" fit an artist as well as it does the incomparable Carlos Santana. His music has been his gift to us for a span of five decades and shows no signs of diminishing. In fact, perhaps one of the things that has lifted him to the "Legend" category is his ability over the years to grow and move with the times without losing his signature style of Latin and blues flavored rock and roll. Since the beginning Carlos has sold more than 50 million albums and in 1998 was inducted into the Rock 'n Roll Hall of Fame. With a career that most musicians only dream about, he is recognized and enjoyed by three generations of music lovers as a guitar master and a gentle and humble humanitarian.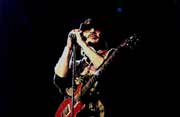 Fans have long known Carlos Santana for his spirituality and the subtle undertones in his music about peace, joy, acceptance, compassion and understanding. He also believes in putting his money where his mouth is. He is the founder of the Milagro (Miracle) Foundation, a charitable organization that supports underrepresented and underprivileged children and youth in the areas of arts, education and health. He is also involved in such organizations as Hispanic Education and Media Group, Doctors Without Borders, United Farm Workers and Save The Children. His music and his message have reached every corner of the globe and it reflects the wisdom of a long and fruitful career.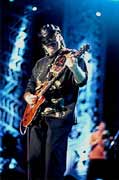 Most people think that it all began for Carlos Santana when he burst onto the main stage at the 1969 Woodstock Festival and blew the hippie crowd away. That may have brought him into the National conscience, but his musical roots can be traced all the way back to a little village in Mexico called Autlan. There, a five year old Santana was introduced to music by his father, who taught him the traditional music of his country. His father was a mariachi violinist who taught him form and theory – a good foundation on which to build the career that still flourishes today. In 1955 the Santana family moved to the border town of Tijuana, and it was there that he first fell in love with the guitar. It wasn't long before he realized that rock 'n roll was his destiny and he began to develop his signature style by playing with different bands on the Tijuana strip.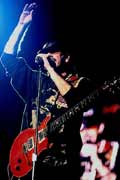 In 1960 the Santana family moved to the United States and settled in San Francisco. Carlos did not join them until 1961, which thrust him into the wild and creative Bay Area music scene. He continued to hone his craft, being influenced by the cultural, political and artistic atmosphere there and by 1966 he debuted the Santana Blues Band. The band played all the popular venues in the area, including Bill Graham's historic Fillmore West, and ultimately made their national debut on August 16th, 1969 at (you guessed it) Woodstock. Carlos Santana, meet the world. World, meet Carlos Santana! No stopping him now. That year he put out his debut album "Santana," featuring "Evil Ways," which went double platinum. The following year music fans got the other half of the one-two punch when the quadruple platinum "Abraxas" introduced us all to "Evil Ways" and the Tito Puente composition "Oye Como Va." Now let me ask you, who hasn't danced around drunk with a lamp shade on their head singing that song? To say it's a classic would be an understatement. You can thank Senor Carlos the next time you are enjoying that one!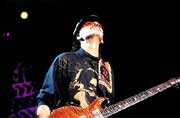 The albums continued to cascade from his creativity as Santana continued to grow and evolve in his music. His passion for diversity and joy are the vibrant colors of his music, which can be seen, heard and felt at the same time. The fans understood and to date these passions have earned him ten platinum and nine gold albums, not to mention a following that has continually gown since the beginning. Year after year, as each new generation discovers the language of his wailing guitar and the pulsing Latin beats, another fan falls into step with the rest. Along with parents and even grandparents who have an appreciation for this timeless music.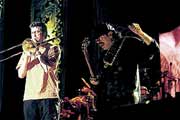 Although there is a huge catalogue of music for young fans to explore, more recently he has received world wide acclaim for his 1999 release "Supernatural." What can be said about this album? Is there anyone, under any rock, in any corner of the world that hasn't heard this one? I think not. It sold in excess of ten million copies and has been officially certified as dectillion platinum (diamond status) by the RIAA. It won nine GRAMMYs at the 42nd annual GRAMMY awards, including Album of the Year, Best Rock Album, Record of the Year and Song of the Year for "Smooth." This unforgettable collaboration with Rob Thomas from Matchbox Twenty was a Latin flavored rocker that turned anyone who heard it into a sensual cyclone on a balmy night. The combination of Thomas' entrancing pleas and Santana's matching guitar licks was a combination that couldn't lose.
In addition to Santana's collaboration with Rob Thomas on "Supernatural," he also bridged the cultural gap by weaving other artists into the work, thus bringing in a diverse new group of fans and creating a beautiful fusion of styles and vibes. Guest artists such as Lauryn Hill, Eric Clapton, Dave Matthews, Everlast, Eagle Eye Cherry and Mana, as well as others, made the album a colorful quilt of musical energy.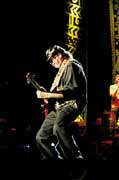 Continuing with the diversity formula, Santana has just released his 37th career album, "Shaman." With inspiration and honesty, this work takes the listener into a spiritual place. The rock, soul, jazz, Latin and R&B combination is a timeless one-world sound. Artists tapped to collaborate with Santana on this work include Michelle Branch (on the first single – "The Game of Love"), Citizen Cope, Dido, Macy Gray, Chad Kroeger, Me'Shell Ndegeocello, Ozomatli, P.O.D., Seal and Wyclef Jean to name a few. If you want to know who else shows up, you'll have to get the disk! Or better yet, experience the trip of a live performance.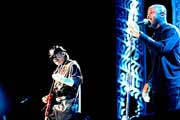 A Santana concert is like going to a big family party. All the relatives and friends are there, you have a beer in your hand and your best honey to dance with. Don't plan on sitting down because the music forbids it. You dance with strangers, you groove to the brilliant percussion and the colorful spectacle. Best of all is that feeling of family. Santana inspires it. Picture an arena with 15,000 cousins! Several generations, all celebrating the joy of his music, inspiring a new generation of musicians to unleash their creativity and break out of the box. It is an experience that is recommended for everyone. The best party you will ever attend. When its finished, you will feel like you have visited many counties around the globe and realize that its all tied together by the music and the Legend of Carlos Santana.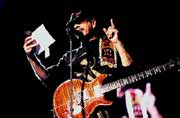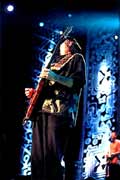 Current Line-up:
Carlos Santana: Lead Guitar & Backing Vocals
Chester Thompson: Keyboards
Benny Rietveld: Bass Guitar
Dennis Chambers: Drums
Andy Vargas: Vocals
Raul Rekow: Congas & Percussion
Karl Perazzo: Timbales & Percussion
Tony Lindsay: Vocals


Side Men:
Bill Ortiz: Trumpet
Jeff Cressman: Trombone
Myron Dove: Rhythm Guitar & Piccolo Bass



Career Album Discography:
Quotable Quote:
"Some songs are like tattoos for your brain – you hear them and they're affixed to you." - Carlos Santana

Visit the Official Santana Website
Purchase Santana Music.
Photos by Debbie Seagle Copyright 2002 Groove Quest Productions - All Rights Reserved - Debbie Seagle is the Special Features Editor for the iconoFAN Network.