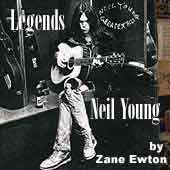 leg·end (l j nd) n.
One that inspires legends or achieves legendary fame
A story about mythical or supernatural beings or events
star (stär) n.
An artistic performer or athlete whose leading role or superior performance is acknowledged
One who is highly celebrated in a field or profession

With the release of the new Greatest Hits collection it was high time that we have a Legends feature for Neil Young. This feature will focus on that album which gives us a musical testament as to why Neil Young is a Legend.

Neil Young has built one of the longest and most expansive careers in music. Young has always done everything on his own terms and that sensibility might explain why this album is only the second retrospective in Young's catalogue. Decade was released in 1977 and contained 35 tracks. Greatest Hits is whittled down to 16 tracks spanning Young's entire career.
What you get is the best of the best. The songs that you can hear on every classic rock station in every town in America. By keeping it simple, these songs still hold on to their maximum affect without being watered down by any filler. Of course with greatest hits albums there is always the argument about songs that were left off or shouldn't be on it but there should be no argument here. This is essentially the ultimate Neil Young, nothing else could get much better.
The album starts with "Down by the River", one of the better songs about killing your loved one. The lead-off track is then followed by all 10 minutes and 5 seconds of "Cowgirl in the Sand". "Cinnamon Girl" may be one of Young's most overplayed songs but it is still a good three minute chunk of rock and roll.
"Helpless" was one of Young's first contributions to Crosby, Stills, Nash & Young but has been a staple in Young's solo work since. "After the Gold Rush" has a beautiful piano accompaniment that lends to the sadness of the song. Neil Young has a great deal of power when he strips the songs down to just his vocals and a simple background.
"Only Love Can Break Your Heart" is able to pick up the mood, which starts to get very low after the last few bleak songs but picks up with "Southern Man" and "Ohio", two songs that are blueprints for rocking songs with a message. If you are going to stand up and fight, you need a loud electric guitar to do so.
Young was definitely on the vanguard of writing different kinds of songs like the almost romantic drug indictment "The Needle and the Damage Done". The next few tracks are during Young's highest time of popularity including "Old Man", "Heart of Gold" which was his only number one song from his only number one album Harvest, and his return with Crazy Horse, "Like a Hurricane".
The country charm of "Comes a Time" gives way to the distorted crunch of "Hey Hey My My (Into the Black)". Young's work in the 1980's is ignored except for the "comeback" hit "Rockin' in the Free World" The album ends with the simple and beautiful "Harvest Moon".
Neil Young has been influential across several genres of music, all of which are accounted for on this collection, and he has written many of the most enduring songs of the past 40 years. It would be easy to say that a greatest hits collection is a bit overdue, but we stick with the man because he will always do things his own stubborn way.


More Info


Neil Young - Greatest Hits
Label: Reprise
Rating:





Tracks:
Down By The River
Cowgirl In The Sand
Cinnamon Girl
Helpless
After The Gold Rush
Only Love Can Break Your Heart
Southern Man
Ohio
Needle And The Damage Done, The
Old Man
Heart Of Gold
Like A Hurricane
Comes A Time
Hey Hey, My My (Into The Black)
Rockin' In The Free World
Harvest Moon