.
(Legends special by Debbie Seagle) In the continuum of rock history, many bands have come and gone in the past 30 years. Some leave barely a ripple in the water and others have been a tidal wave of music that has spanned decades and has been the backdrop for the chapters of our lives. We call these bands "Legends" and I recently had the pleasure of interacting with one such band - Journey. I normally tell our readers the story and the history of a "Legend" band and update people on what they are doing these days but I have a special treat for you this time around. I caught up with the band on their "Generations" tour this summer and asked founding member Ross Valory to give you the 411 himself. He graciously obliged and what follows is an insider's look into the life of this long standing, hit making, keep you rockin band called Journey.

Interview with Ross Valory
Journey bass player and founding member
July 14, 2005

DS: Hi Ross. I'm talking to you today because I'm writing a "Legends" feature about Journey for Rocknworld.com. It has a huge readership, with a lot of people who are very, very into classic rock.

RV: Great, have you interviewed anyone else from the band?

DS: No, I have not.

RV: Is it just going to be me or do you plan on talking to anyone else?

DS: Its just going to be you Ross.

RV: Then I'll try to give you the "global view" my dear!

DS: Okay. I always ask to talk to the bass player, I don't know if you know that or not.

RV: No, I don't. Why is that?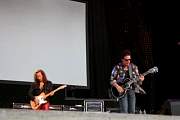 DS: They offered to let me speak to you today and I'm like oh that's great! I don't know, the bass player always seems to have the most interesting point of view (Ross laughs) about the way the band works. If you ask a roadie, who would you rather room with, they always say the bass player, you know?
RV: There you go! I feel like I'm in good company then.
DS: You're in very good company.
RV: Well thank you Debbie!
DS: How does the word "Legend" make you feel? Do you feel like a legend?
RV: I suppose so. Yes, given the amount of years that the band has been in existence, for the most part and for its accomplishments in terms of its popularity and the number of people who have come to our shows over the years, and of course the number of records that have been sold. It is sort of ironic though that in many ways we are not recognized by the press in general as a legend. Its just ironic.
DS: Well, this reporter thinks you're a legend.
RV: Well thank you. Why would I say what I just said? It has to do with the way that, in the old days, the press decided that we weren't artists - in spite of our popularity, in spite of the attendance records and all the other indications of extreme popularity, especially in our heyday.
DS: Why do you think that is?
RV: Well, because they saw the organization as so smoothly run and so expertly handled as a business that they found that this band can't be artistic its "corporate rock." We were the first to be assigned the stigma. We have the privilege and the distinction of being called the first "Corporate Rock Band." What that really means is that we ran our business much better than most bands of any standing did.
DS: That's why you're still here.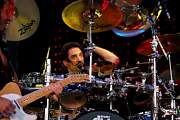 RV: That's why we're still here and there are some details that are very fascinating about that. This corporate rock image, good, bad or indifferent, whatever it was, was the result of the organizational skills and in some cases the new approaches to running a band as a business by our founding manager/partner and general creator of the concept of Journey who is Herbie Herbert. And he set some standards in the industry that quickly became recognized by the people in the industry as an advantage and not a gift, so to speak. And there were points in our heyday, for instance, many people may know that Mick Jagger, his background is in accounting and business.
DS: Yep.
RV: And that he has always been the business manager of the Rolling Stones. Well, he brought his staff to our corporate offices in San Francisco in the early 80s and spent several days visiting with Herbie Herbert to learn from him how one runs a rock band smoothly. The idea is that Herbie simply made money for the band, without owing a lot of money, while owning most of what it took to put the band on a show including a trucking company, a lighting company, a sound company, production company which also provided for other organizations at the time when we were not using our staff and crews and equipment. And Mick came over to learn how it all worked and Mick went home with some very good operating principles to apply to his own band. So, there's the irony of it. We're accused of being non-artistic but, we're good businessmen. We were just handled by a good business manager. Aside from the manager that has the political wherewithal and deals with booking the band and help create artwork, etc., from the business end of it, how do you make the money and how do you hold onto it? Really simple concepts, and that was the irony of it all. So we set the standard for the industry and everybody runs their business that way if they're going to survive and has been doing so for a while.
DS: Any time that you can cut down on recoupable expenses from the record label you're in good shape.
RV: There you go. You cut a good deal and you watch and you make sure that they can handle your activities and they should to be audited regularly to make sure that everything is running the way it should be. So, back to your question, part of that legend is an ironic kind of stigma that was placed upon our work. It looks like we survived it. I mean the band did go away for 10 or 12 years as of the mid 80s but . . .
DS: But you're back with us and we're glad.
RV: We're back and we've been back as this incarnation of the band, what we call the new old guys of the old new guys. Steve Augeri as the vocalist and Deen Castronovo as a drummer and a vocalist.
So that's one response to the question about being a legend. The other is the many adoring fans over the years who have stuck with us. We're now in the next century, years after the music that we are most known for was made popular. And these people are coming back over and over to hear those songs that they grew up to, that they graduated to, that they fell in love to, that they got married to and that of course is, those songs are the mainstay of whatever kind of a performance we do.
DS: So you "dirty dozen?"
RV: In an hour or an hour and a half those songs are always included, so we know what the main reason, generally, is for most fans, its to rekindle that love affair that we began with them years ago. Have you been to a show Debbie?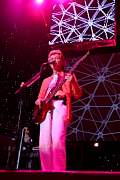 DS: I just covered your San Diego show a couple of days ago. I did photographs and you made some great faces at me, so that was fun.
RV: Oh, was that you?
DS: That was me.
RV: Well, I guess that's what I'm known for.
DS: I'm usually the only female in the pit, so I'm hard to miss.
RV: I can't really claim that I remember you, I was half kidding.
DS: But I do get the faces usually, more than the guys do.
RV: Well that's the class clown you know? I guess I'm the court jester as well.
DS: Well there has to be one in the band.
RV: Yes, there has to be, and often times it's the bass player. I guess that's another trait, I'm not sure. What do you think?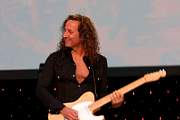 DS: I'm thinking it's a pretty constant pattern, but lets get back to the beginning in San Francisco, because I'm kind of curious about that.
RV: Okay.
DS: You started out as the Golden Gate Rhythm Section, right?
RV: The Golden Gate Rhythm Section. Well, the background there . . .
DS: Describe that incubator, the atmosphere, what was the music culture like in San Francisco at the time the band was started?
RV: At that time, which was around 1972, was when "The Project," as you might call it, began. It was a time when every artist, well almost every artist in every band would want to come to San Francisco to get a feel, to dive into this environment that was very creative at the time. Like, people wanted to go to San Francisco to write, to be inspired, to record their music. Then we had this idea. Herbie had been working with Neal Schon and Greg Wally in Santana in production and management. I had been working with Steve Miller. George Tickner had been working with, I think, the Jerry Garcia band at the time and Prairie Prince of course was in the Tubes. And Herbie had this idea. All these people had left various other projects except for Prairie, who was still with the Tubes. Herbie had this idea of putting us all in a room, introducing us if we hadn't already met and seeing what happened. The idea at the time it was developing was this concept of the Golden Gate Rhythm Section, which was like a Nashville studio circuit or a Memphis group of whatever you know, providing the sluggers, the ringers for artists that would come in to record. The idea quickly developed into hey, why don't we just form our own band and do something? So that's what developed into Journey, within those years and actually the band and also the atmosphere, not only in San Francisco, but across the world was this concept of super groups. Known players from known bands would get together to do an album and do a tour at least. On that wave, we were able to actually sell tickets and fill venues in San Francisco, Chicago, Detroit, and in Texas as well. We were actually on the road as Journey in some cases, before we had an album out.
DS: Really?
RV: Yeah. We had our first performance, which was at Winterland, part of that old wave there, on the night of December 31st, 1973, so it was 73-74. The next day we traveled to Hawaii and played the Crater Festival at Diamondhead Crater in Honolulu. We had two shows in a row, in two years. So the band quickly developed way beyond this Rhythm Section concept into Journey and by 1975, as you may well know was our first of three albums consecutively for the next two years. The first one being named "Journey" and of course "Look Into The Future" in 76 and the album "Next." So there was a band that existed as a five piece for the first year and a four piece for the second two years that included Aynsley Dunbar as the drummer because Prairie Prince already had an art career and couldn't tour so he was picked for the first two shows and the creation concept of the band and then at the start, but there's this whole era of music that many of the fans, that most of the fans that came to know the band as of the advent of Steve Perry didn't know anything about. And one of the aspects, as you may recall, from the show in San Diego, I can't remember what the set list was like there, but did we perform the new material?
DS: Oh yeah. At the end.
RV: Okay, so the concept of our tour this year is sort of the evolution of or a semi-chronological look at the band from the beginning. So there was something new for most of our fans because most of them never heard it or have been aware of it. It's a very clear segment of the demographic slice of people, hopefully, I mean I see on the faces of a few men especially, who are going "oh yeah, thank you very much for playing this stuff" because there was a whole segment there of a different kind of demographic that enjoyed the band as of its first three albums that peaked maybe at the total, maybe 500,000 people and record sales sort of peaked and held at that level, which is not too bad in those days, but it didn't grow. With that we just decided that we needed to reach a greater audience and that's when in late 1977/78 we decided to approach music in terms of singing songs - tunes. At that point it was a progressive band, it had extensive solos, about the length of songs, we learned about that. There were vocals, definitely some fine vocals by Gregg Rolie. But, it was progressive, you know, multiple time signatures, etc., what became the style of bands like Rush and Phil Collins' band with Peter Gabriel (Genesis). Journey was apparently ahead of its time and could not really build a substantial market or succeed beyond a certain level there so we just moved on. We started singing more, we're going to play songs and in that process came the opportunity to work with Steve Perry. And thus the band after the 78 "Infinity" album became what most of the band could be.
DS: So the years that have traversed - you know, 30 years in the business, bands have come and gone, you guys have come and gone. I'm sure the Journey fans felt the pain when you left in 86 and came back in 96 and then Steve Perry left in 97. Its all part of the music business isn't it? What brought you back to Journey, to that ride?
RV: What brought me back was the idea, after Steve Smith and I left, prior to the "Raised on Radio" album and tour, Steve Perry and John and Neal remained with new players including Randy Jackson of American Idol fame.
DS: Oh yeah, that's right!
RV: And it succeeded. It's a pretty fine album. A very short tour and that's where the band ended. That's were everybody walked away. And get out the violins and all the reasons why bands fall apart, and there you go.
DS: Right, we don't need to hear about those.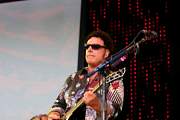 RV: You really don't. Its typical stuff. Anyhow, where it all came back together was John Kolodner, who at the time was still was with (CBS) Sony, those people, to get back together for a reunion tour - an album and reunion tour. In 1996 we rehearsed and recorded what I think is a very fine album, "Trial By Fire." It had a big hit with "When You Love a Woman," with a very fine video - probably our first good video (laughs). A tour was also in the works. That was the idea, album, tour, but for one reason or the other we did not get to the tour. Steve Perry declined to do so for health reasons. And at that point, here we had the band back together and we were just like . . . stopped suddenly, and the record company, upon hearing that we weren't going to tour, pulled the plug on the promotion for the album. We had a second hit on the turn table, so to speak, called "If He Should Break Your Heart" so the careful success of "Trial By Fire" was cut short. Neal and Jonathan and I gave some time to Steve Perry, or at least we waited a matter of I think 19 months, and he declined to continue so we found a way to negotiate continuing without him and thus was born this current incarnation of the band, which has lasted longer than any other combination of the players in the history of the band. We've been at it since 1998. We go out and perform every year. To date we have released 2 ½ albums, the ½ being the EP CD, the three song EP that followed the "Arrival" album and of course we have the "Generations" album, which you may well know is only available at the show. Most of our shows it is provided freely to the ticket buyers and in some cases at a festival or at another kind of situation where it can not be done because there's other bands and other political issues, in those cases its available to be sold at our merchandise stand. But "Generations" is the tour for the new album. It may go to retail or to our website shopping cart at the end of the tour.
DS: You want to hear something funny? I couldn't score one of those because the publicist paid for my ticket. I just thought that was funny.
RV: Yeah well you know, it was exclusively for the ticket buyers. You had to prove that you purchased a ticket!
DS: Well, your CD police are doing very well then.
RV: I hope they weren't too overbearing my dear . . .
DS: No, no, I just thought it was funny, that's all.
RV: (In a German accent) I hear your papers are not in order! Sorry, but you must be declined at this time.
DS: Ja, I vas declined! Well, Steve certainly nails your "dirty dozen,", you know, Journey's big ones.
RV: Thank you.
DS: What fresh talents does he bring to the mix, after the Steve Perry era?
RV: Well, you know, a lot of people when we first were going out thought he was . . . "oh, you got a perm!" He was gracious and said "oh yeah, yeah."
DS: Steve Perry must have loved that!
RV: You know, his shoes are a big pair of shoes.
DS: Oh yeah, yeah they are.
RV: It's not easy for any one person to fill and he's done a great job at that. He has, Perry has a commanding aura about him. He would demand that you listen to him. He would be right in your face. There you go. Augeri is sort of the other end of the spectrum. Not to say Perry wasn't humble with his audience, but Steve Augeri approaches it differently. "May I sing for you?" You know, he plays it that way. He takes it from the other approach in terms of stage presence and he's quite a good dancer. He moves well.
DS: I was surprised to see him playing guitar during the first set in San Diego.
RV: Well, I've been pushing for a couple of years to have him up there on guitar, and he's like, oh no, I can't. Of course Jonathan has been playing guitar for years with the band, so its not as though we're missing a second guitar when we need it. But I'm so happy with the advent of the "Generations" album, the fact that Steve performed guitar on the album and especially on the songs he composed or at least had co-written. Now that we are doing this material from the old days it does require both keyboards and a second guitar because it was a quintet. Mr.George Tickner being the other creator and guitarist on the first album. Stevie is hooked up to play guitar and sometimes not sing, just play guitar. Its different.
DS: Right, I noticed that. I think its great that you all sing too.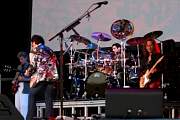 RV: Very good guitarist and speaking of the fact that we all sing, last year we found it was a really good idea for all of us, that has become a tradition and certainly I'm happy. I've been known to be a lead singer, but that was years and years and years ago.
DS: I think its good. I think it makes the show much more interesting.
RV: Well, given that you haven't heard the "Generations" album, I might point out that the tradition there, or the precedent that we set about everybody being a soloist carried over into the creation and the recording of the "Generations" album in which Dean Castronovo sings two songs, Neal sings one, Jonathan sings two and I sing one on this album. Of course its all new material that nobody has heard and given that Journey appears to be, not in a niche for radio airplay, to get airplay, even with the advent of the "Arrival" album, which didn't see much airplay at all, the people at the show this year are not familiar with the new material and you can only throw so much at them. Material that they are not familiar with, be it the old stuff or the new stuff, you don't hear a lot of the "Generations" material in the set. Nonetheless, there are four, at least, of the new songs that are performed in the second set of the evening with Journey this year.
DS: And that was a great way to set things up with the two sets. You played quite a while and it was a good way to break things up for both the band and the audience.
RV: I think that after San Diego we changed things. I think you probably heard more of the new material than we're performing now. We've had to balance it in terms of our studies, our own observing of the audience reaction. We've had to modify both sets, add a couple more familiar songs to the first set, and to reduce the number of "Generations" songs in the second set and add back in again more familiar songs just so we don't go over everybody's head because we can't forget this one thing: They are there to hear the songs that they love.
DS: The ones that have been a part of their lives for several generations.
RV: We definitely have found that the audience is for the most part patient and will abide by our efforts to play something of everything we represent from the very beginning.
DS: Well, it is a celebration, both the CD and the tour.
RV: It really is. A celebration of 30 years of a legacy.
DS: Right, it's a celebration that three generations now are enjoying. Did you ever think that you would be here 30 years later seeing an 18 year old rockin out and getting emotional over your songs from the 70s and 80s?
RV: Its really amazing and I consider it quite a blessing. The band went away, for one thing, and to be able to come back with new members and succeed at what we are doing is, I think, pretty amazing. For the band to succeed in its transition from progressive to popular music and the advent of Steve Perry and the success that that band enjoyed from 78' to 85' or so, that was a blessing. To have built this organization from as long ago as 1972 and you've slowly but surely developed an audience, that's one blessing. And then to reunite and at least accomplish what we did in the recording of "Trial By Fire" to me, as I even make note of in the liner notes, that is the second blessing.
DS: Yeah, there's no other way to describe it really.
RV: And the fact that we have survived and succeeded without Perry's presence as the band that it is today in this year is a third blessing. There you go, there's no other way to put it. Blessed three times in the same band across 30 + years.
DS: Now I have to ask you, and you don't have to answer this if you don't want to . . .
RV: Oh, okay!
DS: What were you all thinking when Steve Perry showed up at the unveiling of your star on the Hollywood Walk of Fame?
RV: There you go. That's another blessing. You know, neither John or Neal or I had seen or heard from him directly in 10 years, since 1996 when he quit. It was a very, very pleasant surprise. He was so gracious.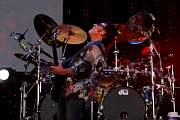 DS: I'm glad that it all worked out that way for you all.
RV: It's a wonderful thing, in his speech there, you know I invited him up to speak after I did and Neal and I spoke as founding members. He was totally prepared to speak, and quite eloquently and graciously applauded the organization and his part in it and paid homage to Herbie Herbert, which was a wonderful thing. Unfortunately, Herbie wasn't there but that was just a great moment. But there is some background there that's kind of humorous and poignant. Neal had been on the radio that morning and the morning before with the Brian and Mark show and gently but firmly challenging Steve to show up. "Come on man, where are you? You better show up."
DS: Do you think that did it?
RV: It did it! He made it and was just in fine form in his tuxedo, looking good, smiling and actually very comfortable and happy with the whole thing. I was very pleased. There are pictures when we walked out from the back stage area to the podium and right into the circus and there are photos of me and Neal and George with our jaws dropped. "I don't believe it!"
DS: My jaw dropped when I heard about it too, and I would say that's a happy ending but its not really an ending, its an acknowledgement of what Journey has been and is.
RV: In preparing for going down to the Hollywood Walk of Fame, I knew it was going to be a big event, but I had no idea how big an event. The number of crying women, the number of flash bulbs, the attendance there was apparently the biggest thing that had happened since Britney Spears. And Britney Spears is cuuuuuute.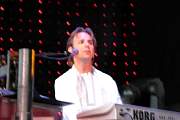 DS: Oh, are you near her star?
RV: Her popularity is overwhelming huge right? And for a band that hasn't had a hit on the radio for 20 years, that is currently performing without all its original members to appear with most of its original members and have that kind of reception was totally awesome. I was blown away. I had no idea how big this event was going to be.
DS: I think most of our readership would kill me if we put you in the same category with Britney Spears, so we're just going to pretend . . . well, we're going to let that one go.
RV: Oh no, the attendance at the Hollywood Walk of Fame was the most significant one since Britney Spears had received hers. That's all I was trying to say.
DS: I know, its just weird to hear the two of you mentioned in the same sentence.
RV: Yeah, isn't that something?
DS: Yeah, it is, it really is . . . and it was a big crescendo, and now you've got this tour and you have "Journeyville" and you're celebrating everything that you've done in the past 30 years.
RV: "Journeyville is providing something for the fans to review or learn about the past and present and of course we have the video monitors and the Arlen Ness/Corey Ness Journey motorcycle. They are the ultimate custom motorcycle builders. Of course they're all over the Discovery Channel and all those things that go on, Monster Bike, and so on. They're actually, their shop is about 10 minutes from my house. I'm not a motorcycle enthusiast but boy do they have beautiful things to look at.
DS: Well, I'll tell ya, I bought two tickets and if there's anything you can do to make sure that I win the bike . . .
RV: Oh, of course Debbie, I'll see what I can do. And you're well aware of what its all about? It's a raffle ticket through the T.J. Martel Foundation which provides research and money and budgeting for children suffering leukemia, cancer and AIDS. And for three bucks, (you said you bought two) well at the end of the tour the magic number will come up and someone will be winning this bike for three bucks or whatever they spent.
DS: Well, I'll tell ya, this bike will make you weep. If you're into bikes, it's one of the most beautiful bikes I've ever seen. With all the Journey album cover art and the autographs, etc.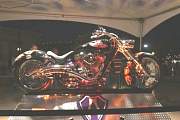 RV: Oh yeah. You know Neal spent some time, you know we were doing a little video for promotion and each of the members gets up and talks about what its all about but Neal, in the band, is the expert on motorcycles. He's an owner and rider himself and the amount of detail and the quality of the parts and the way its built, he pointed that out in describing it in the pre-show video.
DS: Well, its hot and its definitely worth it to come out and take a look at it and buy some tickets for a good cause and just enjoy a day of Journey.
So if you want to relive the past or just enjoy the present and listen to some classic tunes from a monster catalogue, head out to the "Generations" tour this summer. It's two great sets, lots of celebrating and reminiscing for those of us that remember the 80s and just a damn good time for those of us who don't. The band has arranged for you to receive your free "Generations" CD at the concert as a thank you for being loyal fans and they are happy to share their history with you in Journeyville. It's a big anniversary party and you don't even have to bring a gift - they are giving you one! You may even win the Arlen/Corey Ness Journey bike, and if you do, contact the website because I WANT IT!


Journey Links


Preview and Purchase Journey CDs Online
.

Photos by Debbie Seagle
Copyright 2005 Groove Quest Productions / Iconoclast Entertainment Group
All Rights Reserved
---
...end