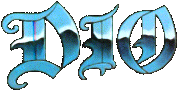 by Keavin Wiggins

Return to Part I of the special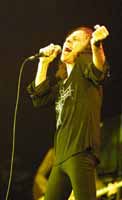 Dio's fortunes would not change with their next effort. While the "Sacred Heart" album sales were disappointing, Dio remained a big concert draw. So the idea was hatched for a live EP that would feature one new studio track.
But there were some internal tension brewing between Vivian Campbell and Ronnie. Rumors abound that Vivian claimed much of the credit for the group's success, saying he wrote half of the "Holy Diver" album and it was his guitars that helped put the group on the map. That didn't sit well with the other members of the group and he was eventually fired by Ronnie.
The band needed a new axeman to record the song "Time to Burn" for the live EP and they brought in Craig Goldie. Ronnie initially wanted to release a full blown live album but the record company passed on the idea, instead they opted for an EP. There was some speculation that Ronnie and the group were not very happy with the final product and they showed that disdain when they titled the EP, "Intermission". The six song EP hit stores in 1986 but didn't create much of a stir in metal circles.
The changes within the group and the lagging sales seemed to reinvigorate Ronnie. When it came time to write music for a new studio album, he had a lot to prove and needed to reestablish the band as a group on the rise. The songs on 1987's "Dream Evil" seemed much more focused in their metal roots than "Sacred Heart". Although the album was not a huge commercial success, Dio managed to win back fans with the skillfully crafted songs that showcased Goldie's guitar hero credentials, as well as Ronnie's penchant for melody and thought evoking lyrics.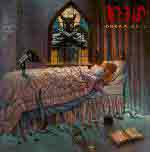 The single, "I Could Have Been A Dreamer" also found success on radio, landing in the mainstream rock Top 40. When it came time to tour behind the album, Dio pulled out all the stops with their biggest stage production to date. But the tour was plagued with misfortune from the very start. A broken down equipment truck led to a six car pileup on a German highway. Roadies accidentally dropped a $100,000 synthesizer while unloading gear for the European tour.
The band seemed to disintegrate following the world tour. Goldie exited the band, followed shortly after by bassist Jimmy Bain and keyboard player Claude Schnell.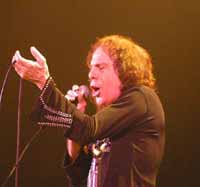 Ronnie conducted a massive search for a new guitarist. Over 500 audition demos were sent in and whittled down to 20 candidates. One candidate was a young guitarist by the name of Rowan Robertson. Robertson actually attempted to audition for the band before they officially launched the guitarist search. His audition tape was rejected but he really wanted the gig so he managed to get a demo tape to Dio through the group's fan club and ultimately won the gig.
Dio got a lot of attention out of their new guitarist because he was only 19 when the group began recording their new album. But there were more shakeups in the making as drummer Vinny Appice decided to leave the group at the end of 1989.
When the band entered the studio, Ronnie was the only original member of his namesake group that now featured Simon Wright(drums), Rowan Robertson(guitar) Jens Johansson(keys), and Teddy Cook(bass).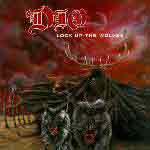 When "Lock up the Wolves" hit stores in 1990, diehard fans were relieved that despite the personnel change, Dio hadn't changed that much musically.
One night on the supporting tour would prove fateful for Ronnie. When the "Throw 'em To The Wolves Tour" hit Minneapolis on August 28th, 1990, little did fans know that the seed of a Black Sabbath reunion would be planted when Geezer Butler joined Dio on stage for a jam of "Neon Knights".
The old chemistry between Ronnie and Geezer seemed to be there and with one thing leading to another, Ronnie reunited with Black Sabbath in early 1991 and put Dio on ice.
It took a few months for the band to fully regroup. Original Sabbath drummer Bill Ward was not to be part of the project; a project that the members emphatically told the press would be for only one album and one tour.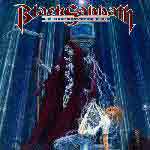 Initially Cozy Powell was brought in as the drummer but following a motorcycle accident he was replaced by Vinny Appice in late 1991. With keyboardist Geoff Nicholls rounding out the group, they entered the studio to record a new album that was codenamed "Heaven and Hell II". Before the actual album shipped, dubbed "Dehumanizer" the group contributed one song, "Time Machine," to the Wayne's World soundtrack and that lit the fire of expectations in diehard fans.
"Dehumanizer," seemed to pick up where "Mob Rules" left off, just a bit heavier. But it wasn't the blockbuster that was expected. It went on to sell a little over half a million copies worldwide over the next few years.
More importantly, the personality divide between the members with Ronnie and Vinnie on one side and Tony and Geezer on the other doomed any plans for the group to continue on after the supporting tour. It appeared that nothing had really changed during the decade they had been apart and that divide would soon spell the end of the Black Sabbath reunion.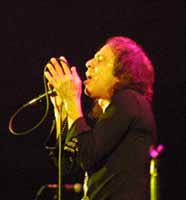 The final nail in the coffin came when Black Sabbath was invited to open for Ozzy Osbourne for two dates in California. Ronnie reportedly didn't want to act as an opener for anyone, let alone the group's original frontman and told the other members of Sabbath that they were free to do whatever they wanted but he would not perform at those shows.
Ronnie's contract with the band expired on November 13th, 1992; the day before the first scheduled Ozzy date. Ronnie took the opportunity to leave Sabbath and refocus his energy on Dio, taking Vinnie along with him.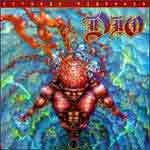 Dio reformed with bassist Jimmy Bain for a short time but he would ultimately be replaced by Dokken's Jeff Pilson. The band still had to fill that ever important lead guitarist slot. Ads were place in Los Angeles area newspapers and after a six month search, guitarist Tracy G was hired in time for the band to record "Strange Highways".
Before the group headed out on tour to support their new album, Ronnie wanted to fill the vacant keyboardist slot. Warrant's Scott Warren would ultimately land the gig and has been a member ever since.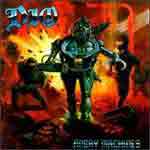 There would continue to be musical chairs in the bassplayer, drummer and guitarist department over the next few years. Shortly after the "Strange Highways" tour, Jeff Pilson left the group to rejoined Dokken and was replaced by Jerry Best. Ironically, Best was only with the group a short time before being replaced by Pilson, who rejoined the group to record a new album, "Angry Machines", which was produced by Ronnie.
Due to his commitments to Dokken, Pilson left the group prior to the "Angry Machines" tour and was replaced by Larry Dennison.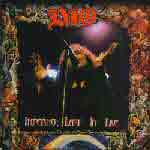 In February of 1998, Dio released "Inferno: Live In Line", a double live concert album that was hailed by critics as the definite live Dio experience. The group managed to capture the extra energy they put forth in concert and the album became the next best thing to seeing the group in person.
In May of 1998, Vinnie left the group to rejoin Black Sabbath. Ronnie brought back Simon Wright, who has been with the band ever since.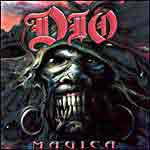 It would take two years before fans would get their hands on a new studio album from Dio. In that time, Craig Goldie and Jimmy Bain returned to the Dio fold. The resulting album was the critically acclaimed "Magica"; a dark concept album that revisited many of Ronnie's medieval themes.
Before the group returned to the studio to record the follow up to "Magica", Craig Goldie once again exited the scene. Doug Aldrich stepped into his shoes and proved a powerhouse on the 2002 album, "Killing the Dragon". That album showed that unlike many of his contemporaries, Ronnie wasn't about to kowtow to trends within the heavy metal world. Through his entire career he has built up a certain persona and style, and each subsequent album was built upon that foundation.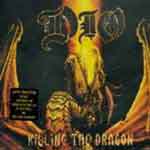 "Magica" and "Killing The Dragon" both proved that Ronnie hadn't ran out of steam and in fact continues to evolve as an artist, never letting his long term fans down but also offering up compelling music for a new generation whose contemporary metal heroes can't begin to compare to the magic, music and mystique of Dio.
Fans both old and new were able to witness that magic in action when Dio hit the road in support of Killing the Dragon in 2002. Ronnie and crew blew away audiences at every stop on their headlining tour in late 2002. And were also a force to be reckoned with a supporting position on the joint Dio / Scorpions / Deep Purple tour during the summer of 2002.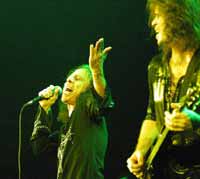 During the summer of 2003, Dio took part in a "metal dream tour" that included Motorhead and Iron Maiden. Three legendary bands that put metal on the map assaulted North America all summer long and was a raging success, becoming one of the busy summer concert season's top draws.
It's been over 30 years since Ronnie set out on his rock n roll odyssey. During that time he has rocked generations of metal heads with his patented voice and style. More importantly, he has laid down a musical testament that most artists would have a hard time topping. 50 years from now, rock historians will look at the metal years of the late 20th century and early 21st century and Dio will stand tall in their telling; not merely a footnote but a Legend in his own time… and beyond.





Selective Discography



click on cd title to hear samples and purchase online
Dio
Holy Diver
The Last In Line
Sacred Heart
Dream Evil
Lock Up The Wolves
Strange Highways
Angry Machines
Inferno: Live In Line
Magica
Killing The Dragon
Dio Anthology: Stand Up And Shout
Elf
Elf
Rainbow
Ritchie Blackmore's Rainbow
Rainbow Rising
On Stage
Long Live Rock 'N' Roll
Black Sabbath
Heaven & Hell
Mob Rules
Live Evil
Dehumanizer


More


Visit Ronnie James Dio's official website for the latest plus lots more
Listen to samples and purchase "Stand Up and Shout"



Live Photos by Keavin Wiggins
Copyright 2003 - All Rights Reserved