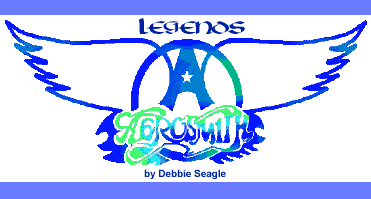 Who would have known 30 years ago that a band that started out being considered as just another Rolling Stone or Yardbirds rip-off would span three decades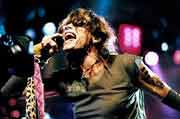 and still be rocking harder and stronger than they did then? In fact, Aerosmith knows how to do nothing else. They are in that elite club of musicians who have stayed intact and remained on their game through changing musical climates, marriages, divorces, drugs, alcohol and solo projects. But where did it all begin?
In the summer of 1970, Jam Band members Tom Hamilton on bass and Joe Perry on guitar joined forces with vocalist Steven Tyler in Sunapee, NH. Joey Kramer was recruited on drums (Steven actually started as a drummer) and Brad Whitford rounded out the Aerosmith line-up. Later that year, the band moved to Boston, MA, where they began to quickly pick up a following and attracted the attention of local promoter Frank Connelly, who briefly managed them.

By 1973 they had already recorded their self titled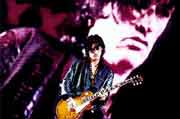 album and were touring constantly to build a following in clubs and colleges. But the club circuit didn't hold them long. With continuous productivity in the studio and opening slots on major concert tours to support their next album "Get Your Wings," they were well on the road to super stardom.

In 1975 "Toys In The Attic" was released. This was, and still is their biggest selling album and made them a top concert attraction, going platinum in months and staying on the charts for two years. After "Toys" the group had big expectations to meet. Their answer to the anticipation was perhaps one of their most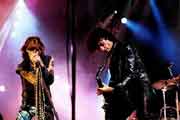 sophisticated efforts in 1976, "Rocks," which was considered a classic American rock album. At this point, platinum was becoming a familiar precious metal to the band. In 1977, "Draw The Line" went platinum faster than any previous Aerosmith record.
Taking a stab at something new, the band made their movie debut in 1978 in "Sgt. Pepper's Lonely Hearts Club Band" by appearing as the F.V.B., "Future Villain Band." They also released their platinum album, "Live! Bootleg," which featured nightclub cover tunes and stadium renditions of new material.

The year 1979 saw many changes for the band. They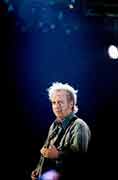 slowed their touring pace, switched producers and Joe Perry left the band for a solo career in The Joe Perry Project. This left the band with a large gap that was filled, temporarily, by Jimmy Crespo. In these darker times for the band, guitarist Brad Whitford also struck out on his own in 1981 and was replaced by Rick Dufay. To make matters worse, Steven Tyler was involved in a serious motorbike accident that kept him sidelined for a while.

It wasn't until 1984 that the band began to work with renowned A&R man John Kalodner and things starting looking up again. On Valentines Day of that year, Joe Perry and Brad Whitford visited their old bandmates after an Aerosmith show at the Orpheum Theatre in Boston. In April the announcement was made that the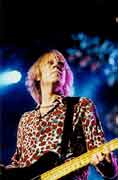 original Aerosmith line-up would reunite for the "Back In The Saddle Tour." Through these highs and lows, the excess and the substance abuse, one thing could not be broken. The undeniable chemistry that is and has always been present in the band. Note that I said "chemistry," not chemicals, which was another infamous claim the band could make, with Steven Tyler and Joe Perry being named the "Toxic Twins" for their ability to ingest copious amounts of controlled substances.

After becoming clean and sober, the band went on to accomplish a collaboration with Run DMC in 1986,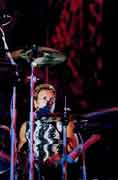 which introduced them to an entirely new generation of fans. They went on to record eight more studio albums along the way to a 30 year career that has seen them reach many pinnacles. Did you know that Aerosmith became the first major-label act to release a song for download on the Internet? The previously unreleased "Head First" was available through CompuServe and took an hour to download.

Countless awards, gold/platinum records and the inborn gift to rock built a stairway to the band's eventual triumphant entry into the Rock and Roll Hall of Fame in 2001. When looking back on the 30 years of doing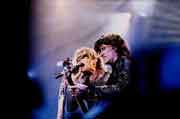 what they love, they still had a hard time believing they were there. Their live shows to this day are a rock spectacle that is bigger and better than in years past. No longer wearing the chains of their past addictions, they are free to create the type of rock that fills stadiums and makes your blood rush through your veins. The high energy shows are peppered with new songs from their latest CD, "Just Push Play," but the biggest rise from the sold out audiences can be seen when they invite you to "Walk This Way."

Genre: Classic Hard Rock/Metal
Original/Current Lineup:
Steve Tyler - Vocals
Joe Perry - Lead Guitar
Brad Whitford - Guitar
Tom Hamilton - Bass
Joey Kramer - Drums

Career Album Discography:

Career Turning Point/Infusion:
In 1986, Steve Tyler and Joe Perry forged an alliance between heavy metal and hip hop when they joined forces with Run DMC in the remake of the Aerosmith hit "Walk This Way." It was featured on Run DMC's "Raising Hell," which went double platinum and the single was a big hit, thanks to a great video. This turned a whole new generation on to Aerosmith.




Quotable Quote:
"Anything worth doing is worth overdoing. Like basic black, wretched excess never goes out of style."Steve Tyler

Get more information on the band
Photos by Debbie Seagle Copyright 2001 Groove Quest Productions - All Rights Reserved - Debbie Seagle is the Special Features Editor for the iconoFAN Network.