Have you ever wondered what a songwriter was thinking when they wrote a certain song? With the "inside track" it will no longer be a mystery as we speak with the musicians themselves and they give us the inside story on songs, their inspirations, the stories behind the songs and more.


Handsome Devil


Sometimes you do get a second chance to discover something cool. That is the case with Handsome Devil. Back in late 2001, Handsome Devil made such an impression on antiGUY (a.k.a. Andy Guy) that he nominated them for Artist of the Month; in November they got it.
In his review, antiGUY called their debut album "a bombastic mix of guitars and vocal hooks presented in well crafted songs that go far beyond the call of duty to bring some respect back to the 'punk-pop' scene by injecting it with a large measure of credibility it has been missing over the past few years. Handsome Devil is definitely a band that deserves the attention of the record buying public."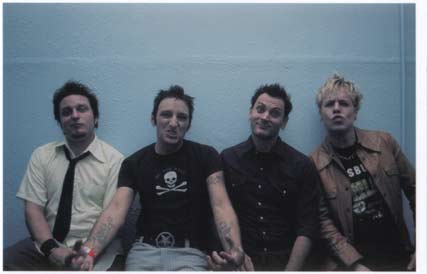 That album, "Love & Kisses From the Underground", was released on Lit's RCA imprint Dirty Martini Records. They landed that deal after being together only seven months and with one listen to that CD it is clear that Handsome Devil are true hit makers. Most bands slave for years to land their first deal and have that time to fine tune a handful of songs. Handsome Devil did both virtually overnight and they made it appear effortless.
The results spoke for themselves, critics loved the band. One went as far as to say that Handsome Devil was too good for a major label. The band toured behind the release and won the hearts and ears of over 30,000 fans that GOT it. Unfortunately, as is the case with most "band" imprints for major labels, Dirty Martini was short-lived; when Lit's sophomore album for RCA didn't catch fire like their debut, RCA pulled the plug on Dirty Martini. Fortunately, that didn't stop Handsome Devil.
Fast-forward to the present. Handsome Devil returns with "Knock Yourself Out".
The burning question for a band that puts out an impressive debut is always, "can they do it again? Can they top themselves?" Consider again for a moment that the band wrote the songs for their debut in seven months and then think about what they can come up with when they have two years to work on songs (ok most of that time was spent on the road). As you would expect the new songs not only measure up to the debut album but in many ways surpass them.
The band once again returns to the formula that made "Love & Kisses" work so well; punk tinged power-pop heavy on the guitars but also with a clear focus on melody. It's a tightrope act that very few can pull off. How do you make radio friendly songs with hooks but still keep enough punk attitude in them to remain legitimate? That's a tough question to answer, but Handsome Devil has done just that.
Musically they wear their influences on their sleeves. It's not hard to hear shades of The Ramones, Iggy Pop and Elvis Costello echo throughout this album. Don't get the wrong impression, Handsome Devil isn't a clone band by any means, they just don't hide their influences and in the process do manage to carve out a distinctive sound.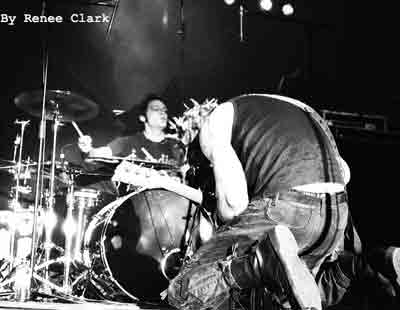 Songs, songs, songs… they have them coming out of their ears. Most bands can only hope to achieve a couple of knockout songs on any given CD. Very few can accomplish the "all killer, no filler" objective but once again Handsome Devil seem to do it effortlessly by laying down a punk foundation and then building a house of power-pop on top of it. Handsome Devil is one of the few bands that can pull off a marriage of the two styles of music with legitimacy. They want to kick your ass but also have you singing along. They manage to do both once again. So if you want to "Knock Yourself Out" with some kick ass melodic guitar driven rock n roll, Handsome Devil has got you covered.
Now we come to the heart of that matter. I was recently able to touch base with Handsome Devil frontman Danny Walker to discuss the group, the new CD and where the band is heading. Danny also walks up through "Knock Yourself Out" track by track so you can have the inside track on the new songs.
RNW: I know from listening to the new CD that you guys are looking towards the future and moving forward but I have to ask what happened with Dirty Martini /RCA?
Danny: We are glad we were able to build a core audience by touring for over a year in support of Love and Kisses from the Underground, our first CD. Dirty Martini gave us that opportunity, and we definitely appreciate it. When Dirty Martini was dropped by RCA and left with no major distribution, Handsome Devil had the unique opportunity to move forward and chart our own course. When we wanted to put out a new Handsome Devil CD, we did it ourselves on our own terms. No matter what label we put our CDs out with, we'll always consider Dirty Martini a part of our family.
RNW: What happened with Darren?
Danny: Darren left the band after the Warped Tour to pursue other interests. We thought it was a good move because it was becoming obvious that his heart was not in it. We really hope he's successful with his new endeavors.
Our new bassist, Brian Wedmore, brings a real energetic boost to the live show, locks in great with HD power drummer Keith Morgan, and is terrific singer. I'm happy to say Handsome Devil has benefited with the change.
RNW: There is no denying your commercial appeal but I was impressed by the fact that you guys were able to produce commercially viable music that would attract fans of a current trend (pop-punk) without your music losing it's integrity and simply jumping on that bandwagon. Because there are elements that would be attractive to pop-punk crowd, I didn't feel your music really fit that mold. Was there any pressure for you guys to go more in the pop-punk direction?
Danny: With this new record we tried to write better songs, and we wanted to keep the guitars loud. Beyond that, the cards just fell. We didn't really feel any pressure to be one way or another (pop-punk or otherwise), except the pressure from ourselves to track our stuff well. I'm excited about Knock Yourself Out – it's melodic, guitar driven, raw, and it rocks! – that's the Handsome Devil sound.
RNW: The Inside Track. Can you tell us a little bit about each song on "Knock Yourself Out"?
Hello Somebody:
This song describes a determined ghost bent on haunting and revenge. Sometimes I like to think of myself as this relentless spirit. If I want something bad enough, I will take it, and that's the bottom line. This song is cool live because Billie Stevens and I play a harmony guitar solo in it, and it's got a great beat.
All Right:
The minimalist chord structure and basic lyrics are a nod to the Ramones – I love them – simple and to the point. The song's about a cool girlfriend – a Sugar Momma type – and she buys me drugs. ?
Running:
Running is an oxymoron. It is a light melodic pop song, but the message is not light. It's about life and death – the journey. The deeper I dig looking for the reason I'm here in this world, the more I'm compelled to try to escape reality. Too much pressure and stress sucks and is unhealthy, so frequently, you can find me running.
Angels on High:
This is our tribute to friends who are dead and/or gone. They'll live forever in our hearts, and this is for them. I was inspired to write this song when I realized how lucky I am to be where I'm at in my life. I've got a lot to be thankful for, and I know I've got angels watching over me.
New Thing:
It's a song about creativity, sacrifice, and independence. The lyrics are all over the place, but they all are important to the song. They are scattered pieces of unfinished Handsome Devil songs and unused themes, and they all leave a trail back to my room, where I work on a new thing. My favorite line in this – "Peace would be so cool, and Love could rule the day," is also the final lyric in the last verse. We've been closing shows with this song. It really rocks live.
Liquor Store:
Based on the reasons one drinks, 'Liquor Store' is the anthem for all thirsty souls. After a hard days work, during times of stress and pain, during times of happiness, and just about any other time is a good time for a drink.
Bette Davis Eyes:
This is a cover from the eighties. We thought it was an odd but very cool song, originally sung by Kim Carnes.
Devil in You:
This is about the part of me that isn't politically correct, that's more instinctive and animalistic. I think everybody has a part of their personality that is devilish – Some let it take over, while others practice restraint.
What You See:
I wrote this song about growing up in Orange County, California. It's specifically placed in downtown Santa Ana, where I played my first gig, and where I buy my guitars. It's an old city in the heart of OC, and from time to time, I enjoy having a smoke and walking in this old town.
Games:
A song about relationships and "head games." - One line says it all - 'High speed chase, I'm both doom and disgrace, I'm a sucker for your pretty face, and you want to catch me.'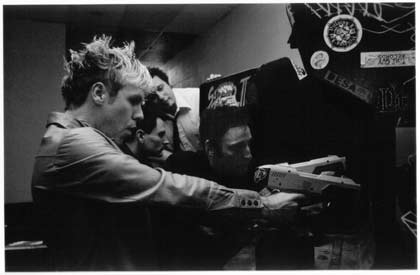 RNW: Did you approach writing and recording this CD any differently than "Love & Kisses From the Underground".
Danny: Not really. I think this CD has different stories to tell, but I think the same ingredients were used – story, good melody and beat, and sounding good really loud. With songs like Liquor Store and All Right, I think of those as weapons for the live show – big sing along choruses.
It's funny – the same ingredients can change depending on my perception of interesting and good. Either way – the songs came pretty easily, and I think that's a good sign.
RNW: Along those same lines, very few bands can pull off producing themselves but I actually thought the production on "Knock Yourself Out" was a lot more focused than "Love & Kisses..." You guy co-produced half of this album with outside producers and half by yourself. How different was those approaches to the production?
Danny: The half that was co-produced was a bit rushed as we were under the gun – time and money wise. Jeremy is always good to work with as he's very passionate about his ideas. I value his input. And working with Ed Stasium, who is the f***ing BOMB producer, was the very best thing HD could have done. Ed Stasium – one word -RAMONES– Ed is a production legend and master of percussion!
The half we produced was more relaxed and enjoyable, but very focused on getting good takes. Billie Stevens, our guitarist, engineered it – he's got a great knowledge of that studio stuff. I think he did a great job.
RNW: Love what you guys did to "Betty Davis Eyes" and other cool covers up your sleeve?
Danny: We happen to know a whole bunch of covers, but so far we've only played AC/DC's "Dirty Deeds Done Dirt Cheap" and Kim Carnes "Bette Davis Eyes" at our shows. I'd like to tell you a few of my favorite covers, but I'd rather keep it a secret until we have them recorded and ready to present. We do know a bunch of odd songs, and I don't count out doing other cool covers as we do new CDs… I thoroughly enjoy slaughtering the classics.
RNW: What do you think is the biggest misinterpretation that people that don't live here have of Orange County and the music scene here?
Danny: They might think it's easy to get a break in the music business from Orange County since so many popular bands have come out of here – When really, there are just a million bands out here working like dogs in the street to get to the top of the heap. I have much respect for every band in this town because it takes commitment and determination to keep your band focused on playing and making new music in this environment. Sort through the flaky musicians, crooked promoters, and crazy motherf***ers who want to get a piece of you, and then hope for some good timing and create your own luck… The OC music scene is a dirty game and yeah - I want to play!
RNW: What's the battle plan with this CD and for Handsome Devil? Any big plans in the works?
Danny: We're interested in marketing this record both domestically and internationally (Europe and Asia), and we may shop it around to one of the majors to get some supplemental promotion and tour support. As for now, Handsome Devil is in hog heaven. We're having fun, killing at shows, playing frequently, selling CDs like nobody's business (on www.amazon.com and at our website www.handsomedevilworld.com ), and we are ON FIRE!!! The future is wide open, and Handsome Devil is looking good.

.