Three Days Grace
by Linda Spielman

It seems as though the music world has been hit over the last few years with an invasion of Canadian groups and solo artists. Back in the 60s there was the British Invasion, and during the 70s & 80s there was a trickle of talent from our "Neighbors to the North" such as Bryan Adams and Heart.
However, we're finding out that Canada has more to offer than just Celine Dion, as dually noted with the group Three Days Grace, who are opening for fellow Canadians Nickelback on their current tour of the U.S.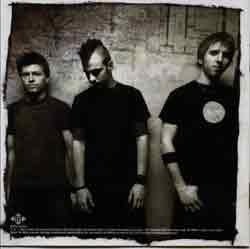 Members Adam, Brad and Neil all grew up in very small towns in Ontario. So small in fact, that your business was everyone's business. Growing up and growing older in that kind of fishbowl-esque environment fueled a lot of the band's early material. Adam elaborates that the desire to escape that environment led the band to relocate to Toronto in 1997, "Like any small community, you to a certain age, and you feel like you have three options. It's either sports, drugs or, for us, it was music. It was a way to get out"
Once in Toronto, the band befriended fellow Canadian musician, songwriter and producer Gavin Brown. Brown's reputation in the area and his determination in the pursuit of great song writing was much needed guidance that 3DG needed to launch their career. Within a few years, the band was signed to a publishing deal with EMI Canada and eventually a label deal with Jive Records.
With the band's first single "I Hate Everything About You" released and doing moderately well on alternative radio, 3DG have teamed up as a support act for fellow Canadians Nickelback on the current tour. Being the first of three bands (Trapt rounds out the lineup) is always hard for any new band.
Even having a song out on the airwaves doesn't guarantee audience acceptance. However, during the 45 minute set, you could see the audience really take a growing interest with each song. The applause was louder after each song, and small mosh pits popped up throughout the set (which is always a good sign when the audience participates in that fashion). Fortunately for the band, they were allotted a decent time slot which enabled them to play almost their entire album. Songs such as "Burn", "Scared" and "Let You Down", along with "I Hate Everything About You" gave the audience a full, unabridged look at the band from every musical angle. They didn't try to win the audience over with a lot of talk between songs, and seemed more than gracious for the opportunity to be on such a bill with Trapt & Nickelback. Like many smart up & coming bands it's important to connect with the fans.
After their set 3DG was outside at the merchandise table signing autographs and chatting with the crowd.


Want More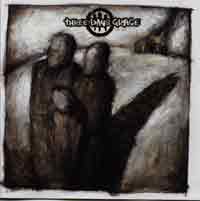 Preview the CD with the Three Days Grace Player!
Check out the video for "(I Hate) Everything About You"
Official Website - learn more about the band and preview songs from their debut CD
Preview and purchase the new CD


Official Bio


Adam Gontier - vocals, guitar
Brad Walst - bass, vocals
Neil Sanderson - drums, vocals
There's something a little strange about growing up in a town so small, you can bear witness to indiscretions and trace the causes and effects on people's lives. On the self-titled Jive debut from Three Days Grace, the Toronto-based trio originally from Norwood, Ontario, Canada, has produced a potent hard-edged rock album, filled with melodic choruses and lyrics that explore the darker side of human behavior.
From the first single, "I Hate Everything About You," which deals with love-hate relationships; to confronting and fighting for your individuality in "Just Like You," Three Days Grace writes songs of inner struggle and the desire, in a way, for freedom. Musically, there's a range from the eerie "Let You Down," with its near demented vocal to the progressive "Burn" with its intricate rhythms, to a more straight ahead rocker such as "Home." "We saw a lot of crazy things growing up and a lot of our material comes from that," says drummer Neil Sanderson, the more talkative of the three. "I don't find it easy to write about happy s***," admits lead singer-guitarist Adam Gontier, somberly. "You don't need a release when you're happy." Adam and bassist Brad Walst grew up in Norwood, a town of 1500 people, just one set of streetlights, but a city's worth of drama. "You get a different perspective on people," explains Brad. "Everyone knows each other and you can't hide anything. Maybe that's why we can see through the façade that many people hide behind." Neil hails from Peterborough, just 25 minutes away, and a bigger city, which is best known for being the hometown to model/actress Estella Warren and rocker Sebastian Bach. When the band first formed a rock group (under a different name with a different repertoire) in high school, Adam isn't exaggerating when he says, "all 1500 people in Norwood were supporting the band."
The guys didn't strategize about how to get their faces on MTV or land a coveted record deal. They just loved playing live, anywhere. "We opened for a movie once," Neil points out. "We used to cruise up to the Muskokas (Ontario cottage country) in my K-car with a tent trailer on the back and play three hour sets at the local bars." While they always threw in a couple of original songs into their set, it wasn't until they relocated to Toronto in 1997 and adopted the band name Three Days Grace that they really came out hammering as an original act. "Like any small community, you get to a certain age, and you feel like you have three options. It's either sports, drugs or, for us, it was music. It was a way to get out," Adam explains.
Once settled in Toronto, they hooked up temporarily with a manager, who introduced them to local musician, songwriter and producer Gavin Brown. "We played him years of material and he picked out what he called 'the golden nuggets,'" Adam recalls of the 90-minute set they performed for him at their rehearsal space. Together, they sorted through the songs and pulled them apart, improving on them enough for the first set of demos. EMI Music Publishing Canada President Mike McCarty wanted to hear more. The band spent more time with Gavin and came up with "I Hate Everything About You," the potential chart-buster that landed 3DG its publishing deal with EMI (Feb./02) and would eventually become the first single from its Jive debut. "There's a perspective that Gavin has that's really effective. We've learned a lot working with him," Neil says of songwriting. "We're influenced by bands like Kyuss and Sunny Day Real Estate, but Gavin really respects the Beatles and their songwriting standards. He taught us that every part has to be amazing and only then are your songs good enough to matter to others."
Armed with the second set of demos, 3DG's attorney quietly shopped them to record companies. A few came to Toronto to see the band perform, but it was "the Jive crew," as Neil calls them, that made the guys look no further. It started when the label execs made a daring trip in a Canadian snowstorm to see the band perform at Peterborough's Gordon Best Theatre "where we'd played a million times," says Neil. "It's a loyal crowd, a good environment." The clincher was 3DG's trip to meet with Jive in New York. "We were drinking wine with the President of Jive Records and he was talking about our music as if he hadn't stopped listening to it for weeks," Neil recounts. "Having the president of the company involved in that sort of way is a big sign of how the company works," adds Adam. In no time, 3DG had convinced the A&R team that to make the best possible recording, it would have to stick with its strong system -- Mr. Gavin Brown, even though few in America had heard of the musician from platinum-selling Canadian rock act Big Sugar. He also produced fellow EMI Publishing act Billy Talent, another recent Canadian signing to a different U.S. label.
So in good hands, 3DG and Brown left Canada for greener pastures, literally, to Long View Farms, a live-in studio just outside of Boston. "In the months leading up to Long View, we started to do pre-production for the rest of the record, so by the time we went into the studio we had the whole record pretty well written, except for some minor stuff."
Among the material was "Let You Down," about deception, as well as the self-explanatory "Scared." "Some of the songs took years to write; others were put together in a few days," says Brad. "Overrated," the album's closer, he adds, "was written in one day." Ignoring the temptation to ride the horses at the ranch-style facility, the band buckled down for half the record, before relocating to Bearsville, in Woodstock, NY. Both studios proved to be the perfect environment for these small-town boys easily distracted by big cities. With nothing to do but work, the three got into a creative zone mentally. Bearsville - at which one of Adam's favorite albums was recorded, Jeff Buckley's Grace - was still an isolated studio, but this time on a huge estate. While there were no horses, there were hoards of deer everywhere.
From Gavin's goading of Adam in order to get the most impassioned vocal take (he jumped up and down, banged on the glass or told the singer he sucked) to the ingenious idea of dumping pennies on a guitar to make it sound like a raging fire (check out the album intro), the result is an uncompromising rock release that gets the listener to think. Maybe then, big city folks will find that what makes a small town tick isn't so very different after all.
....Photos / Bio courtesty Jive Records
Copyright 2003
All Rights Reserved