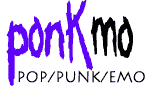 Relient K - MMHMM
By Joannie Foney

I was so looking forward to hearing the new Relient K album, MMHMM. According to the fawning reviews on RK's website, the release of this album represents an event as anxiously awaited as the second coming of Christ. Who are these fans so desperate for this slick, overproduced release? Middle aged, out- of- touch record executives and their prepubescent daughters?
One forgettable song after another pay uninspired tribute to what's popular & conventional right now. Apparently in the mind of RK, generic ballads, a token fast song, songs that start fast then awkwardly labor to a halt & the inverse represent the key to fame & fortune as rockers. If only the songs weren't so trite, uneven & lopsided! Rather than releasing an album that defined the music of a generation, they busied themselves with pouring out the sincerest form of flattery on such legendary musical geniuses as Hoobastank, Switchfoot, Sum- 41, Blink 182. Unfortunately, these reheated leftovers don't sound very good or interesting. Imagine Switchfoot with power, Sum 41 without speed, or Blink 182 without musical talent (snort, chuckle) and you have a pretty good idea of how the entire album sounds. Add to this RK's enviromusically conscious recycling of even their own songs ad infinitum and this band emerges as a group of simpering wannabes clinging to the bandwagon till their fingernails turn white.
RK's fan base claims they are pop punk. I disagree that such an amusing oxymoron describes RK. Possibly this album represents an attempt to craft a brand new musical niche, which I call "hemo", or "heavem". This is a style too heavy to be emo, too emo to be heavy. Since this is a brand new genre, attempting to clarify its boundaries might be helpful for some. As far as I can tell, to belong to this new genre, lyrics must be cliched and convoluted. Song titles must hint at intelligence, but deliver the opposite. The singing on the off- the- shelf ballads must adhere to either the uncertain, 'am I a leader or a follower' style, or the 'dude practicing his scales' thing.
To sum up takes rephrasing one of RK's many tedious tunes on this album, "Who I am Hate How You Sound". This is an album chock full of songs bloated with hype & pretension, yet all as bland, tasteless & non nutritious as white bread. The only song which showed any promise or originality initially, "Life After Death and Taxes" quickly degenerates into yet another sappy, pseudo ballad. Are these guys too timid to rock, or is it just consistency which frightens them? "Maintain Consciousness" isn't just a song, it's stern advice for listeners of this drivel. There are many quality pop punk bands in the world, too bad this isn't one of them.






CD Info


Relient K - MMHMM
Label: Capitol
Rating:



Tracks:
The One I'm Waiting For
Be My Escape
High Of 75
I So Hate Consequences
The Only Thing Worse Than Beating A Dead Horse Is Betting On One
My Girl's Ex-Boyfriend
More Than Useless
Which To Bury, Us Or The Hatchet
Let It All Out
Who I Am Hates Who I've Been
Maintain Consciousness
This Week The Trend
Life After Death & Taxes
When I Go Down
Listen to samples and Purchase this CD online


Want More ?


tell a friend about this article


What Do You Think?


Fanspeak removed due to spam and abuse