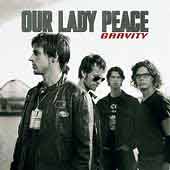 by Dan Grote

Those who have followed the career of the Canadian four-member outfit Our Lady Peace may have noticed that the gaps in time between the band's albums have decreased over the years, so much so that only a year has passed since OLP's previous album, the high concept Spiritual Machines. Barely a blip on the radar, perhaps Machines' low visibility prompted lead singer Raine Maida to begin writing songs at a Rivers Cuomian pace.
Following that same vein, the band has also returned to writing straight up rock songs, while at the same time making a grab for the VH1 audience with one or two mega-friendly numbers that harken back to the band's biggest hit, 1998's "Clumsy."
Gravity's big platinum push revolves around "Somewhere out There," a stereotypical modern rock-with-strings ballad that removes the band from the "poor man's Smashing Pumpkins" comparisons of yore to perhaps even more dubious Goo Goo Dolls comparisons. While catchy, "Somewhere out There" may alienate fans who enjoyed the band's earlier work, such as "Starseed," "Superman's Dead" and "One Man Army."
However, there are some songs that remind fans of a time when OLP used to rock. The first track, "All for You," is good old-fashioned 'Peace, with lyrics about snubbing a torn suburbia and looking for a new Jack Kerouac. "Innocent" opens up with an inviting drum line that leads into a good song on the whole. Even the slow songs have potential, such as the back-half moodpiece "Bring Back the Sun." "Do You Like It," sandwiched between "All for You" and "Somewhere out There," will most likely be the next single, as it bridges the gap between Gravity's most fan-friendly and radio-friendly songs.
On the other hand, the other five songs on the album tend to be a bit less memorable and flow in and out of one another so nothing really happens between "Innocent" and "Bring Back the Sun," which amounts to a big, five-song memory block.
VERDICT: The previous album's ambition may have cost the band on Gravity, as the attention paid to the singles and single hopefuls detracts from what could otherwise be a more impressive album. Though well-produced, there's still a feeling that the band tried to rush a pop-friendly album out and pray that it stuck just enough to buy a few more minutes of notoriety, which is a shame because OLP are a good band, and Gravity should by no means ruin their credibility.


CD Info


Our Lady Peace -Gravity
Label: Columbia Records
Rating:





Want More Our Lady Peace?


tell a friend about this article


What Do You Think?


Fanspeak removed due to spam and abuse