Chiodos interview Review
by Kaylie Seaver

.
For a band clearly on the rise to the top, a tour like Taste of Chaos can be an excellent vehicle to aid them in their journey. For Chiodos, the tour has been a great success: testing out new songs on the crowds and earning well-deserved attention. I had a chance to speak with drummer Derrick Frost and lead guitarist Jason Hale about their experience in the tour thus far, and about their upcoming album, before the Taste of Chaos show in Ottawa.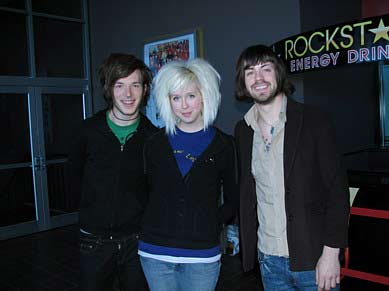 antiMUSIC: How was the Taste of Chaos Tour been treating you so far?
Derrick Frost: The Taste of Chaos is going really good, I mean it's fun. Now we're in a different country, so here we are. It's almost over, so… oh there goes a cigarette again. It's a good tour though.
antiMUSIC: You only have seven days left, right?
Derrick Frost: Yeah, something like that, I have no idea, to be honest with you. It's probably the fastest tour, though. It seems like the fastest tour we've done.
Jason Hale: Yeah, it was a really fast tour.
antiMUSIC: How would you compare this tour to playing Warped Tour?
Derrick Frost: Same thing, just indoors. Exact same thing, less bands, yeah, but pretty much the same thing. I mean besides everyone being in shorts, and stuff like that. I mean, it's like pretty big crowds, so it's pretty cool. I think the Canadian shows were like the smallest ones on the tour, though. So far. Yesterday was pretty big, but today's supposed to be really small, I guess. There were only like two thousand tickets sold. So it's supposed to be pretty small, I have no idea. That's still good for me though, two thousand's pretty good. I don't care.
antiMUSIC: So, you mentioned this tour feeling like the fastest one you've been on. Is that because it feels like it's going by quickly or it's just a shorter period of time that you're on it?
Derrick Frost: It feels like it's going by really fast. I mean, you wake up, and especially because we usually play from anywhere around six to six-forty, because we switch with Aiden every day, so we'll either play at six or six-forty. And that's why, really, I mean by the time you wake up and eat lunch and stuff, you're playing. So it's just like, 'ok.' And then you start partying, and the night's over, and then you just wake up again and do the same thing the next day. It's fun though, I'm having a good time.
antiMUSIC: So you've been writing material for a new record?
Derrick Frost: Yeah, we're working on it right now.
antiMUSIC: Have you previewed any of it for the Taste of Chaos audiences?
Jason Hale: Yeah, we play a new song every night.
antiMUSIC: Tonight?
Derrick Frost: Yeah [laughs].
antiMUSIC: So what've you been up to since releasing All's Well That Ends Well?
Jason Hale: Touring.
Derrick Frost: Touring, yeah, that's it.
antiMUSIC: You've been involved in your share of side projects, like The Sounds of Animals Fighting, has that been taking up a lot of your time working on the new Chiodos album?
Derrick Frost: That was Craig and Bradley, they've been doing that, but that was only for like five shows or something, I don't think they're really busy with it. It's just a thing they did for like a week or two, and then they came back home. I mean, we've only had, like, since the album came out, two months off, total. And two months was, like, the longest period of time at one time. You know, like, we've been off for a couple days, or like a week here and there but total elapsed time was like two months. And that's when we got writing like two new songs.
antiMUSIC: So were you trying to take this record in any kind of new direction? Any new lyrical themes you wanted to explore?
Jason Hale: Hopefully making it .. less... lame.
Derrick Frost: Yeah, just writing a better album, you know. Trying to add like a different element, like make it more of our own, bring more of our band, as we've been writing, closer together. 'Cause the old album, Jason and I wrote half the songs, and then the band had written half the songs before we were in the band. So this is more of an album where we all get to write it together, you know what I mean? 'Cause a lot of my favourite songs on the old album, we were part of writing, so I think it'll help out with the writing on this next album.
antiMUSIC: So for those who don't know you, could you give us a brief summary of how you all came to be a band?
Jason Hale: Ummm let's see. Like us two? Alright…well, their drummer quit about...the summer of '04, and then Derrick was in a band that was friends with them. Then he quit the band... or got kicked out--
Derrick Frost: QUIT, ahem [laughs]. Ok, well here, basically the band was together since high school, and what happened is that they lost their drummer and I had a bunch of friends who knew of them, and I'd never met them. So I started talking to them on instant messenger, saying I'll try out, because my old band had broken up, because the singer had quit to go to work, and be with his girlfriend? So I was like, 'I'm not gonna play with these guys,' you know? So I took a bus up there, I joined the band, and after I joined the band, our guitar player quit, after we showcased our label. I knew Jason, so I contacted him and he drove up in one day and tried out and joined the band, too. So that's pretty how it all came together, but it started in high school with just Matt and Craig playing acoustically. And then, they were like, 'Well..we wanna have a band.' So, they had Pat and Brad in a band together, called Still No Sign, and Brad was the singer of that band. So he joined [Matt and Craig] and played keyboards and Pat joined and played guitar. Then we came in later, so that's pretty much how it all, you know…that's pretty much the brief summary of it. The stork dropped us off.
antiMUSIC: So is there anything else you'd like to add?
Derrick Frost: Nah, I mean, just definitely keep your eyes peeled for the new record, when it's coming out, 'cause we don't even know, we're still writing it, obviously.
antiMUSIC: Do you have any idea when we can expect it?
Jason Hale: Sometime in the fall.
Derrick Frost: Yeah, sometime in the fall hopefully. Because we're going to record it, like, what? April?
Jason Hale: May.
Derrick Frost: Ok May.. May comes after April? Hopefully we can get it out soon, like it's so hard, 'cause it's such a process. It'd be awesome if it could get put it out at the end of the summer. Like, we could hype it up all throughout the summer, through touring, playing a few songs here and there to get kids excited, you know. We'll see what happens, you know what I mean? You can never predict that. But I definitely think it'll blow the other record away, for sure. I definitely think it'll be a lot better. I mean, from what we've shown people, 'cause we have two demo songs that we've done? And we've shown people and they really seem to dig it, so that's pretty awesome. They're like, 'This s***'s f***in' awesome.' So it's always good to hear that you're progressing forward. Other than that, we're just ready to have fun tonight.
Jason Hale: Another day of vodka-drinkin'.
Derrick Frost: In Canada.
Jason Hale: Is that gonna happen at the Rock Star thing again today?
Derrick Frost: Yeah, I'm sure it will.
Jason Hale: 'Cause I don't know, I guess they said no alcohol in the dressing rooms.
Derrick Frost: Well, whatever. We'll do it anyways. Who cares [laughs].



CD Info and Links


Chiodos interview

Preview and Purchase This CD Online
.

---
...end