Langerado Music Festival 2006
funny name, great festival!
by David Demarest

.
For a music fan and a concert goer, the 2006 Langerado festival, held in Sunrise, Florida, was a lot like heaven. The musical line-up was amazing, the venue was pretty close to ideal, and the weather was perfect. There was, of course, some room for improvement, but should the real heaven improve on Langerado's March 11 and 12th presentation, it'd be worth a lifetime of good behavior to score tickets.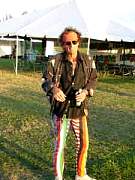 In the meantime though, I'll take the real Langerado, and since I saw The Rolling Stone's guitarist Keith Richards hanging out in the crowd and digging the show, I'm assuming that good behavior isn't prerequisite behavior.
No sign of Mick Jagger, as the Stones weren't on the bill to play, but even without them, the line-up was incredible. I was maybe most excited to see great live acts like The Flaming Lips, Robert Randolph, or The Black Crows, but the first day's earlier events really impressed me. The first act I caught was the Drive-By Truckers, who pretty much rocked it straight through their set, getting the daytime crowd on their feet and involved in the show. Up close, the sound got a little uneven, but that seemed to take care of itself a little further back in the crowd.
From there, I headed over to RJD2 - so named, as he explains, because his name is RJ, and he's a DJ too. Clever. He pulled a big crowd into the only covered stage, which seemed to be a giant, open-sided tent. I'd never heard him before, but I would definitely buy a CD now. Great beats, and a show that would have been perfect for a late night performance. It looked like he had a pretty fun light show, but that was mostly lost on the daytime performance.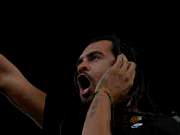 Next, Michael Franti & Spearhead really packed a crowd in. Their sound comes across as a fusion of funk, reggae, and pop, and they put on an awesome live show. The entire crowd got into the performance, feeding of Franti's amazing energy and terrific message. They are definitely a band to check out if you haven't already.
After Spearhead, appropriately enough, I headed over to see Burning Spear. As Grammy-award winners and some of the founding fathers of reggae, Burning Spear certainly knows the business of performance, and they put on a great one. Watching the band members dance, drum, and sing, I was really getting into the performance, and didn't notice for a while that Keith Richards was standing behind me in the audience. Which I thought was pretty cool, and which goes to show that when you could be almost anywhere, Langerado's a pretty rock and roll choice.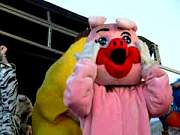 Anyway, Burning Spear's set went a little over the allotted time, which was fine, but noteworthy because I didn't see a single other band that did. In fact, every show I got a chance to see started and stopped almost exactly at their scheduled time. That, along with the fact that you could walk from one end of the venue to the other in five minutes, made it a lot easier to check out as many acts as possible. There were only a few times when I had to choose between acts that I was really interested in seeing, like choosing between The Meters and The Flaming Lips, or Keller Williams and Wilco.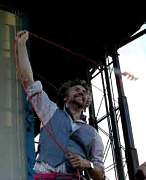 In the first instance, I chose The Flaming Lips, as their live show is about the most fun it is possible to have. Their show opened with frontman Wayne Coyne climbing into a human-sized, clear, hamster ball, and walking out over the hands of the audience. The show continued on a stage crowded with dancers in full animal costume, and band members frequently showering the crowd with glitter and confetti shot out of what can only be called a confetti bazooka. Oh yeah, the music was awesome too. The performance got wilder and more fun as the show went on and the sun began to set, the only exception being the two minutes or so when Wayne stopped to talk politics to the crowd. This is a pet peeve of mine, as political rallies are generally free admission, while you usually have to buy a ticket to get into a rock show. We all had tickets, so I'd prefer rock and roll music to a stern talking to. Whatever though, it was still an awesome show.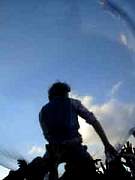 After The Flaming Lips, Ben Harper & the Innocent Criminals took over the main stage. Harper did a fine job filling the space, trying out new songs, such as "Black Rain," and treating the crowd to standards like "Burn one down." Fittingly, this last show brought the largest crowd of the day, and was the only show during that time spot. As good as they were, I think that it would have been better to switch acts for the time slot between Harper and the Lips, playing Harper to the sunset crowd and showcasing the Lips' light show at night. But that was pretty much my only gripe as far as the line-up goes, and I think that generally, the artists and music genres were organized so most people wouldn't have to choose between their favorite bands.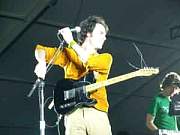 The second day of the concert was a Sunday, and despite being camped out directly adjacent to the concert venue (actually in the same park), I had trouble getting motivated in time to catch the first shows. Which means I missed a couple I was really looking forward to, like Mofro and G. Love, but sometimes that's how it goes at a festival. I showed up a little early and grabbed a spot for Clap Your Hands Say Yeah, a band I'd never heard before but was looking forward to based on their name alone. True to title, you really could have clapped your hands along with the strong rhythm through most of the show, and it was as fun as I'd hoped it would be. The sound on the vocals needed to be turned up some, but otherwise they were a good sounding group.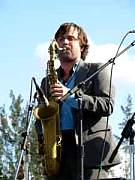 I managed to catch the last of the Antibalas Afrobeat Orchestra, and was impressed by their setup - tons of instruments and a really talented frontman. He had a political speech to give between songs, so I decided to take his advice and "move on" to the next show, Robert Randolph and the Family Band.
Robert Randolph is always, always, always, a fantastic performer. So good, and so reliable as a live show. Randolph seems to bring all he's got to a performance. I was surprised and glad when he was joined on stage by G. Love's frontman, Garrett Dutton, for some free styling and harmonica accompaniment. Randolph also teased Michael Jackson's "Don't stop till you get it on," which made me realize that he's probably one of the few people on earth who can evoke the thought of Michael Jackson without it feeling creepy.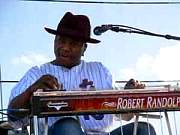 I stayed where I was and saw Wilco next. They're a surprisingly strong band to see live, and played to a genuinely appreciative audience. Noteworthy was that when they announced that they were going to play a new song, people seemed excited for it. Which is not always the case.
After Wilco was the band I'd been waiting for all day, The Black Crows. Reunited after breaking up in late 2001, the Crows had not lost a step. To many fans, especially in the South, they are the premier touring rock and roll band today. Frontman Chris Robinson seemed, if anything, stronger than when the band split, and the show performance was great - good solid rock and roll, with a lead singer who's voice brings another dimension to the sound. The sound was so loud for this show that my ears still hurt, but it was worth it. An encore would have made it more worth it, but when the time was up, that was it - no encore.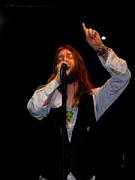 As far as the non-music aspects of Langerado, there is a lot of good to be said for the staff, the venue, and the planning involved. The staff was super laid-back. Great if you were looking to get away with something, not so good if you were looking for hustle. Fine by me. The promoters limited the number of tickets sold to 15,000, which meant that while the crowds were large, they were perfectly manageable, and I never felt over-crowded. It wasn't too difficult to find someone you were looking for, and you didn't get into packed lines on the way in or out, or while getting concessions. The venue seemed to be a huge, grassy park, with a couple of lakes on the grounds. The Florida springtime provided perfect concert weather, with the highs approaching 80 degrees, the lows mid-50's, and hardly a cloud in the sky. Sunscreen on the first day was important to be able to enjoy the second day. All the folks who made it to this year's Langerado seemed to be friendly and happy to be there - hotel rooms nearby got booked up, but camping was available on-site right up until the last day before the show. Bathroom lines were manageable, and although a porta-potty is never going to be a pleasant experience, it never turned into the nightmare situation you sometimes get at large or poorly planned shows.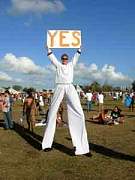 As far as the drawbacks go, there were only a couple. My main concern was that exit and re-entry was not allowed. This meant that you couldn't take a break mid-day and come back for a later show. Once you were out, you were out. That also killed my plan of heading back to the campsite for lunch or a cheap beer, but there were plenty of food and drink vendors inside who were more than happy to help out with that. I also would have liked to have seen some water fountains, as there was a lot of sunshine, but sealed water bottles were allowed to be taken in, so if you planned ahead (I didn't) that wasn't really a problem either.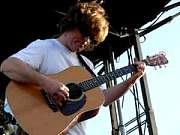 All in all, Langerado is without a doubt one of the most fun, most well planned, and most talent-packed musical festivals in America. Only a little planning is required on the concert goers behalf, and the rest is a cake walk. If you didn't make it this year, it's sad, because you really missed out. I hate it for you, but wait for next year's line-up to be announced, and if it looks good, don't miss the boat again!
Visit the official homepage for the festival

.

---
...end