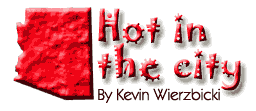 A Listen to Arizona's Desert
Gin Blossoms, Greeley Estates, Robert Keenan, Luca, Broken Poets, Tryfecta, Fracture Point, Casket Life, Smoky Mountain Skullbusters Reviews

.
Steamier than a gila monster's breathe. Rock so hot that it cooks up omelets even without the sidewalk. Music that's seen enough tequila sunrises to burn off its retinas; now they'll match the liver…

Welcome to the first edition of Hot in the City where I promise you that (with the exception of the purloined, oh-too-clever column title) I will spare you the clichés that you might expect about music from a desert city. The idea is merely to give you a head's up on tunes that you may not otherwise hear about that all happen to be crafted in a particular geographical area. Most of these little insights will be about performers from the Phoenix and Tucson areas because that's where the action is; thus, with apologies to Billy Idol, Hot in the City. But anything from Arizona is fair game and this premiere column runs the gamut from old friends the Gin Blossoms to newbies Tryfecta with stops everywhere in between. So please enjoy and be sure to visit the Web sites of any groups that strike your fancy. Oh, and Arizona musicians, if you don't think this column stinks like week-old javelina road kill (sorry) you are welcome to send in your stuff. Send a note to kingcat2-at sign-msn.com and I'll hook you up with submission instructions. Now let's listen…

GIN BLOSSOMS - Major Lodge Victory
Hybrid

After they sold a zillion records worldwide and completed their run as David Letterman's pet band, the Gin Blossoms decided to call it a day. But spin-off projects like the Gas Giants floundered and these extremely talented musicians finally gave in to promoters' constant cries for a Gin Blossoms reunion. So the sweet sounds of "Hey Jealousy" and "Found Out about You" are once again wafting through concert venues. Anyone who likes those songs should have no qualms about picking up a copy of Major Lodge Victory as the disc is packed from start to finish with quality jangle-pop full of hooky choruses that beg the listener to sing along. Not that it's been that long, but singer Robin Wilson's instantly recognizable voice seems to have improved with age and all of the back-up vocals and harmonies are clear as a bell on highlights like "Learning the Hard Way," the plaintive "Someday Soon" and the completely irresistible "Heart Shaped Locket." www.ginblossoms.net

SMOKY MOUNTAIN SKULLBUSTERS - Yin through the Yang Door
(Self Released)

If you were to believe their band biography, the 'Busters are a bunch of near illiterate hillrods who just fell off a hateful turnip truck from hell, with guitars. The fact is that this quartet doesn't need the hype, just someplace to plug in. All the better if that place sells ice cold suds by the wagonload because promoting the Friday night dream is the Smoky Mountain Skullbusters' job. This is dive-bar, party-til-ya-puke, I-hope-I-don't-get-in-a-fight-tonight rock'n'roll. But the band leaves it to you to get sloppy; they'll have none of that. The group shows finesse with an instrumental that frames six cuts between its pieces---the ominous sounding bass and guitar showcase begins Yin as "Smooth Undercover" and finishes the album as "Smooth Underkofler;" both titles being a tribute to guitarist Dylan Underkofler as well as a pun playing off his name. The cut seems to warn of what is to come: the Sabbath-meets-Priest riffing of "Butcher," the rat-a-tat punk bluster of "Return Policy" and the feral boogie of anthem "Born to Rock N Roll." So yeah, the part about not being so good at readin' and writin' is a fib. But you better believe the part about ass-kickin'. www.smokymountainskullbusters.net

GREELEY ESTATES - Far From the Lies
Record Collection

They're based in Phoenix but Greeley Estates are true road dogs who have spent most of their four years of existence gigging across the country, including spots on the last two Warped Tours. The band's style is sort of a controlled schizophrenia where melodic alternative rock meshes with metal-edged screamo in almost every song. But singer Ryan Zimmerman really can sing---you don't have to hear the introspective, string-laden "Secret" to realize that---his strong and emotive voice is what sets Greeley Estates apart from the competition. Zimmerman manages to show his sensitive side somewhere in every cut but he is also very busy issuing undecipherable lyrics like an imp who just caught his tail (or other appendage) in the elevator door. The rest of the band has very good chops and if they hold steady to their work ethic there's no doubt that their audience will continue to grow. Just don't plan on seeing them in Phoenix. www.greeleyestates.net

VARIOUS ARTISTS COMPILATION - Tales from the Asphalt Dancefloor
Vodka Tonic

Put together by Vil Vodka of long-running glam rockers Blanche Davidian, this six cut sampler is a great taste of the Phoenix underground. Vodka has picked out appetite whetting tracks from each group like "Boom Stomp Crash" from Sex for Cigarettes, a bit of wild goofiness that would make Oingo Boingo proud. Digital Leather like the '80s synth sound too and work in a Devo meets the B-52's vein on "Dance Til Dead" while the Cutters are more onto a Thompson Twins groove for "f*** Pain." The disc moves away from keyboards for a moment as Billy Druid's Atomic Gospel turn loose a barrage of fuzzy guitar for Dancefloor's hardest hitting number, "Carpe Nocturne." All of these cuts are previously unreleased (except for Digital Leather---out of print) and together they are a potent hi-ball that perfectly represents the thriving scene for this eccentric music. Of course, guitarist Vodka has included a cut from his own band, Blanche Davidian in the form of "Petunia (Beyond Exquisite Mix)." Imagine that Paul Stanley fronted the best garage band on Mars and you have a little hint of the fun that is Blanche Davidian. The comp is rounded out by "Come on Feel It" by Destruction Unit, a band that has obviously spent some time listening to the Tubes. Tales from the Asphalt Dancefloor is also available as a very sharp looking 12" vinyl picture disc. Find links to each band at www.vodkatonicmedia.com

ROBERT KEENAN - Cornertracks
Belljar

Keenan is a true solo artist and he plays all of the instruments on Cornertracks. He seems to be infatuated with late '60s/early '70s sounds, especially those made by the Beatles, which leaves any description of his music wide open. But the emphasis here is more on the melodic than the psychedelic or experimental. The disc opens with the very Beatlesesque "I Think about You" before moving into another Fab Four-like number where Keenan purposely bends his voice to sound like Paul McCartney. "Industrial Cowboy/Judy" is more contemporary though somewhat of an oddity. Most of the song is a loping, twangy instrumental that eventually does a slow fade-out followed by a few seconds of silence before Keenan sings the "Judy" part; exactly two lines long. Keenan has a voice that absolutely conveys benignity but the ideas presented here are full of quirks---some delightful and some just weird. Definitely an acquired taste; take a bite at: www.myspace.com/robertkeenan

LUCA - Sick of Love
Funzalo

Luca is not exactly a household name outside of Tucson but the band and their namesake are well known in the musical community. Luca the group is comprised of drummer Paul Ellis, bass man Chris Giambelluca and singer/guitarist Nick Luca who as a musician or engineer has worked with the likes of Calexico, Iron & Wine, Evan Dando, Giant Sand, Devotchka, M. Ward and Richard Buckner. "Love Me Too" finds the band channeling a left coast sound not unlike something Jackson Browne might have done in his early days. "Loosin' Ground" is a slice of spooky funk laden with reverb and assorted screeching guitars courtesy of guest players Howe Gelb and pedal steel master Jon Rauhouse. Calexico's John Convertino shakes a mean maraca on the cut too, the only song here not penned by Nick. "If Love" is a hopeful love song with lots of laid back vocal harmonies and a couple of bursts of tasteful slide guitar from Tony Furtado. Gram Parsons used to call this kind of music "cosmic American" and fans of the late musician will find a kindred spirit in Luca. www.nickluca.com

BROKEN POETS - Optimism in E Minor
Wordvendor

One listen to "Say You Don't Love Me" and you'll be shaking your head, wondering why this band has not broken onto the national scene in a big way. The cut has a big, cinematic sound, a sense of urgency and a heavy dose of barely restrained emotion; all the things you'd expect from a break-up song. But the song's ace in the hole is the performance put on by singer Tim McDonald, a stunning vocalist with a command that rivals that of big shot Eddie Vedder. The subject matter here is familiar---lots of songs about missed opportunities and the desire to, damn it, learn from those mistakes. But McDonald doesn't write songs to bitch and like the album title indicates, there is an underlying hopefulness that permeates this work that is distinctly audible. Broken Poets don't sound like clones of any of these artists, but fans who appreciate the well-written and perfectly sung works of acts like Pearl Jam, R.E.M. and Bruce Springsteen owe it to themselves to seek this one out. www.brokenpoets.com

TRYFECTA
(Self Released)

This is just a short 3-song taster from Tryfecta, an up-and-coming trio that blew away the competition in the local rounds of the Emergenza International Music Festival. And I do mean blew away---these guys are not subtle---crunching bass, stinging guitar and urgent vocals are the order of the day. But don't expect the sonic soup to boil over; the bombast is left at the door in favor of vocal hooks and quirky melodies that recall the work of Primus without the goofiness. Listen to "Perfect Picture," "Old School" and "Sanctuary" at www.tryfecta.net

FRACTURE POINT - Dysfunctional Sound

These heavy metal monsters have only been around a couple of years but their sound has gelled nicely, gaining them airplay on KUPD's Into the Pit radio program. And everything a pit dog would love is here: drumming at the speed of light, slammin' bass runs and plenty of loud guitar. Of course threatening sounding vocals that are screamed, growled and gargled are a big part of the show. Three shredders on this sampler; you can find them all and more at www.myspace.com/fracturepoint

CASKET LIFE - The Good Times are Killing Me
Stomping Ground

Before you ever start this one spinning you have to award the band a prize for coolest song titles---who could resist ditties named "Being a Ninja Means Never Having to Say You're Sorry," "You'll Try Anything When You're Dying Alone" or my personal favorite, "Heavy Metal Vomit Party." Yeah, you just know these guys are going to bring it! And that they do, after a psychobilly instrumental (simply titled "Intro") starts the party. From there on out its fast and thrashin' punk rock, well written and well played. One of the most fun songs on the album is about boozin' and pill-poppin' but it's called "The Metal In My Teeth Makes Me 5% Robot." The song takes a brief detour in style at its conclusion---if you're real clever you'll know that that's the 5% of the song that belongs to the robot. All 12 songs blow by in about half an hour so get on this while you've got a chance! www.casketlife.com




.

---
...end