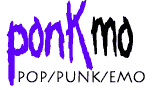 Yellowcard - Lights And Sounds Review
By antiGUY

.
This is one of those albums that will generate opinions at both extremes. I found myself experiencing both while I gave it the first listen through. But I give Yellowcard credit for not pulling a Linkin Park and producing Ocean Avenue II, instead it sounds as if the band is trying to expand their pallet and grow as a band. Always a good thing and for the most part, if you are not expecting a rehash of their last hugely successful album, you may walk away with more respect for the band. Taken on its own merit, Lights And Sounds is a strong effort and while it may turn off purists, it has more cred than the band's previous work and 99% of their competition in the emo fame lottery. That being said, it does appear as if the band were trying to accomplish their own Pet Sounds or Sgt Pepper and they fall short of that goal. But you can't really fault them for that, as good as they are in the context of today's music biz, Ryan Key and Pete Mosely are not Lennon/McCartney or Brian Wilson.

Throwing out all preconceived notions and expectations, on a listenability level, this may be one of the best "pop-punk-emo" releases to date; at least in the Top 10. What hurts it is the drawback to the genre, mostly the nasal vocals, which some find appealing and draws others to distractions in the same way cookie monster vocals turn off some metal fans. Yellowcard does know how to write catchy hooks and interesting melodies. The title track is a perfect example. Great production, strong delivery and a shout along chorus. But the good stuff begins with "Down on My Head" which goes for more of a classic alternative meets emo delivery to good effect. Then they go cliché with "Sure Thing Falling" which could have been called "Generic Emo Song," it does have a strong chorus but the song over all has that feeling of "haven't I heard this before?"

I love heavy music but I find myself more attracted to the slower material on this album and "City of Devils" is the standout track on this album. Its experimental feel is so far removed to the more by the numbers redundancy of the faster tunes that it gives us a glimpse of band that sounds like they are trying to break out of the mold and if they take the final leap over the cliff may be onto something great. The same goes for "Waiting Game," while not a masterpiece, this song shines because it is not the expected formula that bores the hell out of you after a few listens through the typical emo CD.

Overall, this is a standout effort for Yellowcard. They crafted an album that explores different musical directions and brings a diversity into play that is sorely lacking on their contemporaries efforts. What hurts the band is the double-edge sword of having to appease the fanbase with by the numbers emo. What separates them from their contemporaries are the moments when they break free from those constraints. While it's doubtful that Yellowcard will ever make an album inline with Pet Sounds or Sgt Pepper, if they continue to evolve and cast off the shackles of the overdone emo formula, this may be a band that will withstand the test of time and not just be a footnote when the early 21st century rock history is written. Lights And Sounds starts them on the path but the question remains, "will they have the courage and musical tenacity to take it all the way?"



CD Info and Links


Yellowcard - Lights And Sounds
Label:Capitol / EMI Records
Rating:




Preview and Purchase This CD Online
.

...end