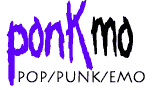 The Working Title - About Face Review
by Kevin Wierzbicki

.
Maybe something's in the water. That's where Joel Hamilton, singer for The Working Title, seeks an answer as he works through life's torment during "Glorious." His crystal clear vocals take on a strain approaching whine on the tune (hey is this Joe Walsh's kid?) and strictly speaking the song touches down in emo-land. But Hamilton's questioning of the universe is more spiritual than heart-on-sleeve, rendering most of this generous album more akin to U2 than Jimmy Eat World. And generous About Face is as 13 of the 14 songs here are at or over the four minute mark, so by disc's end you should know everything there is to know about The Working Title. "The Mary Getaway (I Lost Everything)" is the band's ace-in-the-hole cut that they have also chosen for their first video. Considerably different from the rest of the record in style, it conforms to the sound currently popular with the "I watch The O.C. " set and there is no doubt that Hamilton and company have the chops to work that angle all day long if they want to. But these guys are superior musicians and Hamilton is a good songwriter; the path they're on should garner them mega fans without their having to blatantly pander to the masses. The effort ends with "Turbulence," an epic nine-minutes where a piano melody simmers to a false ending half way through the song. After the pregnant pause, Hamilton sums up the song and the album with the apt mantra, "Be careful with my heart."


CD Info and Links


The Working Title - About Face
Label:Universal
Rating:




Preview and Purchase This CD Online
.

---
...end