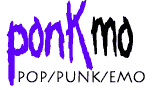 Spitalfield - Better Than Knowing Where You Are Review
by Jason Dickert

.
When I first put a cd in to listen to for the first time I feel that the 1st track will always tell a lot about what your about to hear the majority of the album. The 1st track sets the mood, sets you up for what your about to hear. With the 1st track on Spitalfield "The Only Thing That Matters" I felt like the guitar riffs and signing were not the best and I mean it by I thought the song was just thrown together maybe as a filler to finish an album. Then track 2 comes on and the album immediately changes. The dual guitar riffs are great, I loved the rhythm guitar its was fast crunchy and then the lead with a great riff that went very well with the rhythm. Lyrics and voice on this song was also very well and I was soon to find out that on first judgment of the album I was wrong.

I listened to a few more songs, track three had a very catchy riff and once again I was loving the dual guitar. I think this album was produced very well, I loved their last album and I think the guitar and vocals have progressed very well into a more complex cd. The vocals are not winy and you get a more rock feel to this album then the more "emo" style to their last one. The song "Novacaine" is amazing, different and I wasn't expecting this to come from this band. Once again, I feel they have moved up and have a more complex sound with their guitars and vocals.

In the long run out of 10 I would give this album a 7. People might say that they sound the same as their last album not much has changed but I feel they have, this album is a little more rocky and it might bring them into a different crowd that might not have listened to them before. I'd say the best thing about the album is the guitar style both lead and rhythm. This isn't a cd that you listen to once and that's it. I like the direction they are going and just like I thought of the 1st song for the whole album, "don't judge a book by the cover so to speak."



CD Info and Links


Spitalfield - Better Than Knowing Where You Are
Label:Victory
Rating:



Preview and Purchase This CD Online
.

---
...end
. .