Sounds of the Underground Tour
July 9, 2006 - Chicago, IL. - First Midwest Bank Amphitheatre
reviewed by Brodie

.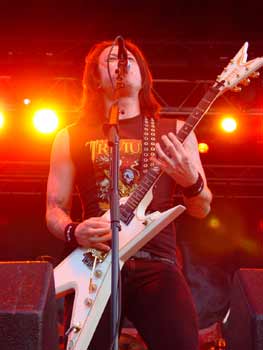 Metal is not dead, as the current lineup of the Sounds of the Underground tour that came through Chicago this past weekend has proven. Of course, metal fans have known for some time that metal is not dead, with the likes of the Ozzfest monopolizing the summer touring circuit, and while many of the big name metal acts that frequent that tour were not here, there were still a number of good bands, mixed in with a few subpar ones, that made the day all a metal fan could ask for, and at a fraction of the price of the 'other fest' that would be coming through soon after.
There were definite good points and bad points to the day that held the SOTU. Many of the bands in the fixed time slots early in the day seemed a bit rushed, due to their shorter set times. This afforded them little opportunity to interact with the fans, aside from through the music. It was apparent that some didn't mind, while some seemed a bit hurried, in an attempt to get the fans access to as much music as possible.
The sound for the tour was good for the most part, especially considering the quick turnaround times between sets. For the main acts, however, the sound didn't seem quite as good as it could have been. In Flames, for instance, suffered from the music being too loud, and vocals too soft. While the band sounded SUPER tight, vocalist Anders Friden's microphone seemed like it could have been higher up in the mix. A minor problem, but an issue nonetheless.
Now for the bands. Most of them, whether or not you were a fan, were easy to get into. All the bands on the bill did an excellent job at getting the crowd into the music, involving them whenever possible, and even sharing water with the throngs of fans who stood out in the heat all day. There were a few bands that, while they got the fans into the music, seemed to be more of a filler than a band that people were really psyched about seeing.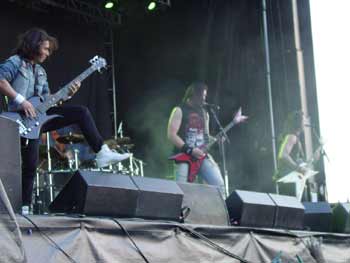 Highlights….
Through the Eyes of the Dead-good band, with a lot of energy. They were a great way to kick off the day. It was apparent that their fans were eager to hear more music, and it's a shame they weren't able to oblige.
Horse the Band-filler. I can't remember much of this band's set, aside from the fact that I was waiting through it to get to the next band. Highly forgettable.
The Chariot-I saw the Chariot with Underoath back in November. They had a different lineup back then, and impressed me far more than they did this day. If nothing else, it seemed as though they were still adjusting to the addition of two new members.
Behemoth-I saw a lot of Behemoth merch shirts being sported on the grounds. After hearing them live, I can see why. Behemoth is an interesting band….part cliché satanic metal, part KISS (in the way of similarly painted faces), part face-ripping metal. The last part was what got me. Behemoth put on such a good, energetic show, they had EVERYONE into their set. It was hard not to want to move when they were playing. While I would probably never go out and buy a Behemoth cd, they were easily one of the best bands musically of the non-headliners.
The Black Dahlia Murder-Another great set by another great band. BDM tore up the stage, and even if vocalist Trevor Strnad mistakenly referred to his adoring crowd as "Cleveland" (the tour's previous stop). All in all, they owned the stage while they were on the stage, and there was quite a buzz about them throughout the day. Great set.
GWAR-After what seemed like an hour, GWAR hit the stage. If you've heard Gwar, you know all about them. If you don't know about Gwar…….hide.
Converge- The most hardcore-influenced band on the bill (along with Terror), Converge hit the stage after Gwar, proclaiming that they had, 'no gimmicks, nothing to say, just music'. They proceeded to throw down through their set with a ton of energy. It seemed as if the more metal-leaning fans weren't quite as into them, which is a shame, because Converge is a great band. That's not to say that people weren't into their set, just not as into them as they were for other bands throughout the day.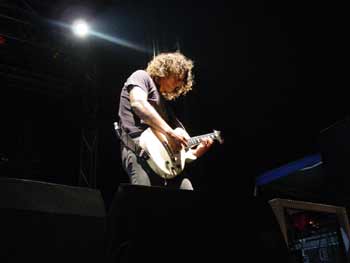 Terror-Another hardcore-influenced act, Terror also owned the stage, as well as their fans, while they occupied it. Plenty of energy gave way to a solid set from this Boston hxc band. It's obvious to see the roots they have with old-school hardcore, and their allegiance to it. Terror was definitely a highlight of the day.
Cannibal Corpse-Hard to believe these guys are still going. They get props if for nothing else, for still doing what they love. The highlight of this set for me was seeing a guy in the crowd, EASILY 60+ years old, with a confederate flag bucket hat, getting down to CC's set. That's not a shot at CC, nor at the old guy rockin' out, but more of a testament to CC's staying power in an ever-evolving scene.
Trivium-These guys nearly outdid everyone else on the bill. Trivium played such a good set that one would have thought they were actually headlining. Unfortunately, they were only able to play for about 30 minutes, but it was evident just how many people were there to see them, and they definitely did not disappoint.
In Flames-I had heard a lot about In Flames prior to the show, and knew they were well loved by many. They put on a great show, and it was finally late enough in the day that utilizing the lightshow worked to their advantage. As previously mentioned, vocals in the mix for this set were far too low. They put on a good show, although after while, for someone who is unfamiliar with them, every song started sounding alike. They came out of the gate strong, but by the end of their set, I was kinda glad it was over. Maybe a listen to their cd would produce a different effect. I hope so.
As I Lay Dying-AILD were supposed to hit the stage by 9:00pm, but because the entire day was running behind (due to a delay before Gwar's set for a wedding happening on the grounds), everything else in the day ran late. Even when AILD hit the stage at around 9:50, many of the fans were still in attendance, toughing out a 30 minute wait between In Flames and AILD. When they finally hit the stage, the place went nuts. AILD's set ran the gamut, as they played songs from all three albums and kept the crowd moving. There was plenty of energy during their set, even more so than many of the bands before them, and they did not disappoint. Tim Lambesis was sure to thank all the fans not only for coming, but for sticking with them after an entire day of bands before them.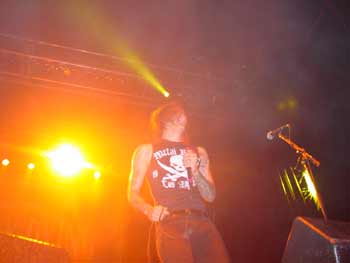 One has to think that while headlining is an advantage, it is a double-edges sword, as you get the fans, especially on a day like that day, tired, cranky, and almost ready for the day to end, even in spite of their excitement. AILD was sure to acknowledge this, and they didn't disappoint.
The Sounds of the Underground tour is a perfect summer event for those not wanting to pay through-the-nose ticket prices to see some of their favorite metal bands. While the overall lineup didn't quite measure up to last year's lineup, it was still a steady dose of good metal and hardcore that left most in attendance satisfied. And while seeing these bands in a smaller, more intimate club setting is usually better, the bands did all they could to still connect with the fans, holding meet-and-greet sessions, mingling with the fans, and hanging out all day instead of retreating to their tour bus until it was their time to play. If you have the chance to see this tour come to your town, don't pass it up.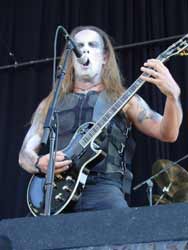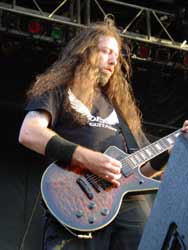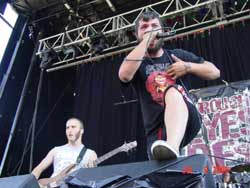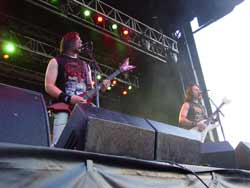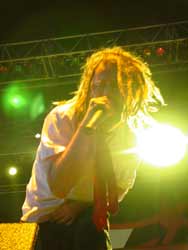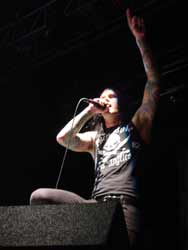 Visit the official tour homepage
.

Photos by Brodie Copyright 2006 Jeffrey Krause / Iconoclast Entertainment Group All Rights Reserved
---
...end