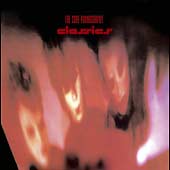 by DeadSun

.
When one of our writers suggested that we feature the Cure in the next Classics, something funny happened. No one could agree on which album deserved the honor. So we decided to do something different and for the first time in Classics history we are going to feature a series of Classics reviews from different reviewers telling us why their selection deserves the distinction of being a classic. During the next few weeks we publish these reviews of different Cure albums and you can decide which ones are classics to you! For the third review in this special series, DeadSun tells us why Pornography is definitely a classic!

.

"Waiting for the Deathblow."

Someplace in between the post-punk, aggro pop posture of a release like Seventeen Seconds, and the full bodied, ambitiously produced effort which is Disintegration--- lies Robert Smith's most palpable creation of funereal analogy to date: Pornography.

Released on May 4th, 1982, the sum of Pornography's vision, considered alongside its peers in contemporary Rock, is as rare as it is manifold. Exceedingly rare. Throughout the 1980s, Pornography stood as a testimony to the decade's appetite for pop-oriented, synth soaked bombast, yet Pornography--- perhaps to a degree more acute than any other Cure release to date--- positions its stark tenor and dismal imagery in diametric opposition to the ongoing love affair between pop artists and that which is substantively flippant, saccharine, and banal. The release, one could argue, went on to gain even greater relevance during the 1990s, a decade that, in retrospect, now drums up auto-associations of a musical surge which brooded in an endless sea of emotional angst and cynical outlooks. Despite Robert Smith's time honored coating of smeared make-up and cascade of overly tousled hair--- a grave taboo in the 1990s--- Pornography emerged unscathed, and I submit to you, the reader, that it was the value inherent to the substance of the recording which made that possible.

From the perspective of sound texture, Pornography is (admittedly) not particularly unusual, given its style, and the time period during which is was created. The percussion, with emphasis on the snare, is blousey, insensately mechanical, and dressed with gated reverberation. The bass tracks are (generally) mixed more towards the mid to high range, allowing Simon Gallup's notes to maintain a temperate feel, neither too warm nor too cold, yet still achieve a defined punch. This is no small item, though, as Gallup's basswork often functions as the critical glue which anchors the melody down for the listener, during those times when Smith utilizes his portentous guitar sound to shape and filter the recording's ill-omened atmosphere. The effect ensemble for the guitar runs the other-wordly gambit: phase shifts, chorus, delays, echoes, mid grain crunch, and a reverse filter employed to praiseworthy effect.

The area in which Pornography excels, the quality which makes it fall into a higher category of artistic expression, lies in the richness of Robert Smith's writings. If one's mind is willing (and able), Pornography leaps to life not as a collection of disparate bits of song, but as a singular, cohesive idea--- time is the cruelly detached master. In Pornography, the implications of our bodies subordinated to time and space are clearly defined, as they persist (within context) throughout the recording; death (the most obvious) and the loss we attach to it, and by extension the idea of aging. Smith is very preoccupied with the notion of growing old, and he conjures up this specter frequently in guises such as decay and regret. His outlook is decidedly pessimistic.

Smith's first pertinent declaration of the recording comes during the devastating "One Hundred Years"--- that we are waiting for the inevitable--- we are waiting for the deathblow. Whether conscious or otherwise, it is a wait. Some of us learn about death and loss early in life, as Smith explains: "... the pain and the creeping feeling / a little black haired girl / waiting for Saturday / the death of her father / pushing her white face into the mirror". In death, Smith's spectrum ranges from the poignant farewell, "leave me to die, you won't remember my voice"--- to stoic observation, "worms eat my skin" (both lines from "Siamese Twins"). Other times, his morbid elaborations are colored with an ironic hue: "we all look so perfect as we all fall down" (title track). To complete the perspective, Smith also casts death as a welcome release of sorts, in spite of our dreading its arrival, spinning pictures of us singing out loud, and laughing into "the fire". During "Strange Days", our meeting with the end, in Smith's words, comes "as a sudden hush across the water".

Even love becomes the servant of entropy and decay in this recording. In the midst of "The Figurehead", Smith issues two more of the album's most interesting declarations:

"I can never say no to anyone, but you."

"I will never be clean again."

Pornography's conclusion: if aging and dying are circling below us, it is Time which is the detached and invincible truth that dangles us from above like so many dispensable objects. "A Short Term Effect" describes this condition as "an atmosphere that rots with time". The weight of time upon us, as Smith so aptly states, "feels like a hundred years". In the "Hanging Garden", with its vigorous and lilting march beat, he sings that we must "jump out of time", and this implies an equation of time with a kind of gravity--- a beautiful comparison.

Pornography is an irreplaceable contemporary recording. It waivers relentlessly between melancholic self-analysis and morbid fixity. It is music in which we are at the mercy of time, and time is the invincible tide that is permanently receding, that washes us out to an unknowable sea beyond.

DS


CD Info and Links


The Cure - Pornography
Label:Elektra

Preview and Purchase This CD Online
Preview and Purchase the 2-Disc Deluxe Edition with Digipak
.

---
...end