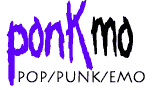 Boys Like Girls Review
by Ashleigh Hill

.


Boys Like Punk

The tumultuous relation between the pop-punk genre and the music industry is a constant one. The genre goes from popular to lame and back again. The past few years mark a revival in the underground genre, which regularly pops its unwashed head above ground, spits out a few worthy bands or emblems and then disappears again, at least from the mainstream. That being said, the self-titled Red Ink/Columbia freshman release from Boys Like Girls shows a little bit of staying power, especially considering the youth and energy of its members. Falling a little bit short of complete originality, Boys Like Girls showcases twelve individual tracks, each carrying its own heart-throbbing weight. The disc's lyrics, mostly penned by vocalist Martin Johnson, contain only a few downfalls and lend little to horribly forced rhymes. Overlooking one too many references to medicine and drunkenness, and Boys Like Girls owns the ability to play over and over and over again, without so much as a glance towards the "next" button.

Highlights include the high-school anthem-ed "The Great Escape", and the single "Hero/Heroine". Even the sweet "Thunder", which sadly includes formulaic lyrics about summer and soundtracks, balances itself out with one, Johnson's vocals and two, the perfect "Your eyes/ are the brightest of all the colors". The enjoyable teeter-tot steadiness of fast and slow songs, added to the surprising variability of rock and a dash of techno to a few tracks, Boys Like Girls can stay as long as they want. Fans of The Ataris, Panic! At the Disco, Fall Out Boy or Anberlin should run out and buy Boys Like Girls immediately. Washed heads or not.



CD Info and Links


Boys Like Girls
Label:Columbia
Rating:




Preview and Purchase This CD Online
.

---
...end