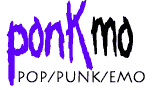 Weather - Calling up My Bad Side Review

by Kevin Wierzbicki

.
On the opening cut of Calling up My Bad Side, singer Sean Campbell deals with a familiar subject. The character in the song has found out that his no good, stinking rotten girlfriend has been having an affair. This miserable woman even has some of the third wheel's gear hidden in the house. Oh, this can't be good. The song is called "All this Time," so you know it's been, well, all this time, now apparently wasted. How does the burned fellow react? Cursing, spitting and punching? Nope. He's still a little puppy in love trying to decide what to do about it. I was this close to screaming at the CD player, "Get rid of the bitch! Be a man already!" The point is that lyrically the songs on Calling up My Bad Side don't find resolution; there's not any advice handed out here. Maybe that's a better life lesson---those frayed ends you're hanging onto will mean something some day. Campbell has a strong, pleasant voice (sort of an emo version of Dave Matthews) and writes a pretty good melody, a lot of which he features on piano, his instrument. He keeps the four-piece behind him pretty well reined-in; rocking here and there but not too hard. I don't know if Weather is trying to get their stuff on TV shows like Smallville, The O.C. or Everwood but they've got the angst to fill the bill. Best cut, "Falling Down."


CD Info and Links


Weather - Calling up My Bad Side
Label:Cake
Rating:




Track Listing:
All This Time
Calling up My Bad Side
Torn Man Down
In My Blood
Falling Down
Lie to Me
The Bitter End
Over You
Short & Sweet
Texas
I-80

Preview and Purchase This CD Online
.