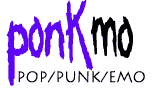 Goldfinger - Disconnection Notice
By Kevin Wierzbicki

Goldfinger got pegged as a ska band early in their career but that misnomer should finally be shattered with the release of Disconnection Notice. There is very little of the danceable island sound on the record, but beyond that, main man John Feldmann has taken strides to give the band its own recognizable sound. Feldmann certainly knows what he's looking for, having written for and/or produced for the likes of Good Charlotte, Mest, the Used, No Motiv, Showoff and Story of the Year.
While the songs here are fairly well written, the first half of Disconnection Notice gets bogged down in a sameness that fails to make the band stand out from dozens of others vying for radio time. But the latter half has a few sparklers, starting with "FBI." The song begins with part of a pro-vegan speech (Feldmann doesn't eat meat) delivered in a militant tone by a woman with a British accent. That in itself is intriguing, but then the bass and drums kick into a ska beat as Feldmann rails against corporate greed and other evils hidden "behind the mask." It doesn't seem to make sense that the song is called "FBI," but it doesn't matter---the song is by far the album's highlight.
"Iron Fist" is another goody, a power-popper where Feldmann alternates verses with his vocals processed or double-tracked. "Walk Away" also rocks right along with Feldmann waxing a sweet vocal that brings to mind the '80s hit-makers, the Outfield.
The set closes with the infinitely hummable "Stalker," a humorous reading about how getting too much attention can turn out to be a good thing after all. No need to fast-forward through the first part of this record, its okay. But the future of Goldfinger lies in track 7 and beyond.



CD Info


Goldfinger - Disconnection Notice
Label: Maverick
Release Date: 2/15/05
Rating:





Want More ?


tell a friend about this article


What Do You Think?


Fanspeak removed due to spam and abuse