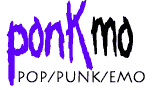 Armor For Sleep - What To Do When You're Dead Review

by Eric Bodrero

.
New Jersey's Armor For Sleep snap back from their popular debut Dream To Make Believe with the catchy, energetic sophomore release What To Do When You're Dead, a kind of experience in the realm of death and dying, with a title sounding more like a nod to White Zombie than anything.

Armor For Sleep sound really good, and the band sounds just as good as any of the other countless emo-pop bands you hear on the radio today, which is quite the problem. I think Tom Lowery said it best when he said "what the world needs now is another folk singer, like I need a hole in my head." Change "folk singer" to "emo-pop band" and you have the anthem of today's popular post-punk revolution, from the other side of the river.

That being said, Armor For Sleep do nothing particularly bad, and they aren't a bad band, but for me, they just lack any sense of originality and style, aside from the eerily funny "What To Do" guidebook that comes with the CD about what to do when you're, well, dead.

The few tracks that really stand out and have their own voices are "Basement Ghost Singing" and "Flying Above Everything", two tracks that, had the rest of the album sounded more like, could have been something a little more special. But, with a sound that I've already heard and took a big pass on several years ago because of its monotony, emo-pop and Armor For Sleep are already dead to me. It's a good thing they've written their own guidebook. Looks like they'll be busy for quite awhile.


CD Info and Links


Armor For Sleep - What To Do When You're Dead
Label:Equal Vision
Rating:


Track Listing:
1. Car Underwater
2. Truth About Heaven, The
3. Remember To Feel Real
4. Awkward Last Words
5. Stay On The Ground
6. Quick Little Flight, A
7. More You Talk The Less I Hear, The
8. Basement Ghost Singing
9. Walking At Night, Alone
10. I Have Been Right All Along
11. End Of A Fraud, The

Preview and Purchase This CD Online
.