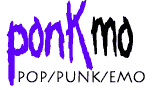 Valencia - This Could be a Possibility Review
by Jen Procop

.
Every once in a while you are truly surprised- not the type of surprise when your fries are cold or you lock the keys in your car, but the kind of surprised that makes you smile and think, "Yeah, thats it". Pick up This Could be a Possibility from the Philadelphia based band Valencia and you too will succumb to a toothy grin.

I Love this Cd! This alternative rock/ punk offerings is chock full of multilayered guitar and bass hooks and ample power chords but its not just heavy noise, but an infectious offering of music and synergy. Rob Hitt, owner of the I Surrender record label said that he felt there was something special about Valencia's three track demo that he found in a drawer, and as soon as he heard it, he offered the boys a full length record release.

This Could be a Possibility is a well rounded album that's good from start to finish but look for great tracks like "The Space Between," "Away we go" and "3000 Miles" where Valencia showcase the band's diversity. I Surrender and Hitt have a hit in Valencia and he is right; lead singer Shane Henderson and the boys from Valencia have created something surprisingly special.



CD Info and Links


Valencia - This Could be a Possibility
Label:I Surrender
Rating:





Release Date: October 25, 2005
Preview and Purchase This CD Online
.