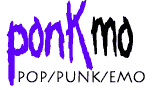 Straylight Run - Prepare to Be Wrong Review

by Morley Seaver

.
This is an excellent EP from a band that seems increasingly really confident in their abilities. Despite other comments to the contrary, I really like the opening cut, "I Don't Want This Anymore". It's an atmospheric song that features some whispy vocals from Michelle Nolan.

The next cut, "It Never Get Easier" is a terrific song with John Nolan's emotive vocals. Really awesome melody line with great verses and better chorus. The next cut, "Later That Year", which is a commentary on the Iraq war, is great until the end where the last two lines are repeated over and over. "Hands in the Sky (Big Shot)" is a (sort-of) Pink Floyd-ish cut that starts slow and builds to a screeching conclusion. A cover of Bob Dylan's "With God On Our Side" ends the new material part of the record.

Following that are three songs from the band's debut: "Existentialism on Prom Night", "The Tension and the Terror" and "Your Name Here (Sunrise Highway)".



CD Info and Links


Straylight Run - Prepare to Be Wrong
Label:Victory Records
Rating:




Preview and Purchase This CD Online
.