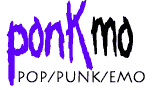 My American Heart - Meaning In Makeup Review

by Jen Procop

.
The "altpress" just came out with their lists of best and worst for this year and guess who got the most "underrated" band of the year? Interpol..nope (but that was a good guess) It wasn't My Chemical Romance, the Used or Alkiline Trio either but the nod went to The San Diego based emo punk band "My American Heart"...Heard of them? No, me either until their new release, The Meaning in Makeup" arrived on my doorstep.

The boys from My American Heart are certainly not veterans on the music scene and at eighteen, they are just beginning to make decent music but it's exactly that...decent, very decent. They explain that they don't compare themselves to any band but rock to their own "retro feel" and whatever they mean by that, it works. There is some good music being make and played here, chock full of guitar riffs, explosive drum sets and excellent arrangements. A few tracks like "Don't Sleep", "We are the Fabrication" and "Keys to my Organ" break through as instant repeats on the CD player.

One of the most surprising things about this CD is the maturity in their lyrics and the process behind "The Meaning in Makeup" where they address the pressures of looking "beautiful" and how we define beauty in our culture. That's a whole lot of thoughtfulness from a hardcore teenaged emopunk band! Cudos to My American Heart for having a lot of talent and vision....there had to be a reason that they got the nod for the most under rated band of the year.



CD Info and Links


My American Heart - Meaning In Makeup
Label:Warcon
Rating:




Preview and Purchase This CD Online
.