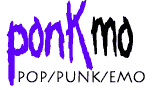 The Junior Varsity -Wide Eyed Review

by Brodie

.
Upon listening to The Junior Varsity's latest outing, Wide Eyed, I found myself with a dilemma. The opening chords to the first track, "Get Comfortable", lead you to believe that this is going to be just another pop/emo album. What you get is something a little different, however. The band succeeds at grabbing the listeners attention right away. An ambient pre-chorus leads into an upbeat and catchy chorus, where singer/bassist Asa Dawson sings, "Feels good to know that everyone here/feels good to know that everyone waves by habit/but it makes my day by habit". Feels good indeed.

The band spends the rest of the album weaving it's way through elements of emo, pop-punk, and even a little bit of post-hardcore tendencies on tracks like "Everyone's Got Somethin They're Running Out Of", "Do You Mind?", and "I Said I Try", all the while keeping with a sound that is uniquely theirs. They have even incorporated, well I might add, keyboards, which do not fall into the realm of screamo, which so many bands have seemed to lean towards recently. The instrumental balance on the album is to be noted, because it is something the listener can tell the band worked hard to achieve.

Admittedly, upon receiving this cd for review, I tried not to like it. It goes against everything you'd think should come from a cd released by the hardcore mainstay Victory Records. But what you end up with is a cd so catchy, while still holding it's edge, that you cannot help but get sucked in. The only thing that holds this album back from being a truly great album, is that it lacks the vibe of being a longstanding favorite that can be listened to through the years and still hold it's freshness. It is an album that, at least for this era and genre, is a good find.



CD Info and Links


The Junior Varsity -Wide Eyed
Label:Victory Records
Rating:



Preview and Purchase This CD Online
.