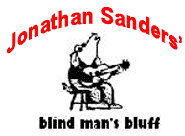 Blood of Abraham - Eyedollartree


.
Sometimes the best thing someone can do when trying to find his or her way in the industry is to take an extended break to discover inspiration. For some bands, however, taking this kind of hiatus is not by choice. Emerging with a controversial album in 1993, their careers cut short by the death of a mentor and their career revival thwarted by a label's money woes, Blood of Abraham could have died a slow quiet death. But with the release of their ill-fated 2000 album Eyedollartree (a play on the word idolatry) this August on a new label, the Jewish emcees may well lay claim to having produced the best album released in 2005. Move over, Kanye West.

Twelve years ago NWA-member Easy-E discovered rappers Benyad and Mazik, who were performing in Los Angeles as Blood of Abraham. Becoming their mentor, Easy-E helped them record 1993's Future Profits, which received mixed reviews due to the band's attacks on the rap culture for what the two perceived as anti-Semitism. Blood for Abraham missed the irony evident when two white rappers write a song called "Niggaz and Jews (Some Say Kikes)" in which they perpetuated the worst stereotypes about black people to stop black people from stereotyping them.

Expecting to become hip hop superstars, the two rappers were hit with terrible news when, in 1995, Easy-E died of AIDS. His label died a slow death, and Blood of Abraham was without any way to promote their music. Thankfully for those who enjoy solidly written intelligent hip hop, the duo re-emerged in 2000 with Eyedollartree. Unfortunately their terrible luck continued, and right as the label Atomic Pop went bankrupt. The album never saw the light of day, and a few leaked copies, widely circulated by the old Napster were the only evidence that the music ever existed at all.

Until now. Red Urban Records re-released the album this August, and it was immediately evident that Benyad and Mazik took the seven years between albums to mature their songwriting style. With the help of friends including Will.I.Am of Black Eyed Peas fame (he had appeared briefly on their debut) Blood of Abraham emerges as a bright spot in today's disappointing hip hop scene. But will any of their fans hear the album that took twelve years to release?

One would hope so. "Only The Wise," the album's second track, is a stunningly complex funk-filled beat (composed by real musicians, not through over-sampling!) that rivals anything The Roots have produced, layered with vocals that are both ear-catching and socially conscious. And "99 Cent Lighter," which features Will.I.Am" on guest vocals, has perhaps the catchiest hook not being played yet on today's hip hop saturated radio. And "Hurricane" may feature the most inventive sample ever used to create a hip hop track (anyone who's ever seen the original Willy Wonka and the Chocolate Factory will hear it immediately). All of this comes together to create an ear-catching blend that no one who enjoys the genre is going to want to miss.

Blood of Abraham is still rapping about what they tried to expose on Future Profits. But they've discovered that there's a way to spread their thoughts without using racism to expose racism. They manage to take on controversial subjects, including the AIDS epidemic, trying to put a face on the intense ethnocentrism that led to white Americans assuming that AIDS was the disease of homosexuals and those living in the inner city. Perhaps with the death of their mentor they found a better way of voicing their displeasure with the state of race relations in America -- that it isn't possible to bring differing sides together when hate is used to decry hate.

Eyedollartree is an album that stands up to repeated listening. It also suggests that Blood of Abraham may have career potential despite the troubles they endured to get the album out for people to actually hear. There's also the suggestion, musically speaking, that while 50 Cent may sell millions of records because he raps about drugs, sex and violence, the better hip hop albums generally come when socially conscious lyrics meet intelligently composed music.


CD Info and Links


Blood of Abraham - Eyedollartree
Label:Basement Records / mastergrip
Rating:




Preview and Purchase This CD Online
.