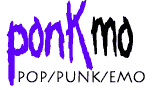 Bayside - Bayside Review

by Dan Upton

.
Emo is one of those genres that seems to divide people... either you're in the scene and you think every band is great, or you're outside of the scene and dismiss it all as crap. Admittedly, I'm generally a member of the second group, but I'm open-minded enough to recognize when there's a real gem in a field full of stones.

Bayside is one of those gems.

The first time I heard Bayside, a sample from the opening track "Hello Sh*tty," I knew there was something...different, something better about this band. After spinning the disc a few times, there are a few things that jump out about it that are not at all standard ponkmo fare: the guitars, the vocals, and the lyric-writing. Sure, there's plenty of the 3 (or gasp, 4) chord riffing, but there are also some great harmonized lines and some decent solos. As for the vocals, they're very different from the nasally, whiny singing that saturates radio ponkmo--instead, they strike me as somewhat of a cross between Jimmy Eat World and Goldfinger, with a more raw quality that I think lends some extra credibility over the majority of slickly overproduced music. And the actual lyrics... one of the things that bothers me so much about a lot of emo is the overwrought "sensitive poet" lyrics, that people read loads into but can't possibly actually mean anything.

While some of Bayside's lyrics strike me as overly melodramatic ("I'm burned out at 22, I lived too fast and I loved too much and I'll die too young"), most of the songs have lyrics that I can see actually having meaning without delving into ridiculous "poet" mode.

The only thing I can find fault in on this CD is the track "Don't Call Me Peanut," a stripped-down song with only acoustic guitar and vocals...and while there's absolutely nothing wrong with this in principle, the vocals stretch from raw to excessive off-key wailing. Other than that, this is a fantastic CD from a promising band, and you owe it to yourself to at least check out a couple of tunes.



CD Info and Links


Bayside - Bayside
Label:Victory
Rating:





Preview and Purchase This CD Online
.