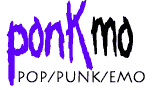 Aiden - Nightmare Anatomy Review

by Morley Seaver

.
Aiden mixes punk with rock, adding some goth elements as well. They tred the Atreyu, My Chemical Romance area…sort of. They have an earnest sound that pours through the speakers, like they're really serious about their material. True, the emo quality is kind of off-putting but somehow they rise above that restricting label. In addition, the energy they bring to the fore puts a sizzle to the set that lets you know their live shows must be amazing. I can't say this is my type of music but Aiden do what they do very well and they work hard to win you over.


CD Info and Links


Aiden - Nightmare Anatomy
Label:Victory
Rating:




Preview and Purchase This CD Online
.