Butch Walker
by ScottVile
Butch Walker - Left of Self-Centered
Label: Arista
Rating:





The lack of commercial success of the Marvelous 3 has been one of the many tragic and unfair stories of the music industry. Fortunately, the Marvie's visionary Butch Walker has never been one to take repeated no's for an answer (this is his unprecedented 3rd major label deal). The result is his first solo CD, and it's phenomenal. Butch Walker is one of those music industry secrets... His talent is undeniable, but whether it's due to record label cock-ups or just plain bad luck or timing, he's never become that mega-rockstar he's so desired and deserved to be.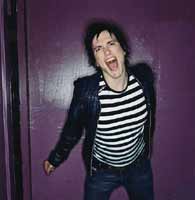 "Left of Self-Centered" is a very natural progression from his last Marvelous 3 CD ("Ready, Sex, Go!). It's great, hard rock music, combining phenomenal lyrics with hooks that sink into you during the first listen. From the album intro, "Rock Vocal Power," you know that you're in for a very atypical listening experience. In it, he pokes fun at the music industry and bandwagon jumping, with all of the sound-alike frontmen on the scene today. It may offend some listeners, but it's all in good fun and sends a very relevant message that I'm sure antiMUSIC stands by (and was created for!) and couldn't express better.
From there, it's straight into the fist-pumping anthem "My Way," the first single and video. A great, tongue-in-cheek hard-rocker that wonderfully expresses Butch's view of not caring if he's right or not, he is who he is. And if you don't like it, don't let the door bang your ass as you get the hell out.
Next, it's straight into arena rocker #2, this one called "Suburbia," one of the most amazing tracks on the album. This song is a perfect example of what separates Butch Walker from the rest of the pack: Insanely catchy music (driving hard rock and a touch of mix-tape programming) coupled with a Billy Joel style story-telling ability.
Each verse is a separate concept that relates to each other from the imaginary suburban environment he created – and the stories range from contemplative to the humorous to the just downright jaw-dropping brutal. For Butch Walker hard-cores (myself included), a nice touch is the addition of Christina Lloree in the musical bridge, who was in one of Butch's old funk band in the early '90s.
Now comes "Trouble," a decent song with a different element brought forth with the addition of turntable beats. It's a song about teen pregnancy that doesn't turn out to be an album standout, but isn't a bad song. Up next is "Alicia Amnesia," another driving rocker and bang-your-head anthem you can't help but love and relate to… It's a simple story about that one girl that you're crazy about and acts into you, but tends to forget you exist when someone better comes along.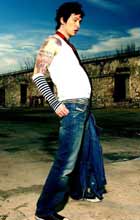 After "Alicia…" is the strong power-ballad "Sober." Yes, although it's 2002, Butch isn't afraid to include certain 80's elements in his records such as power ballads, guitar solo's, synthesizers, or ex-Motley Crue bassists… which leads into Nikki Sixx's guest appearance on "Into The Black." A noteworthy song because not only is it retro, it's also modern with it's slight-of-hand studio trickery that inserts the chorus a fraction of a second before it's natural position to catch the listener off-guard. "Get Down," the next track, is just an amazingly cool, unusual song that combines an almost Dio-like melodramatic backdrop with a current touch. This is Christina Lloree's second appearance, whose voice is quite comparable to Gwen Stefani's. All of this, combined with Butch's frantic "Get this dude some Ritalin quick" vocal pace, makes this another album standout.


I've written far too much already, rest assured the rest of the album is just as fantastic. Keep your ears open for the absurd hidden finale, and scour the net for the rarity "Sunny Day" that just popped up, which is just as strong as the rest of this highly recommended album. So, in closing, ladies and gentleman – drop your socks and grab your cocks (okay, so you ladies will have to improvise), put your Butch Walker record on, turn up the volume and SCREAM AWAY!!! Because this album is a goddamn gem.

Scott Vile's Album Pick: Suburbia (4:07)

.

Want more?

.
Visit the Official Website to get the lowdown on the album, find tour dates plus get more info on Butch and the latest news and multimedia files.
---
Listen to sound samples and Purchase "Left of Self-Centered" online
---
ScottVile is a Feature Writer for the iconoFAN Network.
Photos Courtesy of Arista / Butch Walker - All Rights Reserved by Copyright Holder.