Blue October
By Dr Fever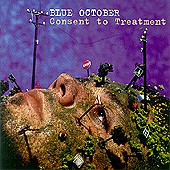 The CD
Blue October-"Consent To Treatment"
Label: Universal
Rating:





Tracks:
Retarded Disfigured Clown
Independently Happy
James
HRSA
Breakfast After 10
Balance Beam
Holler
Schizophrenia
Drop
Conversation Via Radio (Do You Ever Wonder?)
Angel
Libby I'm Listening
Amnesia
The Answer

Ask yourself this question. What do you get when you cross parts of Pearl Jam, "Throwing Copper"-era Live, and parts of The Dave Matthews Band? You get Blue October. A band that has toiled in the underground for years until now, finally getting their break with Universal Records.

The songs on "Consent To Treatment" are a refreshing break from the usual RapRock, Cute Boy Mall Punk and Wannabe Hardcore that cluters the rock landscape. These are songs that your average person can relate to, especially anyone who's ever been through a bad relationship.

The highlight of this entire, tight album is "Breakfast After 10". The first single released to rock radio paints a picture of a guy who's dealing with the b.s. of a bad break up. ONLY, unlike your usual crap on this subject, it flips the script and basically gives "the finger" to (as a friend of mine calls them) "Confused, Dumb ass Bitchs" who have no clue what a relationship is or should be.

I highly recommend this album to two groups of people:
1. Fans of Pearl Jam, Live and/or DMB.
2. People who don't like overproduced, overdone crap

This is a straight up rock album with some refreshing twists (When was the last time you heard a mandolin, tuba or E-bow on a rock album?) and I promise you won't be disappointed.
.

The Bio

.
Justin Furstenfeld-vocals, guitar, songwriting
Ryan Delahousseaye-violin
Jeremy Furstenfeld-drums
Matt Noveskey-bass


"There's a whole other side of the world that most people don't see," says Blue October leader Justin Furstenfeld.

That oft-obscured side of life comes into sharp musical and lyrical focus on Consent to Treatment, Blue October's first Universal Records release. The consistently riveting album is a compellingly truthful document of pain, hurt and transcendence whose emotional immediacy and unflinching honesty stand in sharp contrast to the glib irony that's come to dominate modern rock. Rejecting cynicism and transient notions of musical fashionability in favor of more substantial and enduring values, the Houston, Texas-bred quintet aims straight for the heart.

Charismatic singer/songwriter/guitarist Justin Furstenfeld consistently confronts uncomfortable truths, exploring the darker regions of the human spirit with the hard-won insight of one's who's experienced the pain of self-discovery and emerged stronger for the experience. Such emotionally raw Furstenfeld compositions as "Independently Happy," "James," "H.R.S.A.," "Amnesia" and "Balance Beam" resonate with an intensity rooted in personal experience, balancing his uncanny ability to cut to the truth of provocatively personal issues with an unmistakable sense of compassion and an enthusiasm for life that balances the songs' darker leanings.

Just as Furstenfeld's lyrics address the complexities and contradictions of human experience, his band's audaciously eclectic yet fiercely focused musical approach defies easy categorization, as adventurous in its sonic and compositional explorations as Furstenfeld's lyrics are in their unsparing insights. Eschewing the blunt hard-rock approach embraced by many of their contemporaries, Blue October confound expectations by adopting a complex, eclectic sound that combines lyrical drama, sonic aggression and gorgeous melodicism, with Ryan Delahousseaye's inventive violin work serving as a striking counterpoint to the hard-hitting base provided by bassist Matt Noveskey and drummer Jeremy Furstenfeld (Justin's brother).

Consent to Treatment-produced by veteran studio hand Nick Launay, whose stellar resume includes albums by Silverchair, Midnight Oil, Semisonic, Talking Heads, INXS, Girls Against Boys and Killing Joke- brilliantly encapsulates Blue October's expansive musical vision, with the band's ambitious soundscapes providing a brilliant framework for Justin's introspective lyrics and impassioned vocals, and the band's imaginative excursions. Another reflection of the band's consistent refusal to be bound by genre restrictions is the presence of renowned New Age pianist George Winston, who lends some convincingly-and uncharacteristically-dark atmosphere to the album's epic closing track "The Answer."

Blue October's provocative stance derives from the creative vision and personal background of founder Justin Furstenfeld. "I grew up on bands like the Smiths, the Pixies, Bauhaus, the Cocteau Twins and This Mortal Coil-my father would throw the tapes out the window because he thought they were too depressing and morbid. I was in a lot of bands before Blue October, but none of them captured the emotion that I originally got from the music I loved as a teenager, and they didn't really touch on the issues that were important to me. Then we all decided to make a move to San Marcos, Texas, which was two and a half-hours away from our homes and our parents. I had moved up there with a person who I thought was my soulmate. Well, the relationship collapsed during the month of October, and that was it.

"As a teenager, I had been obsessed with the darker, melancholy side of life, and fascinated by all these eclectic sounds and stories of emotional turmoil, and then, bam, it happened to me and changed my whole view of how I saw music. And that's how Blue October got started. Then it was 'Okay, am I really gonna do this?' At a certain point, I had to make a decision about whether we want to pussyfoot around or do this full-force, and really go for it and talk about these issues. I decided to go with it face-first. If you're gonna limit yourself, it's not art."

In 1997, Blue October took its first steps into the recording medium by independently releasing their debut album, The Answer, which sold over 5,000 copies in the Houston area. "The first album," according to Justin, "was very slow, very soft, very eclectic. It was about being a teenager, dealing with drugs, relationships and growing up. Consent to Treatment is more like, 'Okay, now let's get past all that teen stuff and get on with our lives and be more positive,' and trying to bring up issues in a positive way."

Through diligent regional touring, Blue October developed a solid work ethic and built a rabidly loyal following with its musically and emotionally riveting live performances. Even after the band signed with Universal Records in the fall of 1999 and began recording Consent to Treatment in Los Angeles, they still managed to shuttle back and forth to Texas to play live shows. "When Blue October gets on stage, it's not a show for me," Justin explains. "There's crying, there's yelling, there's screaming. It's a big nervous breakdown for an hour and a half, and that's the beauty of it."

Justin views Blue October's lyrical soul-baring as therapeutic, with the confrontation of painful truths carrying healing value for both artist and audience. "I think Blue October's a very positive thing, trying to open people's minds and show the world that there are these things in all of our closets that shouldn't be shoved back in. I think if people would open up a little more and be willing to cry in public, they would realize that everybody else is as vulnerable as they are."

He's quick to add, though, "Blue October touches on a lot of serious issues, but it's just as important that the music rocks and the melodies are catchy. If you can get people's heads bobbing, then you can start getting them to understand what you're saying.

Furstenfeld concludes, "This record may be way too deep for people and they may not
get it, but I feel like I have to try,".





.

Want more?

.
Visit the official web site news, media clips and tour dates!
---
Listen to sound clips and Purchase the CD online
---
Album Art and Bio courtesy of Blue October and Universal Records. All Rights Reserved by Copyright holder.