Boy Hits Car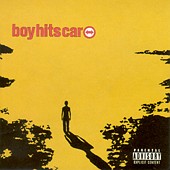 The CD
Boy Hits Car
Label: Wind-Up Records
Rating:




Tracks:
1 The Rebirth
2 Love Core (Welcome To)
3 As I Watch The Sun F**k The Ocean
4 Iím A Cloud
5 Man Without Skin
6 A Letter From Prison
7 Unheard
8 Going To India
9 Turning Inward
10 Benkei
11 Before We Die

If you want an idea of how Boy Hits Car sounds, take the modern metal agro-crunch guitar styling and throw in a high register vocalist in the vain of Rushís Geddy Lee and more progressive instrumentation. While itís not what we are used to with the low growl like vocals of other modern metal bands, the tenor of vocalist CRegg really add a new dimension to the sound. The Rush comparisons donít stop there, the guitar leads take on an almost Rush style on various tracks. Mixed with the half step stop timing that is so prevalent today among aggressive rock, Boy Hits Car do a convincing job of combining the two genres with the unique vocals and the addition of true lead guitar riffs, not just drop tuning and a semi-progressive rhythm section. The inclusion of clean guitar tracks on some of the songs also adds a more layered feeling.

Boy Hits Car is a refreshing new take on modern metal that isnít content on just being one of the pack.

This CD is a worthy addition for anyone who likes their music on the heavier side.
.

The Bio

.
The lights onstage dim, the audience erupts into cheers, and from the powerful rumble of the drums coming at you like an out-of-control 18-wheeler to the sweat glistening on the chest of...

f*** all that. We're Boy Hits Car, no bones about it, we'll kick it to you straight. My name is Scott, I'm the bass player in Boy Hits Car and this is our bio in my own words:

Louis (guitar), CRegg (vocals, acoustic 12-string guitar), and I all grew up together from early childhood. Louis and CRegg were neighbors in the same condo complex and knew each other since they were mere toddlers wearing diapers. I lived a mile away so it wasn't until the beginning of elementary school that my path crossed with theirs.
Looking back now, it seems fitting that the first time I ever saw CRegg he was singing. A happy kid with wild blonde hair and a big smile, he was in the schoolyard belting out that song from THE WIZ, "C'mon and ease on down, ease on down the road" over and over as he'd run toward the chainlink fence at the edge of the playground and bounce into it.

Continue