by Keavin Wiggins


Welcome to "Collective" a new series here at Rocknworld, which is a bit of a different spin on our "What's in a Label" series. Instead of profiling a label, we will look at some of the artists on a specific label or genre of music, collectively. Our recent look at the Raw Rock Revival with bands like The Vines, The Strokes, The White Stripes, BRMC and the Hives was really our first unofficial kick off to this series but now we are ready to make it official with this month's look at MCA Records and their rock roster.
MCA seemed the perfect choice to officially kick things off with since we are currently running a special with them and they were kind enough to send us a whole stack of CD's from their rock roster.
While MCA has had it's ups and downs in the past, but in recent years that have emerged as one of the only major labels that really get the genre of music many refer to as "punk-pop". Some many argue that some of the bands on their roster like Blink-182 are more power-pop than punk, nevertheless MCA has really lead the way for the genre with a cohesive roster of bands that have succeeded in the punk-pop world. Sure other labels have punk-pop bands but MCA really seems to have a clear focus on the genre so in essence they are to punk-pop what Roadrunner is to nu-metal. That can be a good or bad thing, depending on your taste in music. MCA has found a niche for themselves and have served the fans of this genre well by fulfilling their need for punk-pop music with plenty of bands to choose from, each with their own strengths and weaknesses. Unlike Roadrunner where half of the bands on their roster are pretty indistinguishable from one another, MCA's rock roster is filled with bands that bring something of their own to the table. And MCA isn't a one trick pony, as you will learn from the profiles that follow. They are a clear leader in the pop-punk realm; but they don't put all of their eggs in one basket either and actually have a pretty eclectic rock roster.
Now that we've covered the basis of this feature, let's look at the bands.


Blink-182


No look at MCA's rock roster would be complete without a quick glance at Blink-182, one of the clear leaders of the punk-pop genre. Some question that label, since Blink's music tends to be on the more melodic side of spectrum and really has very little semblance to authentic punk rock. But as some people have pointed out, they may act as a gateway artist of sorts to open the doors of true punk rock for some fans. In some ways they are to punk what Bon Jovi and Def Leppard are to heavy metal, a more slickly polished and melodic distant cousin. And like Bon Jovi and Def Leppard in the 80's, Blink-182 has succeeded with their talents for crafting songs with plenty of hooks that put a big smile on the faces of radio programmers and attract an audience with their hits songs that sneak into your head and don't want to leave.

You can't look at Blink-182 without looking at their image or antics either, which is as much a part of their appeal as their music. The band isn't shy and will take every opportunity to do something outrageous like appearing nude on camera or on stage. To critics of the band, it all appears to be a gimmick and maybe it is but there is no denying that it has worked for them. The biggest problem for Blink-182 is the punk-pop designation. Because if you took that label away and listened to music without all of the preconceived notions, you end up seeing a pretty solid power-pop band with a penchant for hit songwriting. Many rock purist, especially punk purist automatically write the band off because of the link to "punk-pop", which has really been a double-edge sword for the band; on one hand that label attracts a young audience that is looking for some safe rebellion and finds nu-metal and other forms of heavier music, well too heavy. Nothing fits the bill better than "punk-pop" and Blink-182 have been clear leaders in the commercial "punk-pop" world. On the other hand, the punk faithful find an easy target in Blink-182 and are quick to point out the band's lack of true punk credentials. They say if you want real punk with a pop edge or power-pop with a punk edge to check out All and Bodyjar or even the Ramones, but the music by those artists isn't as easily accessible to the mainstream as Blink-182's.
The bottom line is if you forget the "punk-pop" label and listen to the music, you may find a lot of enjoy. Sure, they aren't the next Beatles of even The Ramones but Blink-182's music taken on it's own merits is fun filled guitar driven power-pop with plenty of melodic hooks and solid songwriting.


Finch


When judging by the music alone and not looking at sales and popularity, Finch are one of the leaders of the "punk-pop" world. Where most bands that fall into the punk-pop or "emo" category tend to have a cookie cutter sound that's fairly predictable, Finch sets themselves clearly apart from the rest of the pack by focusing on the heavy side of the spectrum which really lands them in between the world's of modern rock, hard core and punk-pop. This isn't power-pop with a punk edge; this is heavy rock with a melodic twist.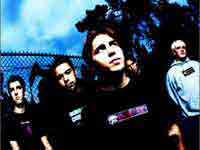 The quality of the music and songwriting is undeniable, Finch's full-length debut, "What It Is to Burn" sounds like a veteran band with years of gigging and songwriting under their belt produced it. When in fact, they have been together a short period of time and their climb to success has been rapid. It's an instance of the right musical personality getting together and finding a magic spark that few bands are able to latch onto.
Nate Barcalow's vocals really win the day here, while not overly distinct, Nate is a rock solid vocalist, applying aggression where it is needed and countering the heavy intensity of the music with melody the rest of the time.
Finch's music has some of the elements you have come to expect from punk-pop groups but they take things to a much deeper level than their counter parts and in all honestly at times sound like a heavy modern rock band or nu-metal group. Instead of a collection of radio friendly hits, the band mixes things up and aren't afraid to go hard-core like we hear on a song like "Grey Matter", which is three parts hard-core and one part melodic heavy rock. The musicianship is anything but simplistic, yes you get more power-chords than you can handle but the songs also have competent rhythm tracks and some memorable guitar leads. This is most clearly heard on a track like "Awake" which contains a wall of sound that would make Phil Spector stand up and take notice.
Finch are clearly a few notched above their contemporaries and their debut album is far more than anyone could hope for. They are a band to keep a keen eye on and not one you can easily dismiss. Finch are the genuine article and do themselves proud with "What It Is to Burn", it's hard to imagine them topping this album so we will just have to wait and see what they come up with next, but if this CD is any indication, whatever they decide to do as an encore will rock!


New Found Glory


Out of all of the bands profiled in their feature, New Found Glory are easily the band that most fits the "punk-pop" mold. They have that distinctive mix of chugga-chugga guitars, nasal tinged vocals and more harmonies than a barbershop quartet, that clearly define the genre.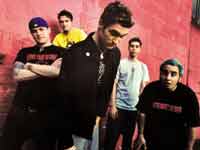 Because of their strict adherence to the rules of the genre, New Found Glory, don't stand out that much from their contemporaries. They have that upbeat, snap your fingers, bouncing quality you would expect from a "punk-pop" group. What sets them apart from other bands churning out the same brand of music is their songwriting, which is a bit more focused and while the songs do tend to run together with not enough distinctive elements employed to make them stand out from each other, New Found Glory have a penchant for writing radio-friendly tunes.
This new CD is a no brainer for fans of the "punk-pop" genre, if you liked their self-titled album, you will enjoy their latest effort, "Sticks & Stones". The songs have a melodic appeal that may draw in new fans to the genre. On the other hand, there is nothing really new and exciting being delivered by New Found Glory. True, they are one of the better bands in the whole "punk-pop" spectrum but they pretty much maintain the status quo and don't venture far from the set pattern. That being said, their songwriting is a few notches above the bands they are competing with, which explains why they are one of the more popular groups in the genre.

Continue...
---