For Love of Music-
Spending Some Time With Slaughter
by Debbie Seagle

Back to Part II

RNW: Aside from this tour, whatís up next for Slaughter? I know you guys are from Vegas, right? Whatís that music scene like?

Blas: I donít think thereís much of an original music scene in Vegas. For us, we are self contained. We recorded our own music and weíre self produced, so we didnít have to be in a city necessarily, where there were a lot of producers and studios cause we did it ourselves but, its not like thereís this great original music scene there. Mark is in Nashville now, so its probably more of a music scene than Vegas.

RNW: Oh yeah. Everybody in Nashville is into music.

Mark: Right, yeah. Really, the butcher and the guy who bags your groceries, basically.

RNW: They all write songs.

Mark: More so than anything, weíre from Vegas and I think "Up All Night" was about that. Its really a bond weíll always share.

Blas: We have a new record coming out soon - as soon as we get a break. Its funny, everybody kind of, for a while was writing this kind of music off, but we havenít had any time off at all because of touring schedules and recording schedules. We havenít had barely any time for ourselves, so I guess thatís a good sign, you know? But as soon as we get a chance, weíll be putting another record out.

I have a movie that I was just involved with, it was also about the eighties era music that will be put out next year.

RNW: Which one is that?

Blas: Its called "Metal God," thatís the working title. They tell me to say that now. I just talked to the director and they still donít know exactly what its going to be. Some of the people want it to be called "So You Want To Be A Rock Star," but the director wants "Metal God."

RNW: Is this the Jennifer Aniston movie?

Blas: Jennifer Aniston, Mark Wahlberg, somewhat loosely based on the story of Ripper Owens (Judas Priest), but not really.

RNW: I bet that was fun though!

Blas: Yeah, I had a whole lot of fun making it and I was real proud to be involved in something that was - it was a movie that took that music seriously and they spent a lot of money and the director and everyone else put a lot of sincere effort into it. It wasnít just a joke, you know? And I thought that was pretty cool.

RNW: Well Iíll look forward to seeing you in it. You guys have "slaughterweb.com" and thatís a good way to keep track with your fans, keep them close to you. Do any of you actually work on the web site?

Mark: Blas does.

Blas: Yeah, I do the web site.

RNW: Thereís always one in the band whoís the computer freak, right?

Mark: Right!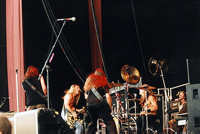 Blas: Its hard from the road right now to keep things updated, trying to find phone lines, you know? But weíve started a mailing list and weíll have our first newsletter coming out real soon.
RNW: Phone lines? You donít have a cell modem? I mean, you are on the bus with the cell modem, right?
Blas: Iíve used a cell modem, and its okay to download mail, but if you are uploading web pages and graphics, and the best you can connect at is 9600, its not stable enough to do something like that really.
Mark: When weíre traveling, we have so many drop offs on the phones. We donít hardly talk long on the road because between the towers you just lose the signal.
RNW: So what are we in for tonight? What kind of a show are we going to see tonight?
Mark: Very organic, straight ahead rock and roll. Thatís the best way to . . .
Blas: Probably as stripped down as you can get, but all the energy.
Mark: All the energy and more.
Blas: Lots of songs from our early records, theyíre the ones you recognize, and hopefully a couple from our new record, our latest record. We kind of change it up every night though, you never know.
RNW: Iím looking forward to it and on behalf of all the fans at Rock N World, its about time you guys got here, weíve been waiting for you!
Mark: Well thank you, thanks.
RNW: Alright, lets hear some rock and roll!


---
THE BAND:
- Mark Slaughter Guitar/Vocals
- Blas Elias Drums
- Dana Strum Bass
- Jeff Blando Guitar
---
Discography:
Stick It To Ya 1990
Stick It Live 1990
Bill & Ted's Bogus Journey 1991
The Wild Life 1992
Fear No Evil 1995
Mass Slaughter (Greatest Hits) 1995
Hard Times
Revolution 1997
Eternal Live 1998
Back To Reality 1999
---

Visit the Official Slaughter web site
---

Check out the current Slaughter tour dates
---

Listen to & Purchase "Back To Reality"
---

Check out sound bytes and multimedia
---
FAN SPEAK/Fan Comments for Slaughter:
Fanspeak removed due to spam and abuse