For Love of Music-
Spending Some Time With Slaughter
by Debbie Seagle

There have been endless debates at the Rock N World and antiMUSIC about "boy bands" and the lack of dues they pay for stardom, the lack of actual musical talent they possess, or the misused term "band" when referring to them. My aim today is not to further that debate. Instead, I would like to introduce some of you to a band called "Slaughter" and for those of you that are already into the band, we'll give you a little update. First, lets talk about what a band really is, and what it means in the music community to be called a "musician."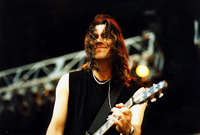 If you are a musician, you know that the term is not used lightly. It describes a status that is attained when you are not just fooling around with a musical instrument. It is when your instrument becomes your voice, your soul and your heart. Similarly, there are bands, and there are BANDS. There IS a difference. A handful of people who jam together occasionally to make a few bucks or students who play recitals together are not bands.
Bands are families that bring their talents together to express their hearts with song and melody. They mesh their creativity and form cohesive works. They make music because it is what they want to do more than anything else, and it is as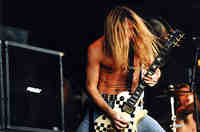 necessary to them as breathing. Some bands rise to stardom. Some wonderful bands will never be known by you and I, but their music is just as awesome as platinum selling artists. What is important to most of them is that they have the opportunity to play - for their music to be heard and enjoyed by others. Successful bands are those that accomplish this consistently and stay true to their music and their fans while continuing to create music. I had the opportunity to meet the members of Slaughter recently and was really inspired by their story. In my opinion they possess all the qualities of true musicians and they have shown consistently that they are a BAND in every sense of the word.
Slaughter came out of Las Vegas, Nevada and arrived on the music scene in 1990 with their first hit single "Up All Night." They toured with such bands as KISS and Ozzy Osbourne, building a devoted following of fans. Their multi-platinum debut album, "Stick It To Ya" earned them an American Music Award in 1991 and produced another hit single, "Fly To The Angels." Nine years and seven full length CDs later, you can still find them rocking hard and touring together. They have contributed to movie soundtracks (Bill and Ted's Bogus Journey), lost a beloved band member due to tragedy and soldiered on to keep 80s/90s metal music in front of the fans through their participation in compilation tours with bands like Ted Nugent and Night Ranger.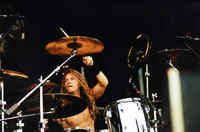 I caught up to Mark Slaughter and Blas Elias (vocals/guitar and drums respectively), on the "Power To The People" tour this summer. The tour headlines Poison and includes notable 80s/90s hair bands Dokken and Cinderella as well. In some markets, this tour is outselling Ozzfest, proving that rock fans still want their spiraling guitar solos, crashing beats and musically gifted hairgods. I'm happy to be counted among the faithful hair-metal enthusiasts, and even happier to share an interesting perspective from musicians who have successfully brought their music to the public and remained true to it for ten years:

(Debbie Seagle for) Rock N World: This is a tour that a lot of people who were 80s and 90s metal hair band enthusiasts have been dying to see. We've been waiting for this to come together and I know that at Rock N World, ever since there was even an inkling that this might happen, we had readers asking us to cover the event. So my first question is, how did all of this get put together, because it is like a dream come true for a lot of metal fans?
Mark Slaughter: Its agents talking to agents and that's how they are formed. There's talk of tours going out there and obviously the talk came true. Everybody kind of spoke about it and the next thing you know, we're all out here and facing the day. Its really nice to be aboard.
Blas Elias: We did a tour quite a few years ago, with Alice Cooper, and we had Warrent, Alice Cooper, Dokken and Slaughter. I think this was around 1997. And it was a huge period of time when 80s rock bands could not play in larger venues because no promoters ever wanted to take a chance on putting up any money for the shows. So we were all playing small clubs, there was no promotion, nobody really knew we were out. But this tour, since Alice (Cooper) was a big name, it actually did some pretty decent numbers, so the next year, actually Dana (Strum - Slaughter bassist) came up with the name "Rock Never Stops" and put together a tour with our agent, featuring a lot of those bands that had been playing clubs on their own, which was Quiet Riot, Warrant, Slaughter and L.A. Guns. And that tour did very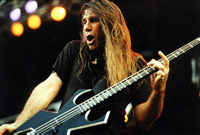 well. That caught the eye of a lot of other bands who had not really been touring much, including Poison, and we found out later its one of the reasons they actually decided to go ahead and get back out on the road because they saw that, if these guys could get together and there's strength in their numbers as helping them to be a success and sell concert tours, then they thought they could do the same thing. It worked for them last year and this year the numbers show that we're doing better than last year and we're all really happy with the line up. We played with Poison before and we've played with Cinderella before back in 1991 and we played with Dokken a couple of times, so we know all these bands, everybody's friends, everybody's getting along.
RNW: What a fun group, if I had to pick four bands . . .
Mark: Its a great package. Everybody gets along great and its just been a lot of fun to be out here.
Blas: . . . here, its not that crazy. For some reason the west coast is getting good for this kind of music and we played Los Angeles and San Bernardino and the numbers have not been anywhere near what they are in the midwest.
RNW: That's always true for anything.
Mark: Even the northwest is better than here.
RNW: Yeah, its not the genre or anything, its just geographically, that's the way it always is.
Blas: I'm not quite sure why.
RNW: Well, your manager told me that this tour, in some areas, is overselling Ozzfest.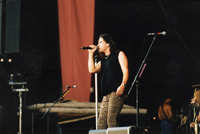 Blas: When we started in the east and the midwest, we were outselling everyone at the time, and still as we're going back towards that area our ticket sales are way up. For some reason, I guess there's not enough radio support in California, you know, to make people aware of the shows.
RNW: Hey, (to Blas) are you here with that monster kick ass kit that you play?
Blas: No, I wish I was. Actually, we don't have . . . that thing takes at least a 24 foot truck to move it and we just don't have that room on our current configuration and how we travel.
RNW: I was trying to figure out how they would layer the stage with that thing. When ever I see photographs of you guys . . . poor drum tech.
Blas: I wish I had it. Maybe next year I'll bring that one out.
RNW: With the current music environment, what kind of run do you see for this metal genre? I know that grunge was kind of the precursor of metal taking a back seat and its now cycling and I see the resurgence of metal going. How do you feel about it?
Mark: I think its coming back in some ways but its never going to be what it was. The computer age, there was no computer before and when the computers came out, that tore into the revenue of the music industry. So, though we all have our lap tops and everything else and we go out and buy our CDs, now we are buying some update for this and that, so a lot of our money goes into new technology of today. There's nothing wrong with that, but its true, its just what's happened.
Blas: Its about connecting to the youth, to young people who want to buy most of the records. A whole lot of people out there from our era who were very young, you know, early teens and sometimes younger, buying records in the early 90s and late 80s that are all connected to us. But there's also a surprising number of young kids who we've got to somehow connect them to our new music. They all know all the old songs, its just that they're not exposed to the new music yet, and so far the promoters of the concerts have been getting the word out that we're coming but the record companies have not been able to get the word out that we have new records out. Its really about awareness and hopefully, with being with some of these successful tours, maybe some record individuals will start to take a chance and really start to believe and put some kind of real muscle into it.
Continued - Part II