by Debbie Seagle

Red Hot Chili Peppers/Stone Temple Pilots
Coors Amphitheatre
September 4, 2000

I have the best job in the world. While some people are barbecuing, swilling beer and hanging out at home on Labor Day, I was swilling beer and hanging out with none other than the Red Hot Chili Peppers and Stone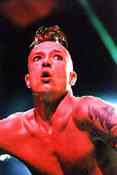 Temple Pilots! The double bill was a powerhouse of hard rock/funk music and the chillin Southern California crowd was elbow to elbow when the Red Hot Chili Peppers and Stone Temple Pilots arrived to help usher out the last rays of summer in a Labor Day bash. The uniform for the party was a mohawk hair cut and a six pack of abdominal muscles. If you didn't have a mohawk or the six pack, chances are, you weren't with either of the bands. Is it me, or have all of these music types been eating their Wheaties on the road?
Having never heard of the word "understated," Stone Temple Pilots' Scott Weiland burst onto the stage, looking like Jim Carrey's alter ego in the movie "The Mask" and belting out "Crackerman" like he was possessed. Chapeau'd and sporting a pink feather boa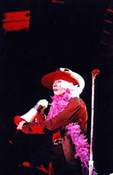 around his neck, he jumped, spun, crouched and swayed back and forth on a platform at the front of the stage, alternating his platform swaying with exaggerated Tai Chi moves and searing stares. One after another, they peeled off the tracks that had everyone grooving and rocking the amphitheatre to its footings. "Vasoline," "Sin or P.O.P," "Big Empty" and "Sex Type Thing" had hips rotating and people pogo-ing as if the last day of summer couldn't possibly end unless the music did.
As the crowd became more excited by Weiland's colorful antics, the songs that were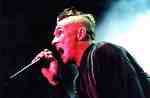 performed off their latest album "#4," took on a breath of life from the studio versions. Tracks like "Sour Girl" and "Down" were made three dimensional by Weiland and the band as the audience drew from their energy and gave it all back with their reactions. As this became more apparent, Weiland ventured into the audience briefly to soak up some of the love. He threaded through the crowd with precision and fed off of their vibe.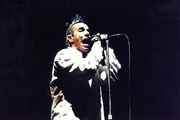 After more than a warm up from STP, the Red Hot Chili Peppers took the stage with enough energy to light the city of New York. If Flea's pants weren't inside out, I'd take his temperature. He and his band mates all went to the same barber, apparently, and all would up with mohawks to match their funky style (except for Chad Smith, who never takes off his ball cap. Who knows what's

underneath it?) Front man Anthony Kiedis, sported more formal attire, dripping with rhinestone gauntlets, a tuxedo shirt and black pants that were shin length, making him look like a bizarre version of "Buckwheat" from the old Our Gang comedy series. The Chili Pepper's set was a mind blowing spectacle with five video screens that showcased their movements in delayed time and splashed color against them as the funk ran rampant and the fans dove into the pool for this last summer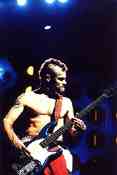 frolic of the season. Flea stalked the stage and lunged back and forth in his characteristic trance, while executing the signature slap bass style he is famous for. Together, he and Chad Smith were as unstoppable as a freight train that sped straight down the middle of the venue. John Frusciante scores my vote for best Chili Peppers guitarist. That is no slight to Dave Navarro, who is a kick-ass shredder in his own right, but the chemistry with John is unmistakable and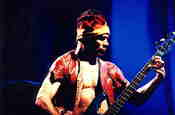 undeniable.

Continue