Calling All Metal Heads!
Megadeth - megamusic
A Back Stage Pass Special by Debbie Seagle

Calling all metal heads . . . what has more of a metal edge than a drawer full of steak knives? How about 80s speed metal survivors "Megadeth," who's style has evolved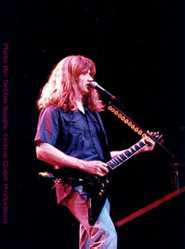 slightly since those golden days of head banging bliss, but is still capable of bringing an amphitheatre sized crowd to their feet to pump their fists in the air when they hear songs from the band's 15 year catalogue.
This is the beginning of a new tour for the band, to promote their latest studio release, "Risk." Vocalist/guitar shredder Dave Mustaine, who was born in San Diego, California and lives in Phoenix, Arizona got to play both towns in one day when the band rocked in Phoenix in the afternoon and jumped on a plane to jet into San Diego and straight into the climax slot for a full day metal fest entitled "When Bands Attack," and included Incubus and Sprung Monkey. This reporter has never seen so many black clad folk in one place, but I got a few cool accessorizing ideas and the name of a guy who does these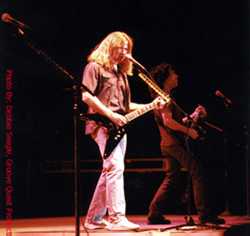 really rad fish tattoos - but I digress . . .
Megadeth's set began with the eerily rhythmic base beats and demonic chants of "Prince of Darkness," a cut off their new CD, that quickly switches to driving power chords and then finds a groove that is satisfying to its dark theme. But don't get lulled as your senses follow along, the power chords come back hard to knock you off balance and keep your adrenaline spewing out the top of your head. Dave Mustaine's vocals were characteristically gravelly and rebellious, but there was a noted maturing of lyrical quality on the tunes from this newest effort. While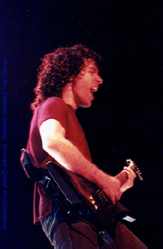 some die hard speed metal fans might be frustrated by the subtle evolutions of Megadeth toward more melodic song writing, the crowd at the huge metal fest in San Diego was at first curious, then energized by the feedback, and Middle Eastern melodies that introduced "Insomnia," a song that also goes to new hard rock heights before all is said and done.
What can be said about guitar lead Marty Friedman except that his motto is to play it fast, and play it hard! With the killer riffs and lightening speed power chords that Friedman puts out, he can be credited along with Mustaine for keeping Megadeth a tight, clean rock n roll machine over the years. Naturally, Marty waits until I run out of film, then comes over to my little spot in the pit and mouths the works "watch this." Needless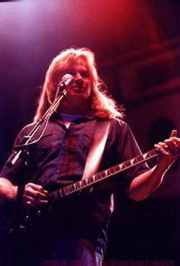 to say, it was a Kodak moment that missed me.
With Megadeth's 15 years of experience as hard rock royalty, their effortless control of the audience's party mood quotient was evident and was ultimately what had them stepping on the tour bus last. Ah, its a tough job headlining metal festivals, but someone's got to do it!
Check out other great specials from Debbie Seagle at the Back Stage Pass Section of Rock n World
Hear tracks from their albums and Buy Megadeth's CD's Online!
Visit the Rock n World. Artist Feature for Megadeth