Go Back to Part III

KL: Like with the factory81.com site, if you go on the message boards, the kids that are on from the fan sites will be correcting people that just randomly spout off stuff on the guest book. Like some kid might say, you know their favorite color is this, or I hung out with them here and the other kids will just be from a web site and totally correct them. No, this is exactly how it is, because they know Bill, they know, they interact with him constantly.
RNW: So all you have to do is just sit back and let it be taken care of.
BS: Pretty much.
RNW: That's pretty good!
KL: Its awesome. It's a really good feeling to actually have, you see one band site pop up and then there's like, five.
RNW: Its one of those trade-offs for the blood, sweat and tears.
KL: That's cool too, cause its cool looking at the message board and seeing the fan sites interacting with the other fan sites. Like, hey, I got this information off of this web site. Its kind of like, it is weird to see information on other sites before we find out about it.
RNW: We've talked a little bit about your success in getting a record deal and your style lyrically and melodically, but the last thing that I'd like to talk about, and kind of give our readers a little bit of insight on is the band dynamic, because that's what's really important. I mean, you can write good songs together, you can make good music, but if the band is not a cohesive unit, you're not going to last as a band. So, give us a little bit of an idea of your band dynamic and how you make it all work as this group of guys, all striving for the same thing.
KL: We come together a lot more on the road, actually. Going out on tour, you kind of have, like everybody says touring is where its at and you're going to know if your band is going to end or not because you don't know how everyone is going to get along 24 hours a day.
RNW: Yeah, if you've been on a bus together going anywhere, that's definitely the proving ground.
BS: We're in a van, which is even closer quarters than that.
KL: Its amazing though, because its amazing how everybody comes together a lot more because there are only the four of us plus a tour manager, somebody to do merchandizing and stuff like that. There's been times when there hasn't been, so its just been the four of us and the four of us have to come together as a unit or we're not going to make it.
RNW: Are you all pretty good friends?
KL/BS: Yeah, definitely.
RNW: Hang out when you're not making music?
KL: Actually, Bill and I have been pretty much best friends for like, eight years, so its really cool to watch it evolve. Since we've been friends, we've known each other, what a goal its been to actually tour and now its kind of funny to kind of sit back and laugh and say wow, that's kind of cool. We're really hoping to get on the road one day, you know, if we could get to Ohio, you know?
RNW: Oh, right. As far as Ohio . . .
KL: California, its really, really exciting.
RNW: If we can just make it to Ohio – California must be pretty surreal for you. What about your families? Are they kind of sitting back going "Wow, we can't believe they actually did what they said they were going to do?"
BS: The cool thing is that my family has always been 100% supportive. I've never had one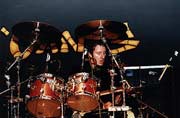 even hint of someone trying to say well, you shouldn't do that, you should go to school. The weird thing now is that every time we have a family function, its not normal anymore. All anyone wants to talk about is the band. Everyone is asking about the band and talking about how they are so proud of me, you know. I mean, its cool. The family is really excited about everything. Everyone happy.
KL: Its cool, I'm pretty much in the same situation. Where as my parents, in the beginning, of course they were the cautious parents. They were like, make sure you have something to fall back on, but they didn't push that issue. And they kind of just went with it, and they've come up to shows and they still come up the shows. We've played a sold out place and it will be just completely packed in there and my parents are sitting right in their little chairs in the balcony, watching the show and they're totally supportive of it. Amazing. I absolutely, obviously love my parents and love my family, but that means so much to me whenever the people that cared for me my whole life are caring and supporting what I want to do and what I'm set on doing. That makes a whole world of difference and actually gives you a lot more drive.
RNW: Oh its real. Why do you think people get up at the Grammys and say "I want to thank my mom and dad?" That's like the first thing, because if you don't have that support at home, if you don't have people that understand musicians and understand that they need to do what they're doing . . .
KL: Right. Its cool to get it from another perspective, like Bill's mom will come up to a show, and its interesting, being an outsider and looking at his mom being so excited for her son, it kind of gives me a perspective on how my parents are towards me at a show. So, its really good. Its really cool that they've all been really supportive. Same thing with Andy's family and same thing with Nate's family. Everybody's just really into it and they're not just kind of like, my son's going to be a rock star. Nothing like that. Its all, they've seen us work for it and they're very proud of what we've done.
RNW: With good reason. What should we be watching out for from Factory 81 in the future? What's going to happen next for you folks?
BS: Basically, right now its just going to be constant touring. We're going to be hitting every town and coming back, you know? And then, hit those towns again. They want to keep us on the road now and we're really trying to build up a fan base grass roots style. We really want to be out there playing in front of the people as much as possible. Maybe next year around this time we'll do another album.
RNW: Are you guys writing right now? Do you write on the road?
KL: We don't really get a chance to, because we don't really get, we get a line check before we go on, we don't really get sound check, so with the size of the equipment we have, its not like we could quickly set up in a back room and jam some stuff out as you know it. So there's a lot of writing actually goes on in your head and you keep it until you go home or you keep it when you are personally line checking up there and you can kind of write something, but we usually write whenever we get home. If we get together and practice. But its going to be better, like he said, in about a year maybe we'll start working between the tours. We'll start working on new songs and trying to formulate a new album, but we really don't get a chance to write that much on the road.
RNW: Well keep those good ideas tucked away then.
KL: Oh yeah. We've got a few songs that we've already written that we got together before we started touring, but there'll be a lot more stuff coming out next time we get a break.
RNW: Okay then. Stay tuned rock fans. This is a band to keep an eye on. Follow the links below if you want to find out more about Factory 81 and their heavy sound with an exotic twist!

Purchase a copy of "Mankind" at the iconoSTORE, it's even on sale!
Visit the official Factory 81 Website for news, tour dates, fan diary, media and more!
Check out Factory81.net for lots more.

Fan Speak: Your turn, what do you think of Factory 81?
Fan Speak:

Posted by Alrey:
anybody cud tell me where i cud purchase the absentee generation album. tnx 2 anybody wu cud.pls.type it in your comment. lets listen to the emo,rap,hardcore metal togeteher...
---
Posted by alrey:
factory81 is the best band i ever heard, bands that would be best to tour with them are strife,earthcrisis,deaftones and 36crazyfists.
---
Posted by funk:
PLAY MOTHERUCKS PLAY! STRAIGHT OUTTA STERLING HTS.
---
Posted by Alice:
hello im from your home town and have seen a show at wired frog plus my boyfriend john stefanides knows all of you from school. email me at purpletigercub@hotmail.com
---
Posted by Danielle:
Factory 81 has re-defined music and every single member has a uniqe style that compliments the nex fully...i love them and i try to get them noticed
---
Posted by torch:
hey you guys. i saw you in atlanta at the masquerade in 2000 and i have been a big fan since. Nate, i shook your hand and you signed a red bandana for me. thank you. much luve and keep on goin! torch
---
Posted by brian kolodziejski:
Just bought the release "mankind" 6 months ago and love it. Also wondering if factory 81 will be playing in new york any time soon? More specific The Chance in Poukeepsie, NY. Nate, Kevin , Bill, and Andy you guys are my idols and i hope to see you around for a very long time
---
Posted by Jon:
sweet interview, 14left.net
---
Posted by A$$CRKR FRANCIS:
THEY ROCK!! THEY R 1 F*CKING BAND EVER!! WE GUNNA HELP THEM TOP ON MTV!! WATEVER! JUST F*KING IDOLIZE THEM!!! SPECIAL THANKS TO NIñA!!
---
Posted by francis:
you should lend us your lyrics, for us to appreciate your album more
---
Posted by Chelsea:
Factory 81 is the best band out there! They tear up the scene at shows! They are some of the coolest guys out there, and they are awesome to their fans. Their music is all great and their lyrics mean so much to me. Check out my F81 webpage at http://www.angelfire.com/band/14left
---
Posted by Chelsea:
Factory 81 is the best band out there!
---
Posted by Erica:
KICK ASS
---
Posted by randy:
factory81 be tha bomb, they are out of control! they represnten the detroit style!
---
Posted by Eric:
Factory 81 is great, they have so much meaning to there music and there all really cool guys, check out my F81 site, http://factory81.thetrc.net
---
Posted by Justin:
who knows where i can get the tabs for factory 81's remix of insane in the brain
---
Posted by eric patti:
for seeing them pretty much every time thye have played in detroit for the last year and a half they are awesome and cool as hell
---
Posted by archie:
Factory 81 Rules they kick ass they sound better than LinkinPark and Korn. This is one of the hottest rap/metal that I ever heard. Its cool.
---
Posted by John Kary:
Factory 81 rules! Keep up the great work, great interview Bill and Kevin! www.factory81web.com
---

Posted by Heather:
I saw Factory 81 in Columbus OH a few months ago. They are the coolest bunch of guys ever. They're totally into the fans and it's not "all about them". Factory 81 ROCKS!! And they need to come back to Columbus very soon!
---
Posted by Jon Eaton:
Andy has a Mullet! f81zone.shoutweb.net
---

Posted by lisa:
those guys rock!!! i saw them in concert in january man they were so cool. and they were really nice also.