Anthrax - "We've Come For You All"
by Gern Blenston

Five Star: A look at albums that are so good that they impress even the most cynical of critics. Very few albums are superior enough to obtain a five star rating but occasionally a band slips through the river of mediocrity that is the modern music industry and they produce an album that restores our faith in the future of rock! This series is a look at such albums.

Editors intro: So I was hanging out the other night with a good friend of mine who has been in the business for years and seen a lot of bands come and go. I went to a club up in Hollywood that night to check out a cool local artists and I walk inside and there he is hangin at the bar. After a quick handshake he doesn't even bother with a "how are your doing?" Instead the first thing out of his mouth was "Have you heard the new Anthrax CD? It will be blow your mind!" So we went out to his car to listen to it and it did indeed blow my mind. He asked if we planned on doing a review and I told after hearing it, "you bet your ass!" Then he asked if it would be cool if he wrote the review and knowing that there are very few people on the planet that know as much about this band as him, I readily agreed. So here is his review. Don't let his enthusiasm fool you, it is genuine and well founded. That's why we are proud to feature this review in our 5 Star series and this album is a strong contender in December when we compile our annual "best of" list. – Enough of my yabbering, let's let Gern tell you why "We've Come For You All" is an essential addition to your CD collection. - Keavin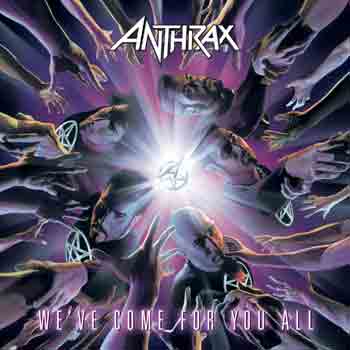 Anthrax – "We've Come For You All"
By: Gern Blenston
Ya know....There are many artists out there that seem to drop the ball on the creative side after being on the scene for a while. ANTHRAX is NOT one of those artists. After more than 17 recordings these guys just keep on writing better music, playing heavier & topping themselves with each new album!! ANTHRAX's latest, "We've Come For You All", is definitely the best portrayal of who ANTHRAX really is. You will find a lot of different influences on this album as well as the ANTHRAX signature stylings that every ANTHRAX fan loves to hear. The progress that this band has made over the years should inspire the likes of bands like Metallica, and others, who seem to have lost their edge.
After Elektra Records dropped the ball (WHAT WAS ELEKTRA THINKING??!!) following the release of "Sound Of White Noise", and the departure of DANNY SPITZ (Your fans Miss you DANNY!), the band has been through some label and management changes. Now with Sanctuary Records backing them up, the guys have produced some KILLER sounds on "We've Come For You All"!! One thing I really love about ANTHRAX is that they have special appearances on their albums. Pantera's DIMEBAG as well as ROGER DALTREY make some cameos on this great recording! How cool is that??!!
This reviewer has NOT taken "We've Come For You All" out of his CD player in his car, OR AT HOME since he got his hands on it. Over the past several days, I have found myself pushing the back button on my cd player and listening to every song over and over. Then, I would realize that the next song on the cd ROCKS TOO!!?? There are very few bands that exists that I have this experience with. This has happened with ANTHRAX before when I got their "latest disc," so I really wasn't surprised. "Spreading The Disease" was my favorite ANTHRAX album until the release of "Sound Of White Noise" (Armored Saint frontman, John Bush's debut with the band). THEN...."Volume 8" came out and KICKED MY ASS!!
SIDE NOTE: "I don't care if you are an ANTHRAX fan, or not. EVERYONE should have "Sound Of White Noise", "Volume 8" & "We've Come For You All" in their collection!! Get them all and you'll know what I mean!
"We've Come For You All" starts out with a subtle fade in intro, "Contact" that prepares "You All" for the first track that BLOWS YOU AWAY right of the bat with "What Doesn't Die". Just within the first three minutes of listening, you can clearly hear that ANTHRAX is one of the tightest bands in the world!
Then to keep your blood flowing, they give you a great track called "Superhero". I have listened to this track over and over. And, every time I can totally hear this song as being a Wolverine fighting song in an X-Men movie. ANTHRAX drummer-songwriter Charlie Benante plays a very cool vibey guitar solo on this track too! The lyrics are great, and the vibe translates well with the music!
"Refused To Be Denied" follows up with, what I hear, as a shout out to those who have trampled on our American way of life. I don't think that this is an American pride song or anything, but a way of letting "those" know that taking cheap shots is NOT a human characteristic....it's a coward characteristic.
Let me just say....
TRACK 5, "Safe Home" should have heavy radio rotation STARTING NOW. I have heard ALOT of s*** on the airwaves, and I would be a listener of the dial again if there were more songs like this on the radio. This song describes the trials of life, then POW! Something happens to ya, and life changes for the better. Judging by the liner notes, I believe that this song has something to do with SCOTT IAN meeting the love of his life, Pearl. Metal, or not, EVERYONE needs a good partner in life. And, if this song was inspired by two soul mates meeting...well then.....WE HOPE THAT SCOTT AND PEARL LIVE HAPPILY EVER AFTER!! If "Black Lodge" & "Hy Pro Glo" off of Anthrax's "Sound Of White Noise" and a ballad off of "The Number Of The Beast" (By Iron Maiden) had a kid....you would get this AMAZING song! New baby bands take note....listen to this song as much as possible if you want to sell records!
Track 5 is followed with the darker sided intro of "Anyplace But Here", that soon starts crunching into some top notch driving music. This song clearly shows that ANTHRAX writes about their experiences with "ups & downs", which is much more appealing to this listener than the typical horse s*** lyrics you all hear from bands that "TRY" to write "that great tune".
CHARLIE BENANTE WINS THE BEST DRUM PERFORMANCE OF THE YEAR with the song "Nobody Knows Anything"!! EVERY drummer on the planet should buy this disc just to take some drum tips! The drum breakdowns on this song, as well as the drums throughout the song are INCREDIBLE! The song is definitely not to be played in your vehicle UNLESS you have a SPEED GOVERNOR on your accelerator!! Watch those speeding tickets people!
"Strap It On" is one of the best Rock songs that I have heard in quite some time. This song reminds me of "the good 'ol days" when guys would get together and just JAM. Pantera's DIMEBAG pulls off his signature sounds on the guitar solo on this track, which fits in perfectly. The message in this song is clear, and the outro with the "Old School" Judas Priest riff is f***ing cool!
Are ya a SLAYER, or MINISTRY "Psalm 69" fan?? "Black Dahlia" will KICK YOUR ASS! ANTHRAX clearly shows that they are still as heavy and as fast as the HEAVIEST & THE FASTEST on the planet! I'm done.
"Cadillac Rock Box" shows the good 'ol Rock -n- Roll influence that all Metal Heads posses. CHARLIE BENANTE does some cool guitar slide work, and DIMEBAG is back for a really cool Old School KISS-Like guitar solo!! Definitely a drinkin' song! "Hold 'Em Up!!"
Vocal legend ROGER DALTREY joins JOHN BUSH on this great vocal performance, "Taking The Music Back". This song drives itself with the SCOTT IAN's guitars, and FRANKIE BELLO's bass, talents packaging the verses and the chorus nicely.
"Crush" kinda gives the impression that FANKIE BELLO was watching Pink Floyd's The Wall, while listening to a Crystal Method cd. hahahahaha Yes, it's different for an Anthrax Recording, but a cool one minute intermission, never the less. Good job Frankie!
Put any "Nu stuff" up against "Think About An End", and ANTHRAX would win! JOHN BUSH puts a very cool vocal on this track. Starting out it kinda sounds like it could have been a collaboration with the band RA (a great new band), and Iron Maiden....which is a good thing! This song, most likely, comes across even more KILLER "Live"!
The final track "W.C.F.Y.A." (We've Come For You All) has a cool vibe, with beginning vocals that do not sound like John Bush at all..? Could this be Frankie Bello singing the first part of the song? Hmmmm?
In closing, GO OUT AND BUY THIS RECORD!
ALL Fans of Rock, Hard Rock, Heavy Metal...WHATEVER??
There is something on this recording for EVERYONE!
ANTHRAX's "We've Come For You All" is IN STORES NOW! So get off your ass and go get it!
SCOTT, CHARLIE, FRANKIE, JOHN & ROB......EXCELLENT JOB!! I wanted to save all of the stoking for the end ...hahahahaha

P.S......WHAT THE HELL IS UP WITH THE HIDDEN TRACK?? YA WEIRDOS!
Sounds like someone jerking off with a moracca?? hahahahahahahahaha
Check out the sites while you are at it....
http://www.anthrax.com
http://www.anthraxtheband.com
http://www.sanctuaryrecordsgroup.com
Listen to samples and Purchase this CD online

tell a friend about this article


What Do You Think?


Fanspeak removed due to spam and abuse